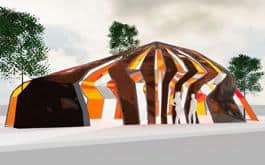 Artists have begun creating three new large-scale public artworks in Portland, funded through the 2% for art ordinance as part of the Eastside Portland Streetcar expansion. Artist Jorge Pardo is creating a sculptural shelter at Broadway and Weidler, and Lead Pencil Studiois creating a pair of sculptures on Grand Avenue near the on-ramps for the Hawthorne and Morrison Bridges.
An eccentrically-shaped art shelter (at right), created by Jorge Pardo, will feature a "rain on the outside, sunshine on the inside" experience for waiting streetcar passengers. Fabricated of steel, wood and fiberglass, the new shelter measures 35' long by 18' wide by 16' tall. The multi-faceted structure will include over 300 individual panels in shades of gray on the exterior, with warm hues of orange and red on the inside. Ultimately, it will shelter passengers north of the Rose Quarter in a highly visible and fantastically colorful way. Los Angeles based Pardo was the recipient of a 2010 MacArthur Foundation Fellowship; this is his first municipal project in the United States.
Inversion: Plus Minus (below) is a set of towering site-specific sculptures created by artists/architects Annie Han and Daniel Mihalyo of Lead Pencil Studio. Using weathered steel angle iron, the artists are presenting "ghosts" of former buildings at two similar sites along SE Grand Avenue. One site, at Hawthorne Boulevard, will feature a matrix of metal that almost appears as a solid building. The second, at Belmont Street, will render an enclosure around the perimeter of a "building," emphasizing the negative space of the subject. In the artists' words, "The sculptures reference the outer shells of ordinary industrial buildings found in the Central Eastside Industrial Area like those that once existed on the project sites."
Construction on Inversion Plus Minus continues as weather permits, and the sculptures are scheduled to be completed by summer.
Lead Pencil Studio, based in Seattle, has strong Oregon connections. The artists have taken up local residence and rented a fabrication shop for the duration of this project. Han is a graduate of David Douglas High School, and both Han and Mihalyo are alumni of the University of Oregon School of Architecture & Allied Arts. The artists received the 2007-08 Rome Prize for Architecture from the American Academy in Rome.
These public artworks, managed by RACC and selected by a panel of local artists and community members, will be completed by the end of the calendar year. To arrange a site visit and/or interview with the artists, contact Kristin Calhoun at 503-823-5401 or kcalhoun@racc.org.
Links:
The Oregonian article (12/12/12) Southeast Portland bridge sculptures are designed to evoke central eastside industrial district's past
The Oregonian article (11/30/12) Solving the mystery of the Hawthorne Bridge 'thingy'
Jorge Pardo 
Lead Pencil Studio National Endowment for the Arts article 
Pardo Art Shelter concept
LeadPencilStudio_Inversion_plus_minus