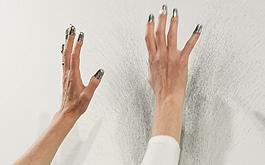 Project Background: Using silverpoint to document gesture and movement, artist Linda Hutchins will bring a performance created specifically for the Installation Space to the Portland Building the week of October 22nd. Silverpoint is an old master drawing technique in which actual silver is drawn on a prepared surface much as we apply graphite to paper today. Linda Hutchins uses silver to create wall drawings that echo and record her drawing gestures. For this performance she will wear silver thimbles on all her fingers, and will strike and stroke the walls with both hands at once. In repeated short bursts, her hands will draw apart, along and together, gestures she likens to three choices about how to act in the world. Each gesture can be read by the mark it leaves behind and the completed wall drawings will remain on view after the performance. This unique performance/ installation has been created with the lobby of the Portland Building in mind, a place where people of all ages and backgrounds go about their daily lives apart, along, and together with each other.
Drawing performances will occur between noon and 1:00 pm Monday, October 22nd through Wednesday, October 24th. The completed set of drawings will be on view through November 16th.
About the Artist: Linda Hutchins lives and works in Portland, Oregon, where she earned her BFA in Drawing from Pacific Northwest College of Art. Before attending art school, she received a BSE in Computer Engineering from the University of Michigan and wrote operating system software for Intel Corporation. Hutchins was recently awarded Career Opportunity Grants from both the Oregon Arts Commission and The Ford Family Foundation, and has received two fellowships from the Oregon Arts Commission and grants from the Regional Arts & Culture Council. She was awarded the Jurors' Prize for her wall drawing in the Tacoma Art Museum's 2009 Northwest Biennial, and her work has been exhibited internationally.
Viewing Hours & Location: 7 am to 6 pm, Monday – Friday. The Portland Building is located at 1120 SW 5th Avenue in downtown Portland.  For more information on the Portland Building Installation Space series including images, proposals and statements for all the installations since 1994, go to www.racc.org/installationspace.