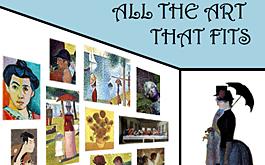 It is that time of year again; the annual City and County employee exhibition in the lobby of the Portland Building opens on Tuesday, December 4th and runs through the holiday season. This "salon style" exhibition, open to all current City or County employees, is a yearly favorite and is anxiously awaited by regular visitors to the Portland Building. All types of creative work are represented in the unique show, from quirky to thoughtful, from elegant and beautiful to amusingly odd. The exhibition will run through January 8, 2013. 
Only original artwork created by current employees of the City or County is eligible. The exhibition is non-juried—all the artwork submitted will be installed, hung wall-to-wall, floor-to-ceiling. For those eligible and interested in participating, submissions must be dropped off Tuesday, December 4th, between 8:00 and 10:00 am, to the Portland Building lobby located at 1120 SW 5th Ave. between SW Main and SW Madison.
For further information please see the exhibition guidelines on the RACC website below.
Viewing Hours & Location: The exhibition is free and open to the public 7 am to 6 pm, Monday – Friday. The Portland Building is located at 1120 SW 5th Avenue in downtown Portland.