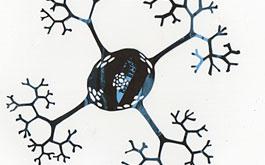 Project Background: Bellingham artist Margot Myerscombines her drawings, prints and other media to create installations and works on paper. This month she will create a site-specific piece in the Portland Building Installation Space. Inspired by her study of turn-of-the-century scientific illustrations, she's recently begun working with intricate stencils to describe complex biological forms of radiolaria—microscopic skeletal structures found in ocean sediment. This installation will feature a large stencil cut from MRI film that will describe a magnified radiolaria skeleton. The stencils will be hung horizontally and lit from above, in order to cast shadowy replicas of the cut-outs onto the wall. Myers will then create a drawing on the wall beneath the shadow in response to the visual characteristics of the projected stencils. In keeping with her experimental process different media and materials will be employed to create this portion of the work.
"I want to talk about the incredible force that living things have, and I find these forms are rich territory for such work. The slow process of creating each object with a small knife is also itself an exercise in developing a visual vocabulary that deals with growth, evolving shapes and repeating patterns. The x-ray film is not only visually appealing, but it also echoes the skeletal and scientific nature of the radiolaria itself. The magnification of ocean sediment serves a similar function with the making of an x-ray: it makes visible to the naked eye that which is normally obscured from casual observation and introduces a new way of seeing."
About the Artist: Margot Myers lives in Bellingham, Washington. As well as keeping her studio practice there, she owns a small business focused on making and selling hand crafted, functional batik textiles and spends each summer working with her family commercial fishing in Bristol Bay, Alaska. She received her MFA in Printmaking from New Mexico State University, Las Cruces, New Mexico and has shown throughout the Northwest and in the greater U.S.
Viewing Hours & Location: 7 am to 6 pm, Monday – Friday. The Portland Building is located at 1120 SW 5th Avenue in downtown Portland.
For more information on the Portland Building Installation Space series including images, proposals and statements for all the installations since 1994, go to www.racc.org/installationspace.