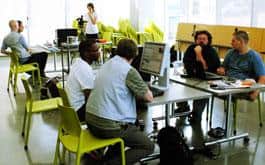 On Monday, June 10th at 7:00PM, BCCTV will host a free screening of short works created by individuals who have experienced homelessness. The films were made at a RACC-sponsored, artist led production lab at Bud Clark Commons (BCC, at NW Irving & Broadway in Old Town/Chinatown) and will be screened at Hollywood Theatre (4122 NE Sandy Blvd.) Admission is free.
"BCCTV on the Big Screen" will showcase a culmination of a year's worth of works ranging from personal documentary to live action horror, from comedic sketches to fictional dramas as well as a variety of animated shorts. Videos were conceived and produced by David Boston, Sumaiyya Evans, Eugene Olson, John Pinney, Russell Waggener. The project was organized and lead by local artists, designers, and filmmakers, Carl Diehl, Ariana Jacob, Joan Lundell, Mack McFarland and Jeffrey Richardson who will also screen a selection of their works at the event.
In a series of workshops and weekly meetings over the last twelve months, a community of video makers was formed at the Commons, calling themselves BCCTV. Free weekly classes and workshops were offered to anyone who had experienced homelessness, focusing on how to make, edit and share videos. Participants explored their own interests in video with the support and expertise of the artist team as well as visiting artists from the community. They learned improvisation, animation techniques, visual storytelling, sound design and editing which in turn made them eager to delve further into longer-term, more personal projects, all of which will be seen at this screening event.
About Bud Clark Commons
Bud Clark Commons is an innovative partnership between the Portland Housing Bureau, Home Forward, Transition Projects Inc, and Multnomah County, that is owned and managed by Home Forward. The building was designed by Holst Architecture and opened in June 2011. The Commons brings together services and providers in one location, providing vital resources, shelter, and housing placement services to people experiencing homelessness in Portland.
Before the award-winning building was even constructed, the two primary programs that provide services in the building – Transition Projects Inc. (TPI) and Home Forward – were interested in having artists work in the facility and engage the clients and residents in creative, experiential and participatory ways. In early 2012, the BCCTV artist team was selected through an open call to artists living in Multnomah County. Partially funded by a portion of the City of Portland Percent for Art set aside from the construction of the building, the project is part of RACC's intersections program, established in 2000, which encourages artists in all disciplines to explore new working methods and to develop socially engaging, interactive art experiences in community settings.
For interviews, contact BCCTV at thebcctv@gmail.com.