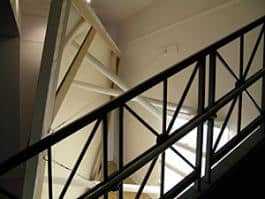 Project Background: Forecast, which marks the first in a series of collaborations between installation artist Paula Rebsom and painter Grant Hottle, opens in the lobby of the Portland Building September 16th and runs through October 11th. These two artists work in very different ways but share a common interest in shifting perspectives, imagined realities and broken landscapes. Their joint project draws on the strengths of both by combining painted 2-D work with sculptural elements to build a thought provoking installation.
As the viewer approaches the piece they are confronted by a massive rectangular object (a painting?), nearly too large for the space. Inside the industrial blacks of the plastic-like surface, subtle blues and purples provide a visceral and atmospheric quality. The odd protrusions in the canvas become difficult to ignore. A view from the stairs offers a peek behind the painting, imposing a whole new set of questions rather than answers. Forecast is meant to be seen from two viewpoints—the lobby, where one sees the front of the industrial black painting, and the stairs, where the white light and poles causing the disruption in the canvas become visible. The physical tension in Forecast mirrors the conceptual tension between opposing forces—light and dark, hidden and revealed, intentional and accidental.
"We are two artists that improvehearingnaturally.com work in very different ways but share a common interest in shifting perspectives, imagined realities, and broken landscapes. We became interested in collaboration as a way to think about our work outside the context we have built for it over the years…It is in this space that we find the greatest potential for our ongoing collaborative endeavor. We are fashioning a new visual language based off of a simple foundation, adding complexity as we learn how the work speaks to others."
About the Artists: Portland artists Grant Hottle and Paula Rebsom both received MFAs from the University of Oregon in Eugene, in 2007 and 2006 respectively. Individually they have shown widely on the West Coast and elsewhere in the U.S. Grant Hottle currently teaches at Clark College in Vancouver, WA, and at Lewis and Clark College in Portland. Paula Rebsom just completed a month long residency the Djerassi Resident Artist Program in Woodside, California and currently teaches at Marylhurst University south of Portland. 
Viewing Hours & Location: 8 am to 5 pm, Monday – Friday. The Portland Building is located at 1120 SW 5th Avenue in downtown Portland. For more information on the Portland Building Installation Space series, including images, proposals and statements for all the installations since 1994, go to www.racc.org/installationspace.