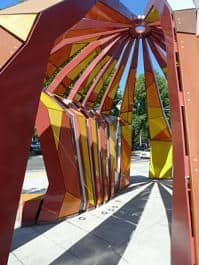 PORTLAND, ORE. — Portland's newest public artwork, Jorge Pardo's "Streetcar Stop for Portland," will be dedicated on Monday, September 30 at 11:00 a.m. The sculpture is located on North Broadway at the triangle of Wheeler Avenue and Weidler Street. The artist will be present and available for interviews, and Portland City Commissioner Steve Novick will officiate.
RACC will also host a conversation with the artist later in the evening on September 30th at 6:00 p.m. at the Left Bank Annex, 101 N. Weidler. Both events are free and open to the public.
Fabricated of steel, wood and fiberglass, the new shelter measures 35' long by 18' wide by 16' tall. The multi-faceted structure includes over 300 individual panels in vibrant shades of orange, yellow, red and grey.
Jorge Pardo was born in Havana, Cuba, and emigrated to the United States in 1969. He studied at the Art Center College of Design in Pasadena from 1984-1988 and has exhibited globally since his first solo show in Los Angeles in 1988. In 2010 he was awarded a MacArthur Foundation Fellowship (see http://www.macfound.org/fellows/38/). Pardo lives and works between Merida, Mexico, Los Angeles and Long Island; currently his studio is in the Yucatan. This is his first municipal project in the United States.
Streetcar Stop for Portland was funded by a 2%-for-art set-aside for the Portland Streetcar east side expansion project. The shelter is a complement to another large scale project commissioned for the Portland Streetcar expansion, Lead Pencil Studio's Inversion: Plus Minus which is a series of three sculptures located at SE Grand Avenue at Hawthorne and at Belmont. RACC manages all aspects of public art projects for the City of Portland and Multnomah County, including artist selection, design approval, fabrication, installation and maintenance.