PORTLAND, OR — New Season at the Installation Space: The Regional Arts & Culture Council (RACC) is pleased to announce a line-up of nine new installations by local artists at the Portland Building Installation Space. Over the next twelve months artists representing a wide range of approaches to art making will be featured in 4 week installments. Since 1994 RACC has managed the Installation Space in the Portland Building (located downtown at 1120 SW 5th Avenue) and has presented some of Portland's best interactive and experimental media installations.
This year, 53 artists submitted proposals in the Professional Artist category, and 21 applied in the Student category. An independent selection panel reviewed the proposals, and ultimately selected nine site-specific projects that are challenging, topical and diverse.
Jea Alford's A Prayer for More Equal Distribution of Wealth, which opens March 24th and runs through April 18th, will kick-off this new season. Alford has elegantly re-purposed common trash bags to construct an overhead cascade of prayer flags across the space. Her prayer references both a childhood growing up in poverty and her current experience navigating the upper-middleclass world of art and academia.
Portland Building Installation Space — New season schedule and project descriptions:
Jea Alford (Student PSU) March 24 – April 18, 2014
Artist and Portland State University MFA student Jea Alford opens the new season of installations with a quiet and thoughtful work built around a cascade of prayer flags that cross the space overhead. The plastic trash bags the flags are crafted from references the artist's personal experience growing up in poverty, conscious of the phrase and connotations of being "white-trash." The prayer flag form is a nod to her current experience, navigating the primarily upper-middleclass worlds of art and academia. From each of the individual prayer flags, rectangles the size of dollar bills have been removed, a ghostly reference to the equals or equality sign. The flags convey a personal prayer of the artist's, and create a calm space for viewers to reflect on their own hopes and prayers. Jea Alford's installation (below), shown here under construction in her studio, kicks-off a new season at the Portland Building.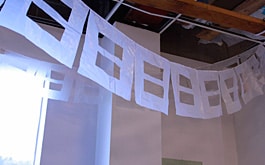 Wendy Given April 28 – May 23, 2014
In Truth – Three interactive works occupy the space: a "true mirror" in the far corner; a sculpture of a wishing well mounted at a tall, unattainable height in the center of the space; a contemporary representation of a "scrying stone"
(akin to a crystal ball for fortune telling) formally framed on the wall. Guided by natural philosophy, history, folklore, myth and magic, Given seeks to conjure the notion of interconnectedness in the space and stimulate the viewer to explore their personal understanding of how they are seen in the world, what their aspirations are, and where they think they might be headed next.
Erica Thomas & Emily Fitzgerald (Student – PSU) June 2 – June 27, 2014
Redefining Family: A Portrait of Portland – Thomas & Fitzgerald transform the Installation Space into a photo studio to make professional, studio quality, portraits of employees who work in the Portland Building and their families. The artists will offer an invitation to all who work in the building to bring their families, however they choose to define family, to a portrait session. Participants will be encouraged to think beyond traditional definitions and deeply investigate what "family" means to them. This could include domestic partners, childcare providers, neighbors, close friends, ex-spouses, grandparents, godchildren or any other important relationships they might choose to identify—even choosing to be photographed as an individual is an option. Redefining Family seeks to promote interesting conversations and formalize bonds between the participants and their chosen families.
Jesse Taylor (Student – OCAC) July 7 – August 1, 2014
Deconstruction Reconstruction: Office – Taylor proposes to deconstruct the contents of a typical Portland Building office cubical and rebuild the pieces into a dynamically arranged abstract sculptural installation. Rather than a strict formalist exercise, he sees the project as a work of joy and finds that "deconstructing labor" is labor that contradicts the daily grind variety—something done with the same energy that would go into making, but without the need for purpose or production. The abstractions will be completely recognizable as elements of office furniture and fittings, but the recontextualizations and new juxtapositions infuse the bits and pieces with new perspective—one based on their real (and unappreciated) shape, form and texture.
Abigail McNamara August 11 – September 5, 2014
660 Strings – 660 strings hung in a line across the center of the Installation Space—they run from ceiling to floor. Each individual string represents one minute in the working day of the Portland Building. This shimmering visual statement, that will respond to air currents made by passers-by and refract light that strikes it, also has another purpose. The strings will be precisely plotted with knots and dye to create a graphic representation of the number of individuals that enter and exit the building, minute by minute, over the course of a day. McNamara sees her rippling screen as a way not just to get visitors to stop and consider the role they play in a set of daily migrations, but also as a way to comment on the organic patterns and forms that observation and a little math can manifest from our unconscious comings and goings. Abigail McNamara's Circuits/paths installation (below) from 2013; McNamara and eight other artists will present new a new set of installations at the Portland Building over the next 12 months.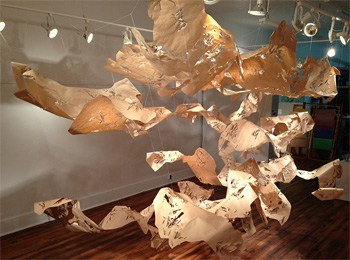 Yoonhee Choi September 15 – October 10, 2014
Stratascape – Artist Yoonhee Choi was intrigued by a comment made in the RACC information session about the Portland Building application process; specifically that there are literally hundreds of layers of paint on the gallery walls. Choi began to wonder what these layers might look like if someone could display a cross-section. As the idea developed, she considered how she might mine the archeological stratigraphy in a manner that would get visitors thinking, in deliberate terms, about all art installations that have taken place in the space since 1994—nine installations a year x 20 years. Choi will first mark her own installation by applying a fresh top-coat of gray paint, she will then cut into the walls to reveal the history concealed within the strata. By systematically excavating (with utility knives and carving tools) and formally presenting the unearthed layers in a museum case and a specially built display wall, she will create a wordless homage to all the artists before her who have labored at the site in the name of art.
Noah Greene November 10 – December 5, 2014
Parts of No Sum, or Trails Do Not End Only Infinitely Disperse –Like Wendy Given, Noah Greene proposes an installation of three elements in cryptic conversation. Here, the trio will consist of broken concrete stacked on the floor; a partial set of salvaged wooden steps mirroring the existing stairwell; and a painting composed of ash, wallpaper scrap, and other debris material. Responding to Michael Graves' emphasis on symbolic structure in his design of the Portland Building, Greene attempts to invert this concept by investigating the symbolic life of decommissioned and dislocated design elements. By examining the passage of material from its function within a structure to its end state in landfill, Greene looks to highlight a new set of symbolic meanings for the visitor to consider as these trace remains of witnessed experience linger and hint at the object's former self.
Jessica Hickey January 12 – February 6, 2015
Pliable Planes – Jessica Hickey sees parallels in textiles and architecture—both originated as a means to protect and insulate that which they enclose, both developed geometric and decorative designs for aesthetic and symbolic purposes ("fashion" and "style" are used to describe trends in both disciplines), both often rely on patterned grids and lines for their visual language. Capitalizing on this common ground, Hickey, a skilled textile designer and fabricator, will present a scaled-down, quilted version of the Portland Building that will cover the entire entryway of the Installation Space. Her soft façade will offer an alternate, more accessible, more "protecting and insulating" environment that will bring the form and style of our famous post-modern landmark to a scale all can see and explore up close.
Peg Butler February 17 – March 13, 2015
Control R – Through a project the artist describes as "both absurd and practical," Butler intends to bring together multiple methods that have been shown by studies to make people feel happier and offer them as a quick restorative treatment to Portland Building visitors in the Installation Space. Building employees and visitors will be invited to unplug from their screens and duties, have a seat, and take a shortcut to boosted feelings of refreshment. They will have the opportunity to bask under full spectrum lighting, don headphones playing a soundscape of laughter, and connect with nature via a large forest view that fills the main wall. Butler sees the piece as an earnest attempt to provide Portland Building denizens with a quick mid-day energy lift and on another level, alludes to a culture with habits steeped in shortcuts and supplements.