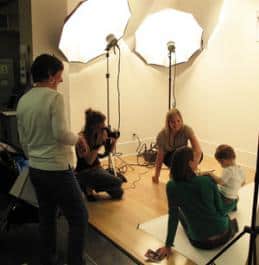 Portland, Ore – Public Displays of Affection, a participant-driven installation by artists Erica Thomas and Emily Fitzgerald, explores the shifting terrain of relationship building through the lens of the family portrait.
The definition of the family unit is in flux. Opposite-sex, married couples with children now make up less than half of U.S. households, marking the first time this group has dropped below 50% since data on families was first collected in 1940. Nuclear families are no longer the most common family structure, both nationwide and in Portland.
Thomas and Fitzgerald will explore these changing dynamics with their project by transforming the Portland Building Installation Space into a photo studio. There, they will offer people who use and work in the building professional, studio quality portraits of them with their "chosen families." Participants will be encouraged to think beyond traditional definitions and deeply investigate who they are closest to and what "family" means to them. This could include friends, domestic partners, co-workers, childcare providers, neighbors, ex-spouses, grandparents, godchildren, or any other important relationship they might choose to identify—even choosing to be photographed as an individual is an option. Public Displays of Affection seeks to promote interesting conversations and highlight the relationships between the participants and their chosen families.
About the Artists: Erica Thomas is an artist, filmmaker, writer, and project manager. Her art practice uses installation, performance, and interventions to explore how we construct our lives and values. Her projects examine the ways in which we structure our lives using relationship-building, dialogue, curiosity, and experimentation. Her work attempts to lead participants into authentic, shared experiences for further understanding of ourselves and each other.
Emily Fitzgerald has been a portrait and documentary photographer for the past 11 years, in the fall of 2012 she worked as a field producer for a Magnum Photo Agency project. She has extensive experience photographing people of diverse backgrounds; her documentary work explores relationships, intimacy, and the complex dynamics of family. You can view her work at: www.efitzgerald.com.
Viewing Hours & Location: The Portland Building is located at 1120 SW 5th Avenue in down-town Portland and is open 8 am to 5 pm, Monday – Friday. To schedule a family photo session for Public Displays of Affections contact Emily and Erica at portlandportraitproject@gmail.com From June 2nd to June 27th the artists will be on-site Wednesdays and Thursdays from 3:00-5:00 pm.
For more information on the Portland Building Installation Space series, including images, proposals, and statements for all the installations since 1994, go to www.racc.org/installationspace.