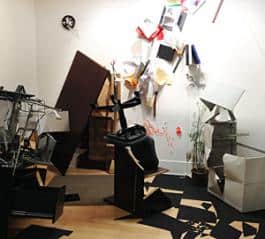 PORTLAND, ORE – On the surface Jesse Taylor's Deconstruction Reconstruction: Office project has a simple premise—deconstruct the contents of a typical office space and rebuild/rework the pieces into a formal, abstract sculptural installation. But the artist's ultimate intent is a bit more involved. Taylor also sees the labor associated with the deconstruction process as "work of joy" and manages to infuse this into his creation: "The act of deconstruction is, in itself, hard work, but it is labor that contradicts all normal purposes of work, to produce products or services related to our economic system. I approach the deconstruction act with the same kind of energy and intention that I would put into the production of a sculpture." While the individual elements in Taylor's abstractions remain recognizable as the building blocks of office furniture and fixtures the re-contextualization and new juxtapositions infuse the bits and pieces with fresh perspective, one based each object's real, unappreciated, shape, form and texture. The end product here is infused not with the essence of something bound for consumption, like so much of the designed world that surrounds us, but rather bestacnedrug.com becomes something born out of mischief and joy.
About the Artist:  Jesse Taylor just completed his thesis year in the BFA program at Oregon College of Arts and Crafts where he studied under noted installation artists Emily Nachison and Bill Will. While his practice is firmly rooted in sculpture and installation, it often crosses over multiple mediums and draws on his earlier study of computers and visual arts at Portland Community College.
About the Installation Space:  Each year the Portland Building Installation Space series reserves several exhibition opportunities for advanced students in fine art.  The format and presentation requirements for the "student" installations are identical to those for established professional artists, the Regional Arts & Culture Council created this separate eligibility category to help introduce emerging talents to the world of public art. 
Viewing Hours & Location: The Portland Building is located at 1120 SW 5th Avenue in down-town Portland and is open 8 am to 5 pm, Monday – Friday.
For more information on the Portland Building Installation Space, including images, proposals, and statements for all projects dating back to 1994, go to www.racc.org/installationspace.