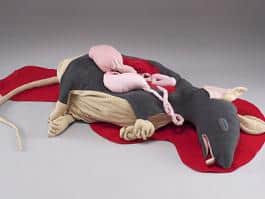 PORTLAND, ORE – Joshua Pew and Molly Eno believe that the construct of human organization is structured around a rather over-evolved sense of importance and power. As a wry comment on such, they will create a single large sculpture for the exhibition space in the Portland Building lobby—a handmade, life sized, stuffed gorilla-esque figure on an ersatz, but deftly crafted, plywood throne. Bored with Power sums up the feeling the pair have towards governments, corporations, and the general state of the Western world.
"As a team, Molly and I are playing to our strengths—much of her work involves using fiber and making animal forms, while mine is in wood construction. The use of fiber and plywood are intentional as symbols as well, both of which are considered more for utilitarian purposes than aesthetic. We hope that this elevates the feeling of approachability in the piece as well as curiosity and a sense of amusement." –Joshua Pew
About the Artists:  Molly Eno currently lives and works as a fiber artist in Portland. Her work deals with the psychological through animal totems using soft sculpture. While at Oregon College of Art and Craft (OCAC) Molly provided technical support for both the Fiber Studio and the Ceramics Studio and was awarded the President's Scholarship and the Jean Vollum Scholarship.
Inspired by the philosophies of William Morris and the work of Joseph Albers, Portland artist/designer Joshua Pew's work ranges from woodworking to weaving and 2-D design. His process focuses on simplifying forms found in nature to function as analogies for people. In addition to projects like Bored with Power, he has completed multiple commercial furniture commissions as well. Both Joshua and Molly received their BFAs from OCAC this year.
About the Installation Space:  Each year the Portland Building Installation Space series reserves several exhibition opportunities for students engaged in creative study at the university level. The format and presentation requirements for the "student" installations are identical to those for established professional artists, the Regional Arts & Culture Council created this separate eligibility category to help introduce emerging talents to the world of public art. 
Viewing Hours & Location: The Portland Building is located at 1120 SW 5th Avenue in downtown Portland and is open 8 am to 5 pm, Monday – Friday.  Bored with Power opens July 20th and runs through August 14th, 2015.
For more information on the Portland Building Installation Space, including images, proposals, and statements for all projects dating back to 1994, go to www.racc.org/installationspace.