A note from Chanda Evans the new Arts Education and Access Fund Specialist (AEAF) at RACC.
What is the role of the Arts Education and Access Fund Specialist at RACC?
A large part of my role at RACC is to support and advocate for our arts education teachers. RACC teachers are in six school districts throughout the Portland Metro area. In 2012, the Portland voters passed the Art Education Access Fund (Art Tax) with overwhelming support. In addition to supporting more than 90 music, dance, theater and visual arts teachers in Portland's public schools, the Art Education Access Fund provides support to other art organizations in the greater Portland Metro area. RACC also works with The Arts Oversight Committee, required in the measure approved by voters to ensure we comply with the funding and City of Portland requirements.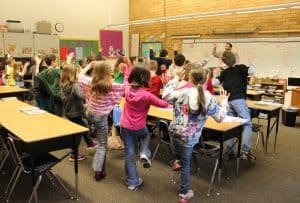 What does advocating for arts education mean for RACC?
It's my job to listen, support, and help navigate systems for our teachers and advocate on their behalf. RACC participates on numerous committees, which engage, advocate for, and support our community in arts education. Partnerships are a critical component of the work that RACC does in arts education and we have ongoing relationships with many regional organizations and a few on the national level, like the Kennedy Center in Washington, D.C. It is part of my responsibility to maintain these relationships and work to develop new ones.
What do you hope to accomplish in this new role?
I will continue to focus on what really matters – the stories we tell connect us to the greater world. We use art as that medium for expression. It is no different for our students. Without sustained and continued support for arts education, we will deplete our community of creative, critical thinkers. Arts education is one of the threads that binds us. Covid-19 has not changed that. Most of us acknowledge arts education is essential;  I want to support an equitable education for our students and eliminate their barriers to success.