Six Building Blocks for Engaging Diverse Audiences
Based on local and national best practices for equity and inclusion work–and some promising applications in the local arts community–RACC has developed six building blocks to help organizations foster equitable access to the arts by increasing the participation of and engagement with diverse audiences. This framework draws from a comprehensive review of current research and best practices in addition to conversations with community leaders and professionals in local and national arts and culture organizations.
Relationship building is a cornerstone of success in engaging any community and is a thread that runs through the six building blocks. This work may require fundamental shifts in organizations that will take time to establish and execute. Although engaging with diverse communities and promoting equity is a long-term commitment, these building blocks help break down the work into bite-sized pieces to help you get started.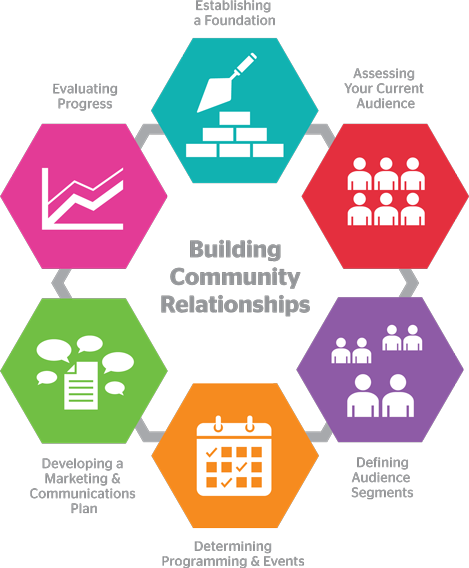 For each building block shown here, we have assembled tools and resources to help put them into action. We recognize that every organization has a unique structure, mission, and needs, so the building blocks are offered only as suggestions and may be adapted as needed. Also, these blocks are presented in a recommended sequence; yet again, each organization should feel free to work on a building block that fits in with its own current stage in the process and is consistent with its own size and resources. We all have to start somewhere.
The six building blocks are:
At the center of this work–and a theme that runs throughout all six building blocks–is "Building Community Relationships." Arts organizations must develop and sustain intentional, meaningful connections with the communities they hope to serve.
Making Meaningful Connections
 (PDF), recently published by the James Irvine Foundation, provides an excellent summary of the characteristics among arts groups that are
enga
ging new and diverse participants in their communities.