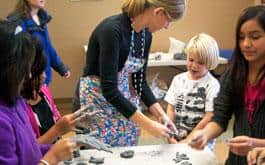 The Collins Foundation and the James F. and Marion L. Miller Foundation have renewed their support for The Right Brain Initiative with major two-year grants, the Regional Arts & Culture Council (RACC) announced today. Each foundation awarded the program a total of $100,000 to be used over the next two years.
A unique community-wide partnership managed by RACC, The Right Brain Initiative is committed to equity in arts education. In 2009, the program entered 20 Portland area K-8 schools to integrate visual, performing, media and literary arts with math, reading and other classroom subjects. Received enthusiastically by teachers, students and district staff, the program has since grown to serve nearly 11,500 students and 31 schools in five school districts. Further expansion is anticipated each year until the program serves all 110,000 K-8 students in Clackamas, Multnomah and Washington Counties.
This funding will directly support the program's growth, particularly to high-need schools in the region.
These recent foundation contributions are supported by increased private contributions from JPMorgan Chase and the Bank of America Charitable Foundation. Individual giving is also up, due partly to the success of Right Brain's 2011 Willamette Week Give!Guide campaign, which raised $8,590 from nearly 200 donors (a 30% increase from last year's campaign).
Private funds currently make up just over 50% of the program's $900,000 budget. Ongoing private sector funders include:  U.S. Bank/U.S. Bancorp Foundation, the PGE Foundation, The Harold and Arlene Schnitzer CARE Foundation, The Standard and KeyBank. Annual public funders consist of the City of Portland, Clackamas and Multnomah Counties and the five participating school districts. Find a full list of program donors and partners at TheRightBrainInitiative.org/funding
The Right Brain Initiative is a sustainable partnership of public schools, local government, foundations, businesses and the cultural community, which launched its programming in Portland area classrooms in January 2009. The program's vision is to transform learning for all children through the arts, creativity, innovation and whole-brain thinking. The Right Brain Initiative is a project of the Regional Arts & Culture Council, with Young Audiences of Oregon & SW Washington serving as Implementation Partner. Read more online atTheRightBrainInitiative.org.
The Regional Arts & Culture Council is the local arts agency for Clackamas, Multnomah and Washington Counties, providing grants for artists, schools and nonprofit organizations; conducting workplace giving for arts and culture ("Work for Art") and other advocacy efforts; presenting workshops and other forms of technical assistance; providing  printed and web-based resources for artists; and integrating  art into public spaces. Online at racc.org.