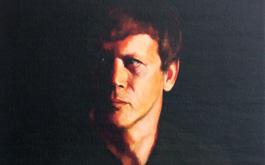 Nationally renowned filmmaker Todd Haynes is the subject of a one-of-a-kind portrait that posted today on eBay. This ten-day auction supports a good cause: Haynes donated the giclee print to benefit The Right Brain Initiative's arts education programming in Portland, Oregon area schools. The print is signed by both Haynes and the portrait's artist, Steve Cohn. Cohn is brother-in-law to Haynes, and works under the pseudonym Jasper Marks.
Cohn rendered the portrait in homage to Haynes' remarkable body of work in filmmaking. Haynes, a Portland resident, is the creative mind behind Far from Heaven, a feature film starring Julianne Moore, for which he was nominated an Academy Award for original screenplay; and I'm Not There, a biopic about Bob Dylan. He is also the writer/director of Mildred Pierce, a 2011 HBO miniseries nominated for an unprecedented 21 Primetime Emmy awards.
The original oil painting of this portrait hangs in Portland City Hall, inducted in April 2011 by Mayor Sam Adams as a testament to the city's dedication to supporting independent artists and cultural leaders. "This office is honored to display such a beautiful portrait of one of our most prolific artists," said Adams at the hanging.
The Right Brain Initiative's dedication to providing rich arts education to all K-8 students in Portland resonates with Haynes' personal experience as a student. "Music, art was all part of basic curriculum that most of us grew up with in the public school system. It's a really different story today," he said. "I'm extremely honored to have played even the smallest part in supporting The Right Brain Initiative and its commitment to bringing art and the value of creative experience into the lives of so many young people."
The auction closes at noon on Sunday, August 5. Portlanders can see the work in person during business hours at the Lara Sydney Framing Gallery, 1230 NW Hoyt Street (including the First Thursday art walk on the evening of August 2) through the end of the auction. www.larasydney.com
The giclee print is available in an eBay auction through Sunday, August 5.
Filmmaker Todd Haynes Signs Portrait to Donate for Arts Education from Former Mayor Sam Adams on Vimeo.