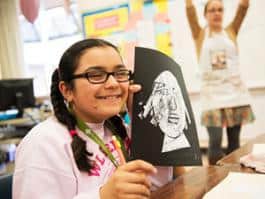 A new report ties The Right Brain Initiative to an increase in student test scores
Portland, Ore – There is a meaningful and quantifiable link between integrated arts education and student learning, according to a report released today by The Right Brain Initiative in advance of National Arts in Education Week next week (September 14-20).
Initial data from national arts research firm WolfBrown found that as schools work with The Right Brain Initiative:
Students' reading and math scores increase at least 2.5 times more than the average annual rate of increase.
Students attending the most engaged Right Brain schools scored over 6 points higher in reading and nearly 9 points higher in math than they did before they began working with the Initiative.
This growth is even greater for English Language Learners. Students' scores increased 10 times more after schools partnered with Right Brain, with scores continuing to rise as schools engaged more deeply with the Initiative.
The Right Brain Initiative is an arts integration program of the Regional Arts & Culture Council. It connects teachers and teaching artists who work together to design integrated arts experiences in K-8 classrooms. With a strong commitment to professional development, Right Brain helps teachers learn to weave the arts throughout their daily teaching practice, and helps schools develop a culture of creativity and innovation.
"We've always known anecdotally that integrating music with math, and photography with reading, for example, helps students gain a deeper understanding of both subjects," said Marna Stalcup, who was hired in 2007 to establish The Right Brain Initiative. "Now, we are so proud to have this data to indicate the value of our brand of arts integration."
This research was designed and interpreted by WolfBrown with support from the Portland State University Center for Student Success. Said Dennie Palmer Wolf of WolfBrown: "This preliminary data requires further research, but it draws our attention to the fact that it is high quality arts integration that makes a difference. The Right Brain Initiative is mapping out what this quality requires: sustained arts integration with rising levels of challenge, providing teachers with new strategies to integrate the arts into the classroom, and carefully designed programming that models differentiated and culturally competent teaching."
Right Brain will bring arts learning to over 20,000 students in the 2014-15 school year, at 59 K-8 schools in seven districts. Estacada is the newest school district partner this school year, joining Corbett, Gresham-Barlow, Hillsboro, North Clackamas, Oregon Trail and Portland Public Schools.
WolfBrown has also led extensive qualitative research that demonstrates Right Brain's effect on teachers and schools, as well as students. This data shows the gains made by Right Brain's emphasis on professional development for teachers, classroom experiences designed to increase students' sense of agency, and rising levels of whole-school investment in the arts. Read more about this work in The Right Brain Initiative 2014 Progress Report at http://bit.ly/RightBrain_ProgressReport2014.
The Right Brain Initiative is a sustainable partnership of public schools, local government, foundations, businesses and the cultural community, which launched its programming in Portland area classrooms in January 2009, and now serves nearly 20,000 students in 59 schools. The program's vision is to transform learning for all children through the arts, creativity, innovation and whole-brain thinking. The Right Brain Initiative is a project of the Regional Arts & Culture Council, with Young Audiences of Oregon & SW Washington serving as Implementation Partner. Read more online at TheRightBrainInitiative.org.
The Regional Arts & Culture Council is the local arts agency for Clackamas, Multnomah and Washington Counties, providing grants for artists, schools and nonprofit organizations; conducting workplace giving for arts and culture ("Work for Art") and other advocacy efforts; presenting workshops and other forms of technical assistance; providing printed and web-based resources for artists; and integrating art into public spaces. Online at racc.org.