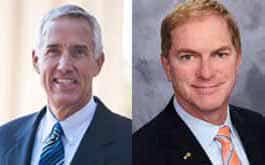 PORTLAND, ORE – Two community leaders were recently elected to the Regional Arts & Culture Council (RACC) board of directors:
Robert Bucker is Dean of the College of the Arts at Portland State University.  From 2007 – 2013 he was Dean of the Mike Curb College of Arts, Media, and Communication at California State University, Northridge, where he also served as the Executive Director of the new, state-of-the-art Valley Performing Arts Center.  He began his career as a middle school and high school vocal music teacher and choral director in Missouri. He served as the director of education for the Metropolitan Opera Guild and the voice chairman and choral conductor for the Presidential Scholars in the Arts program.
David R. Lofland, Jr. serves as President for Key's Oregon and Southwest Washington market, and as such is the senior representative and spokesperson, and leads the organization's economic and community development efforts. He also oversees the full range of Key Private Bank financial services in the Oregon and Alaska markets. An Ohio native, Dave joined Key Bank in early 2011 with 20 plus years of experience in banking, investment and trust industries, including senior leadership positions with two other major financial institutions.
The Regional Arts & Culture Council is a local arts agency that provides grants and services for artists, schools and nonprofit organizations in for Clackamas, Multnomah and Washington Counties. RACC also conducts a workplace giving campaign for arts and culture ("Work for Art"); manages one of the oldest public art programs in the country; and helps K-8 teachers integrate the arts into other academic subjects through The Right Brain Initiative. Online at racc.org.  
The RACC Board is chaired by Jan Robertson, CEO of Norris Beggs Simpson Companies. Max M. Miller, Jr. of Tonkon Torp, LLP is the vice chair; Jennifer C. Cies is treasurer; and Eric Hormel of Perkins & Company is the secretary. All board and staff profiles are available online at http://www.racc.org/about/staff-board