Article by Bruce Poinsette (update March 30, 2021)
Images by Intisar Abioto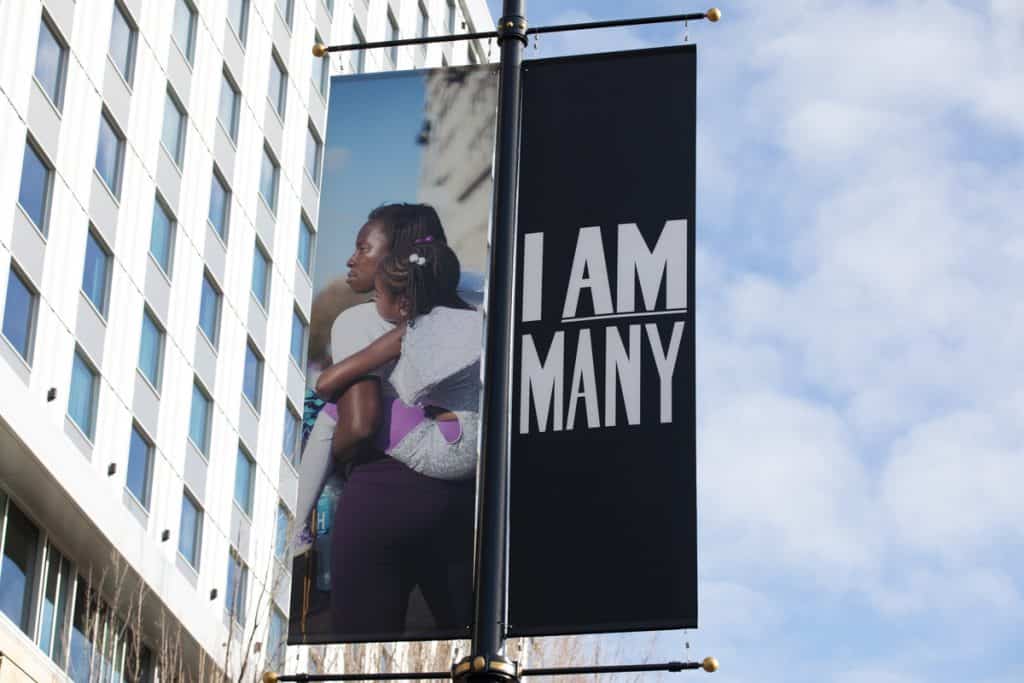 For many, it might feel as if an eternity has passed since the announcement and installation of the In—Between project. RACC's press release for the collaboration between Intisar Abioto and Hank Willis Thomas was published on Dec. 16, 2019. Since then, the COVID-19 pandemic has decimated the US and much of the world and Black Lives Matter protests have gained new life, exploding in size and frequency throughout the globe. The protests in particular have created a phenomenon where many now look at works of Black art and wonder, "What does this mean post George Floyd? Post Breonna Taylor?" For Abioto, the names might change, but the situation is, and has long been, the same.
"We're always pre and post Black death while living it," she says. "It's not pre and post for us. It's about enduring."
In many respects, In—Between was emblematic of this mission. The installation itself, ten 10-foot-tall banners featuring Abioto and Thomas's words and images, represents a conversation between not just the two artists, but also legendary photographer Ernest Withers and his photos from the 1968 Memphis Sanitation Workers' Strike. Inspired by the iconic "I Am a Man" signs, In—Between connects the artists' different voices and geographies, as well as struggles, to form a celebration of Black existence.
This is especially important for Memphis native Abioto, who, along with many of her peers, has experienced an increased demand for Black art about Black people, but only in the context of educating white audiences. As opposed to showing off "pretty pictures," Abioto wants to make art that serves the Black community.
It's not about us doing something new," she says. "It's like, 'Say something brilliant. Do something brilliant.' Even in regard to Black artists, it's like, 'Say and do brilliant things.' Yet we're saying and doing brilliant things whether or not it's engaging with the history of white supremacy.
In regards to In—Between, the composition and location of the project were key to helping Abioto and Thomas reach a Black Portland audience that is far too often an afterthought in public arts planning. The banners combined the words from Brooklyn-based Thomas's project that plays with different orientations of "I Am a Man" (A Man I Am, I Be a Man, I Am Many, I Am The Man, etc.) and Abioto's portraits of Black people in Portland, Pendleton, Berlin, Chicago, New Orleans, Florence, Memphis, Johannesburg and New York.
RACC began the planning process in 2017 by bringing a wide range of stakeholders to the table, including artists and advocates from the Northeast Portland community and representatives from landscape design firm Mayer/Reed, Inc., the Portland Art Museum, and Prosper Portland.
"We tend not to do what I affectionately call 'plunk art,'" says Teresa Chenney, a senior design associate at Mayer/Reed who was heavily involved in the planning process. "Just (placing) an object for the sake of having an object. (Instead) there's thought behind it. For the In—Between project, our first committee meeting was the end of 2017. And it just went in this last December (2019)."
Chenney notes that a recurring comment during the planning meetings was, "Who are we, where did we come from, and where are we going?"
For Abioto, the artistic process naturally took her back to her Memphis roots. She looked through Withers and others' photos from the '68 Sanitation Workers' Strike and decided to track down the man who printed the I AM A MAN signs, Rev. Malcolm Blackburn. The search was ultimately unsuccessful, but led her down a research rabbit hole that included speaking with a representative from the Allied Printing Union over the phone.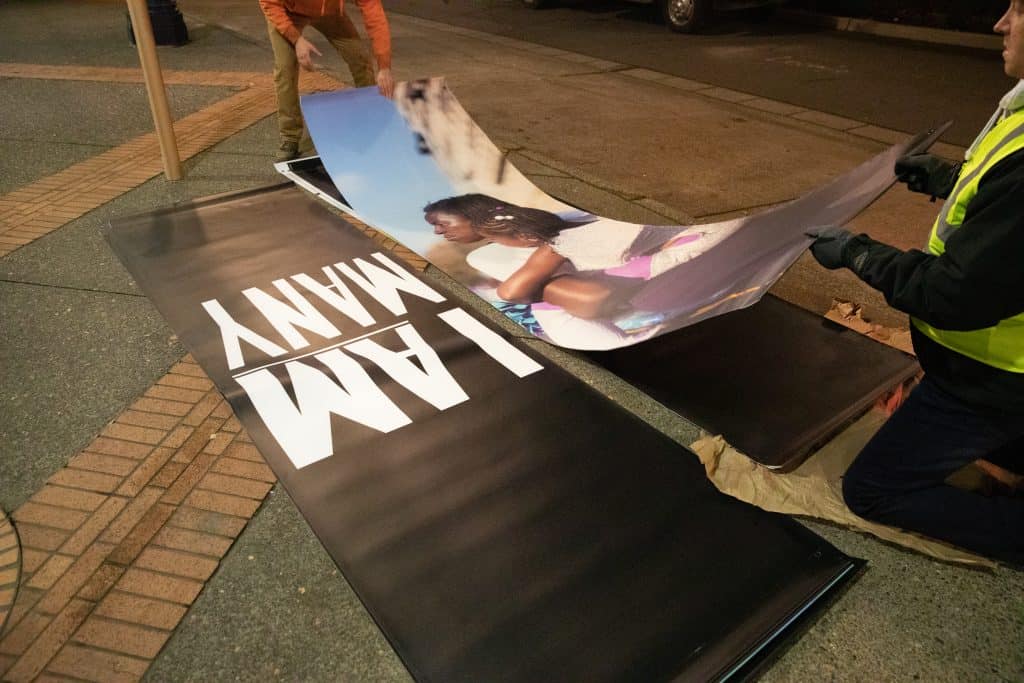 Abioto, however, successfully connected with Andrew Withers, Ernest Withers' son, to discuss their experience during the protests. Andrew, who was 12 at the time, told her about how the arrival of the police turned the event violent and how he and his father ran to their studio on Beale Street to process the photos. 
While speaking with Andrew, Abioto was particularly struck by a photo of a beaten Withers from another protest. It was a reminder of the threats Abioto feels to her own safety as a photographer documenting this current moment in time. 
Specifically, the generational, shared trauma emphasized the need to create art that not just circulates joy, but creates shared memories around it.
"Some of these people will pass. Some have passed. I too will pass," says Abioto. "Having a shared memory of life is powerful.
The spirit of collaboration was very much a key element in the In—Between planning process. Most notably, participants were excited to facilitate a collaboration between Thomas, an established artist on the national scene, and Abioto, whose work is steadily gaining recognition throughout the country.
"Promoting local artists in a way that allows them to do what they do in a public way and support them in their voice and expression, I think has tremendous value, not only as representation for local people, but as representation of our local community," says Chenney. "We're not in a silo. We're on the West Coast. We have a lot of influence from everywhere, being in the West, versus say, middle America. I think it's really healthy having that voice that takes you beyond your boundaries but also highlights your own."
In addition to emphasizing the message that the collaboration sends to the audience, Chenney also notes that it was essential to be sensitive and respectful to the needs of the artists themselves. Combining historical content from both their lives and their art was not a process to be taken lightly. It also required plenty of deliberation on what might best speak to the location of the installation and the needs of the artistic economy.
"It's really working with a sensitive understanding and respect for these artists and it's also finding the right note for this place," says Chenney. "It's like supporting our farmers and supporting our small businesses who are trying to make a living here. If you're only looking for big names to be a draw, then inherently you're going to lose sight of the value of your own community's contribution."
With the In—Between project, Chenney believes the planning team found the sweet spot.
John Goodwin, who serves as the Major Gifts Officer for the Portland Art Museum, and also participated in the planning process, agrees. As someone who is incredibly passionate about engaging underrepresented communities with the arts, he was thrilled with the idea of exposing Abioto's work with the broad, diverse audience traveling the Orange MAX line and giving a West Coast audience in general the opportunity to interact with Thomas' art.
"We like to talk about bringing the world to Portland and bringing Portland to the world," says Goodwin. "And when we say the world, we don't just mean London, Paris, Milan. We mean Gresham, Hillsboro, Beaverton, Vancouver. The world also includes those places that the world doesn't really think about."
For Goodwin, the mission of engaging underrepresented communities with the arts is very personal. It began when he moved to Portland over 20 years ago and worked as a docent with the University Club. During that time, he couldn't help but notice and be concerned by the phenomenon that Black and Latinx students seemed noticeably less comfortable than their white counterparts.
From that point on, he made bridging that gap an integral part of his work.
"Because we don't have the largest population of African or Latinx residents coming to the museum, we have to come to them," says Goodwin. "We go where you are. Even if we don't do banners, we try to do other exhibitions."
After spending years facilitating community arts partnerships with the University Club and the Portland Trailblazers, he recently joined the Portland Art Museum as a staff member. In his current role, he helps connect major art projects with the funding resources they need.
Chenney believes measures like this provide an opportunity for public art projects that the city wouldn't have otherwise.
"RACC provides a lending hand," she says. "Most people on the train might not know anything about the artists, but it might pique their curiosity, or at least bring them a little joy."
However, for Abioto, it's not just about how her art makes people feel, it's about what it catalyzes them to do.
"We're asked to bring our experiences, but it's not free," she says. "If white people find joy in my work, that's not enough. You need to be giving up things. Stuff that's not yours, that's never been yours."
While discussing the implications of In—Between, Abioto can't help but reflect on another recent installation she presented at Governor Kate Brown's office. During her time at the Oregon Capitol Building, she was particularly struck by the murals adorning the walls.
A lot of these institutions are not salvageable. Should I put my mind space towards murals in the capital? Those murals are racist. That's the white settler colonial state. Those are white men and women and settlers. And people who killed the Indigenous people here.
The combination of the pervasiveness of these kinds of murals and monuments and the lack of public art celebrating Oregon's communities of color highlights the urgency for more projects like In—Between and, seemingly, plenty of future opportunities for Abioto personally.
However, as a result of these experiences and long before the idea of a "post George Floyd" world, Abioto made the decision to become more careful with her work. She has been taking photos just as prolifically, but not publishing them. She has also been collecting work by local Black artists.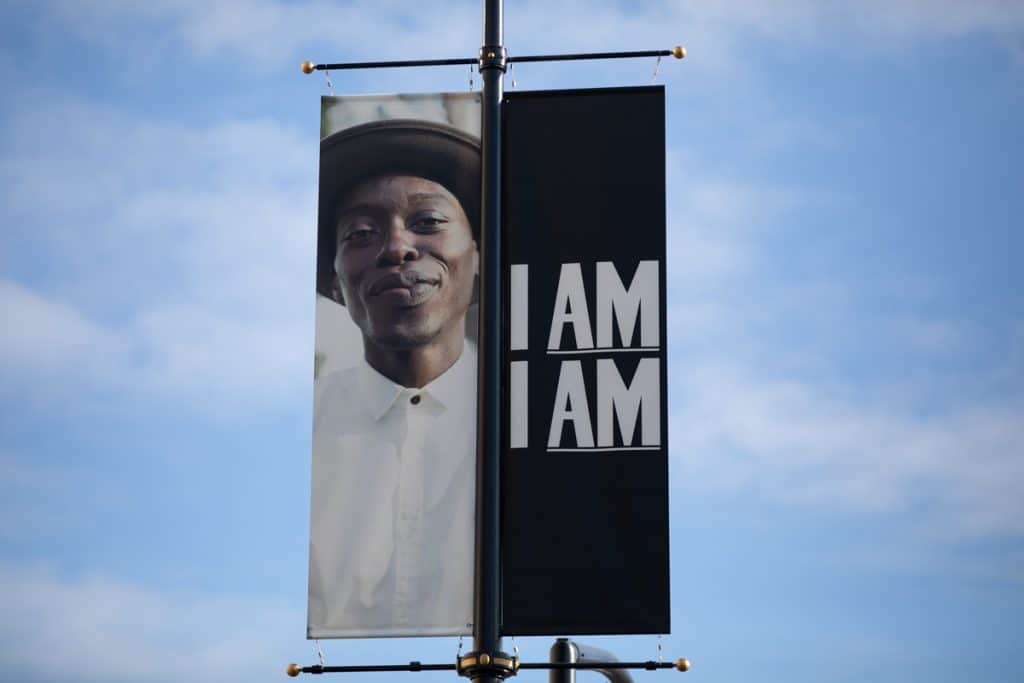 In addition to producing, collecting is also important to her because so much of her work has centered on how Portland's Black artists have lived and, in many ways, not lived. Abioto specifically name checks Charlotte Lewis, a revered community artist who no longer has any murals standing in the city. 
"I'm aware I can be easily erased," says Abioto. "She died in 1999 and I got here in 2010, and I didn't hear about her for years. I want something different and my goals are different.
"I'm going to keep making art around our history. I'm going to keep making art around how our life force shifts and changes and chooses in these time periods. In these dreams we're passing through. In these memories. That's going to keep happening no matter who's seeing it. No matter whether I'm in the paper or winning awards. I'm still doing the work."
---
Editor's Notes:
It is the Regional Arts & Culture Council's responsibility to commission, care for, and maintain public art. As part of RACC's role working with the City of Portland, we manage Percent for Art projects,  used to bring public art to locations throughout Portland. RACC assembled an artist selection panel composed of community members, artists, representatives from Prosper Portland, the Oregon Convention Center, and project designers Mayer-Reed Landscape Architecture. The panel agreed that goals for the project should include bold artwork that connects to the area's communities and reflects the general concepts of movement, change, adaptation – addressing a general statement of "where are we going." This will be the first of a series of temporary installations. Future installations of In—Between will evolve in focus, but will continue to reflect the overall theme of "where are we going." To learn about opportunities to apply for future installations, artists can follow racc.org on Facebook or Instagram, or sign up to receive public art opportunities in their inbox. Funding comes from the City's Percent-for-Art ordinance, which set aside 2% of the construction cost for a new parking garage adjacent to the Hyatt at the Oregon Convention Center to create public art. The project was funded through the Oregon Convention Center Urban Renewal Area (OCC URA) managed by Prosper Portland. The URA funds are required to be spent within in the URA boundaries.
—
Bruce Poinsette is a writer, educator, and community organizer based in the Portland Metro Area. A former reporter for the Skanner News Group, his work has also appeared in the Oregonian, Street Roots, Oregon Humanities, and We Out Here Magazine, as well as projects such as the Mercatus Collective and the Urban League of Portland's State of Black Oregon 2015. Poinsette also contracts with the University of Oregon Equity and Inclusion Office and numerous Oregon nonprofits, as well as teaching journalism and creative nonfiction with Literary Arts' Writers in the Schools (WITS) program. He hosts the YouTube series "The Blacktastic Adventure: A Virtual Exploration of Oregon's Black Diaspora." In addition to his professional writing work, Poinsette also volunteers with Respond to Racism LO, a grassroots anti-racism organization in his hometown of Lake Oswego, Oregon.