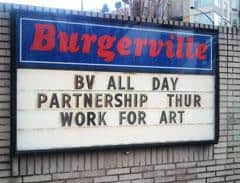 Non-profit provides financial support to more than 80 vital arts and culture organizations serving the Northwest region
VANCOUVER, Wash.  – On Thursday, Mar. 8, Burgerville, a long-standing tradition in Oregon and Southwest Washington, will donate 1.5 percent of all sales that day to Work for Art, a non-profit that supports arts and culture services throughout the Northwest region. Additionally, Burgerville cardholders who make a purchase before 11 a.m. will generate another 5 cents for the program.
"Burgerville is committed to giving back to the communities where we live, work and serve. Our partnership with Work for Art gives us an opportunity to do just that," said Jeff Harvey, president and CEO of Burgerville. "Work for Art funds more than 80 vital arts and culture organizations each year, and they are an important part of keeping the arts alive in the Pacific Northwest."
This isn't the only way Burgerville is giving back to Work for Art; Burgerville employees can also personally donate money to the non-profit through Burgerville's employee giving campaign. Burgerville believes art and creative vitality are essential to thriving communities and Work for Art perfectly embodies this message.
Burgerville will host two more partnership days with their other payroll-giving partners this year. On March 29, a percent of sales will be donated to the United Way of the Columbia-Willamette, and on April 29, sales will benefit EarthShare of Oregon and Washington.
For a list of Burgerville locations visit http://www.burgerville.com/find-a-restaurant.
About Work for Art
Donations to Work for Art's Community Fund and Arts Education Fund provide grants to more than 80 vital arts and culture organizations every year – encompassing dance, visual arts, music, literary arts, media arts, theater, cultural arts, and arts education. 100% of all donations to Work for Art are passed through to these organizations – no administrative fees are deducted. These groups provide: Thousands of arts education experiences every year in our schools; Partnerships with the clients of more than 100 health and social service agencies; as well as thousands of performances and events in our neighborhoods and communities. Gifts from employees and other individuals are matched dollar-for-dollar by a challenge fund. Those who give $60 or more to Work for Art will be thanked with an Arts Card, providing 2-for-1 tickets at hundreds of arts and culture events.
About Burgerville
Burgerville is a quick-service restaurant company with 38 locations throughout Oregon and Southwest Washington, serving guests fresh, great-tasting food from a mission to "serve with love." Burgerville's values extend beyond locally grown berries, all-natural Country Natural Beef, Walla Walla onions and cage-free eggs. At Burgerville, the commitment to fresh, local and sustainable values is about helping people and communities thrive. The innovative company, established in 1961, is redefining industry norms by providing affordable health care for hourly employees and their dependents, purchasing wind power equal to their electricity use, converting used trans-fat free cooking oil to biodiesel and implementing comprehensive resource stewardship and recycling. For more information about Burgerville, please visit www.burgerville.com.
Media contact
Kathryn Jackson, Work for Art
503.823.5424/kjackson@racc.org
Jamie Godfrey, LANE PR for Burgerville
503.546.7892/jamie@lanepr.com