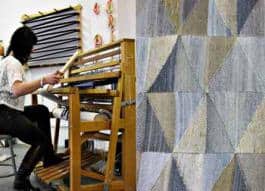 PORTLAND, ORE – In 1957 iconic Bauhaus weaver Anni Albers wrote a piece titled The Pliable Plane; Textiles in Architecture. Her work begins, "If the nature of architecture is grounded, the fixed, the permanent, then textiles are its antithesis. If, however, we think of building and the process of weaving and compare the work involved, we will find similarities despite the vast difference in scale."
Like Albers, artist Jessica Hickey sees a number of hidden parallels in textiles and architecture—both originated as a means to protect and insulate that which they enclose, both developed geometric and decorative designs for aesthetic and symbolic purposes ("fashion" and "style" are used to describe trends in both disciplines), both often rely on patterned grids and lines for their visual language. Capitalizing on this common ground, Hickey, a skilled weaver and textile designer, will present a scaled-down, quilted version of the Portland Building that will cover the entire entryway of that building's lobby exhibition space. Her soft façade promises visitors a tactile and accessible environment that will bring the form and style of Portland's famous post-modern landmark to a scale all can see and explore up close.
"A continuity resides within interior spaces of architecture throughout history from the small portable hide to the gigantic concrete structures of a city. These spaces, regardless of scale or material, protect and insulate the body. However, possibly more important than the direct physical defense, is the social function architecture provides. Interiors of built planes have housed and facilitated growth of families, communities, and cities shifting in scale with time. This installation depicts the direct relationship between textile and architecture as one in the same within the Portland Building Installation Space.

"A quilted version of the building's facade will cover the entryway and side openings to the installation except for an opening and seating space. This will transform the interior room into the scale of a textile tent structure. Quilted from pliable materials from ancient to contemporary, in hide, woven, and printed form, the abstracted and shrunken facade recreates a new, small scale environment more readily associated with the protective and interactive social elements both architecture and textile can provide." – Jessica Hickey
About the Artist: Jessica Hickey lives and works in Portland, Oregon. She received her MFA in Contemporary Art Practice from Portland State University and her BFA from the University of Oregon in fibers and ceramics. She is currently the Fibers Studio Manager at Oregon College of Art and Craft and has taught textile, ceramic, and mixed media courses for the University of Oregon Craft Center and the Eugene Metropolitan Parks District. Her work, which has been shown nationally and internationally, utilizes hand woven textiles in combination with a wide variety of sculptural methods.
Viewing Hours & Location: The Portland Building is located at 1120 SW 5th Avenue in downtown Portland and is open 8 am to 5 pm, Monday – Friday. The exhibition runs through February 6.
For more information on the Portland Building Installation Space, including images, proposals, and statements for all projects dating back to 1994, go to www.racc.org/installationspace.