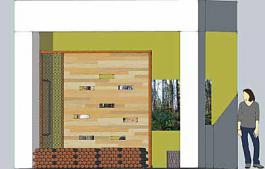 PORTLAND, ORE – Artist Peg Butler's latest project,People Blind/Prospect & Refuge, will be staged in the exhibition space adjacent to the lobby of the Portland Building. With this installation comes an opportunity for Portland Building visitors to observe and consider their fellow humans from multiple physical and intellectual perspectives, subjectively and objectively. The installation is designed to elicit questions and ideas about humans as a culture, as a species, as individuals, and also draws on the theory of "prospect and refuge." As defined by Butler, "it is a theory that people have instinctual preferences for places that have a clear view of the surroundings and that allow for concealment and escape."
The main element of Butler's installation is a "people blind," something akin to a bird blind that would be used as cover for wildlife observers. Behind the blind there is refuge and prospect—visitors feel hidden and protected, yet can look through 'blind spots' to observe human nature, even as those in the lobby can look in on them.  From the lobby perspective there is also a sense of prospect and refuge as passers-by are hidden in the anonymity of busyness and are caught up in the prospects of the day.
"Ideas of prospect and refuge bring in aspects of our social and physical natures and that which makes us feel safe, comfortable and hopeful. The blind gives us windows to observe ourselves as megafauna, connected to nature and each other." – Peg Butler.
The installation will include a weekly program series called Human-Nature Field Notes to include writing, sketching, and discussion oriented events. Please check the People Blind blog for more details:www.peopleblind.wordpress.com.  Peg Butler will also be on-site on Thursday, February 19th from 3:00pm – 5:00pm to answer questions, greet visitors and discuss her installation.
About the Artist: Peg Butler is an interdisciplinary artist whose work often involves integrating elements of culture, ecology and placemaking. She has a master's degree in Landscape Architecture from the University of Oregon and has been collaborating on public art installations since 2006.  Peg is currently eco-director of Black Dog Art Ensemble in Portland, Oregon.
Viewing Hours & Location: The Portland Building is located at 1120 SW 5th Avenue in downtown Portland and is open 8 am to 5 pm, Monday – Friday. People Blind/Prospect & Refuge runs through March 20th.
For more information on the Portland Building Installation Space, including images, proposals, and statements for all projects dating back to 1994, go to www.racc.org/installationspace.