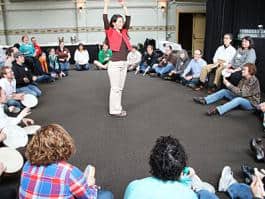 PORTLAND, ORE —The Right Brain Initiative, the arts integration program of the Regional Arts & Culture Council, has received its largest-ever grant from the National Endowment for the Arts (NEA). The NEA will award $30,000 to increase creative capacity for teachers and teaching artists. This is Right Brain's fourth grant from the NEA.
NEA Chairman Jane Chu said, "The NEA is committed to advancing learning, fueling creativity, and celebrating the arts in cities and towns across the United States. Funding these new projects like the one from The Right Brain Initiative represents an investment in both local communities and our nation's creative vitality."
Right Brain's year-long professional development project will arm over 600 teachers, principals and arts teachers, as well as 80 teaching artists and arts organizations, with high-impact strategies to bring innovative and integrated arts education to all students. By training and empowering classroom teachers and other school staff to elevate the role of creativity in their instruction, Right Brain helps educators create environments where students thrive academically, socially and artistically.
This 23-day training program is designed and facilitated by Right Brain's professional development partner, Deborah Brzoska, a national arts educational consultant and teaching artist from the John F. Kennedy Center for the Performing Arts. Brzoska also carries deep Portland-area roots as a former dance teacher at Portland's Jefferson High School and founding principal of the Vancouver School of Arts and Academics.
The Right Brain Initiative is a sustainable partnership of public schools, local government, foundations, businesses and the cultural community working to transform learning through the arts for all K-8 students in the Portland metro area. Now in its seventh year, Right Brain serves approximately 59 schools and 20,000 students from urban, suburban and rural communities in the Portland area. In fall of 2014, Right Brain released data connecting the program to an above-average increase in student test scores, with greatest results for English Language Learners. Right Brain is an initiative of the Regional Arts & Culture Council. Young Audiences of Oregon & SW Washington serves as Implementation Partner. Read more online at TheRightBrainInitiative.org.
The Regional Arts & Culture Council is the local arts agency for Clackamas, Multnomah and Washington Counties, providing grants for artists, schools and nonprofit organizations; conducting workplace giving for arts and culture ("Work for Art") and other advocacy efforts; presenting workshops and other forms of technical assistance; providing  printed and web-based resources for artists; and integrating  art into public spaces. Online at racc.org.