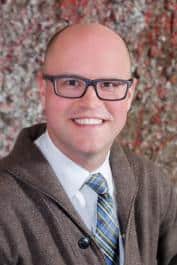 PORTLAND, ORE – Americans for the Arts, the nation's leading nonprofit organization for advancing the arts and arts education in America, announced six recipients of the 2015 Americans for the Arts Annual Leadership Awards. Among this year's honorees, Jeff Hawthorne, director of community engagement for the Regional Arts & Culture Council, will receive the Michael Newton Award. 
For the past 25 years, the Michael Newton Award has recognized exemplary leadership skills and extraordinary dedication to supporting the arts through a united arts fund, which is a combined effort to raise money on behalf of multiple arts institutions in the community (like Work for Art), and through other unique and powerful partnerships with the private sector.
In his position with RACC, Jeff Hawthorne collaborates with community partners to increase funding and visibility for the local arts community. He is responsible for strategies to secure public and private funds that compose RACC's annual budget, which has grown from $3.8 million in 2003 to $10.2 million in 2015. Hawthorne designed and implemented Oregon's first united arts fund, Work for Art, which has raised $6.2 million over the last nine years, mostly through workplace giving campaigns. Hawthorne also oversees RACC's outreach and communications efforts, and manages research projects that help quantify the value of the local arts community. He graduated cum laude from the University of Portland with a B.A. in theater management, and currently serves on the boards of the Northwest Regional Re-Entry Center and Oregon's Cultural Advocacy Coalition. 
"All of our Leadership Awards honorees have distinguished themselves as tremendous leaders and passionate advocates for the arts and arts buycialisquality.com education," said Robert L. Lynch, President and CEO of Americans for the Arts. "These leaders have implemented innovative and transformative programs to strengthen the communities they serve, and their unwavering commitment to local, state, and national support for the arts is deserving of this recognition."
Honorees will be presented their awards at the Americans for the Arts 2015 Annual Convention in Chicago during the Opening Plenary session, Friday, June 12, 2015 from 12:00 p.m. to 2:15 p.m.
The five other recipients are: 
•           Association for Public Art, Pennsylvania: Public Art Network Award
•           Eric Booth, New York: Arts Education Award
•           Lara Davis, Washington: American Express Emerging Leaders Award
•           Richard E. Huff, Texas: Selina Roberts Ottum Award
•           Ann Marie Miller, New Jersey: Alene Valkanas State Arts Advocacy Award
###
Americans for the Arts is the leading nonprofit organization for advancing the arts and arts education in America. With offices in Washington, D.C. and New York City, it has a record of more than 50 years of service. Americans for the Arts is dedicated to representing and serving local communities and creating opportunities for every American to participate in and appreciate all forms of the arts. Additional information is available at www.AmericansForTheArts.org.
The Regional Arts & Culture Council, a local arts agency, serves Clackamas, Multnomah and Washington Counties. RACC provides grants for artists, schools and nonprofit organizations; manages an internationally acclaimed public art program; advocates for public and private investments in the arts; provides technical assistance; produces printed and web-based resources for artists; and helps artists and classroom teachers integrate the arts into other K-8 subjects. Online at www.racc.org.