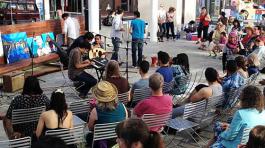 PORTLAND, ORE – The Regional Arts & Culture Council (RACC) has awarded grants to 20 Portland-based nonprofit organizations with $54,118 in funds from the city's voter-approved Arts Education and Access Fund (AEAF), or arts tax. These "Expanding Cultural Access" grants are designed to provide arts and culture programs and services for communities of color, immigrants, refugees, underserved neighborhoods such as East Portland, persons with disabilities, LGBTQ communities, and other under-represented populations.
Funded organizations include:
Asian Pacific American Network of Oregon (APANO), $3,750 to cultivate a creative and artistic space for Asian and Pacific Island communities. This Cultural Event series will incorporate a poetry night/performance, an International Night Market, a comedy showcase and a Hip Hop show. (July – October 2015)
BCC BrownHall, $5,000 to fund art programming as part of a cross-disciplinary strategic vision for the recovery of Black, African and African American community from the impacts of marginalization, displacement and /or gentrification. The grant will provide materials, resources and support for using art and culture to engage, educate and reflect on issues of equity and sustainability. (Summer, fall and winter 2015)
Black United Fund – Vox Siren, $3,000 for a unique storytelling program focused on women of color in Portland's North/Northeast community: 8-10 young women of color will explore local history and culture of the Alberta District, produce a documentary and organize a historic bike ride. (August 2015)
Cascade AIDS Project, $1,000 to present Concientízate, a day long festival to raise awareness of HIV prevention while celebrating Latino art, music and culture. (October 2015)
Colored Pencils, $2,750 to host Friday night Art and Culture family and community events on a monthly basis, using a variety of art forms to create peace and understanding among diverse communities. (July 2015 – April 2016)
Dance for Parkinson's Oregon, $2,000 for dance classes for people with Parkinson Disease and their families living in Northeast, East, and Southeast Portland. (July 2015 – June 2016)
Folktime Inc, $2,500 to increase art programming that supports individuals in mental health recovery. The grant will help expand the types of art forms offered, including an annual exhibition. (July 2015 – June 2016)
Hacienda CDC, $1,518 to present a series of traditional Mexican music workshops and to celebrate two fandangos (traditional community parties). This project is a collaboration between Son Clandestino, a group of Mexican musicians, and Hacienda CDC, a community development corporation. (July – October 2015)
Live On Stage, $1,500 to present the musical Falsettos, a story about a man who leaves his wife and child for a male lover. Additionally, the grant will help Live On Stage host a panel from the AIDS Memorial Quilt in the theatre lobby. (September – October, 2015)
Living Stages, $4,350 to initiate a four-day festival of interactive forum theatre, and to host workshops during the day and performances in the evening. (December 2015)
Mochitsuki, $2,500 for a celebration of the Japanese New Year, drawing the Portland community together to understand and appreciate the rich traditions within Japanese American culture. (January 2016.)
Native American Youth and Family Center (NAYA), $2,100 to present the Neerchokikoo Powwow, a community event that highlights and promotes the arts and culture of Native American people. The event will include Native food, art, dance and music; regalia, beadwork, dancing, drumming and singing. (September 2015)
Oregon Historical Society, $2,500 to create a multimedia/multisensory interactive exhibition that will immerse visitors in Portland's Old and New Chinatown, utilizing Chinese elders' stories, art, three dimensional objects and theatrical sets. (February 2016 – June 2016)
Oregon Nikkei, $1,750 to bring the Japanese American play Nihonmachi: The Place to Be to Portland for two performances. This story focuses on a family and their Japantown mocha (Japanese sweet cake) shop through three generations, and highlights the Japanese American experience during World War II. (November, 2015)
Parkrose Heights Associations of Neighbors, $2,000 to offer a series of free outdoor cultural performances, including Native American Storytelling, a Lao Dance presentation and a Slavic Cultural presentation. (July 2015)
Rogue Pack_Young Portland Speaks, $5,000 for a five-month theatre workshop in the Jason Lee SUN School program in East Portland. Participating youth will create original plays through writing development and theatrical training, focusing on their personal stories, culture and self-expression. The workshop culminates with performances open to the public. (September 2015 – May 2016)
Spect-Actors Collective, $2,100 for an African Latino Arts and Cultural Summer camp with public performances. This programming will engage youth ages 10 and older in Latino and Black/African communities to exchange artistic and cultural knowledge and self-expression. (Summer 2015)
The Portland Commission on Disability, $2,500 to empower people with disabilities to share the real stories they want people to know. The project will record personal stories of local residents with lived experience of disability; create accessible recordings of interviews; and provide archived transcriptions online. (July 2015 – June 2016)
The Skanner Foundation, $3,000 for the continuation of the Vanport Film project started in 2011, providing workshops and trainings to individuals to record the oral histories of Vanport survivors, and produce video to present to the public at two public venues. (Summer 2015 – Winter 2015)
Wisdom of the Elders, $3,300 to continue raising awareness of Native American cultural heritage and traditional tribal storytelling at the 10th Annual Northwest Indian Storytelling Festival. Additionally, 20 emerging storytellers will complete a nine-month apprenticeship program. (September 2015 – May 2016)
"We commend these 20 organizations for the many ways they are reaching underrepresented Portlanders and helping make the arts accessible to everyone in our community," said Eloise Damrosch, executive director of RACC. "By investing taxpayer dollars in programs like these we can help every Portland resident participate in artistic and cultural experiences."
Approved by Portland voters in 2012, the AEAF tax code states that at least 5% of all arts tax funding that goes to RACC shall be used for "nonprofit organizations that are making arts and culture experiences available to more Portland residents, with particular emphasis on programs directed to communities who are underserved by local arts providers."
A total of 53 applications requesting $351,182 were received between January 1 and March 3, 2015. A panel of community volunteers reviewed and ranked all proposals – its members were Aja Blair from the Office of Commissioner Nick Fish; Jedidiah Chavez from Ethos Music Center; Jennifer Cies from RACC's Board of Directors; and Terri Houston from Cascadia Behavioral Healthcare. The panel was facilitated by Tonisha Toler, RACC's community liaison, and the panel's recommendations were approved by RACC's board of directors on May 27, 2015. 
For more information about the Arts Education and Access Fund visit www.racc.org/aeaf. To learn more about RACC's equity initiatives visit www.racc.org/equity.