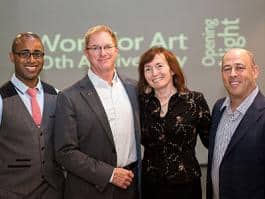 PORTLAND, ORE — The Regional Arts & Culture Council has announced plans to raise $1 million during Work for Art's 10th anniversary campaign benefitting local arts and culture organizations. Mike Golub, President of Business Operations for the Portland Timbers, announced the goal on Thursday evening in front of 100 business and arts leaders at the Gerding Theater at the Armory.
"I am gratified that Work for Art has raised more than $6.2 million over the past nine years, and we are excited to be raising the bar for our tenth anniversary," said Golub, who will co-chair the 2015-16 campaign along with Dave Lofland, President of KeyBank Oregon and SW Washington. 
"We thank and congratulate the companies that helped Work for Art raise $750,369 last year," Lofland said. "Our past supporters are stepping up with extraordinary commitments for this year's million-dollar campaign, which will help local arts organizations provide even more exceptional programs and services in the future."
Nearly 2,000 employees at 76 companies currently participate in Work for Art. The Standard, NW Natural, state employees, ZGF Architects, OHSU, KeyBank, the City of Portland, and Stoel Rives were among the largest workplace giving campaigns for the arts in 2014-15, and Golub and Lofland extended special recognition on Thursday night to the following:
Portland General Electric was the #1 campaign, raising a total of $98,730 from employees and the company's matching gift program.   
Burgerville had the most employees participate in the campaign – 403.
The Oregon Cultural Trust was named outstanding community partner for providing several grants that have funded critical program expenses since 2007.
The 2014-15 campaign raised a total of $750,396, and all proceeds will be awarded to arts organizations in Clackamas, Multnomah and Washington Counties through RACC's established grants process. For the 10thanniversary milestone, Golub and Lofland reiterated the importance of renewing last year's donors while developing new strategies and revenue streams for 2015-16:
$342,500 has been secured thus far for a Matching Challenge Fund that will double all individuals' gifts up to $5,000. Participating donors to date include the City of Portland; Clackamas, Multnomah, and Washington counties; KeyBank, Portland General Electric, the Portland Timbers and The Standard; and several individual donors.
Securing new participating companies will continue to be a priority. Century Link, Daimler Trucks North America, Providence Health & Services, The Commerce Bank of Oregon and Washington Trust Bank are examples of companies that have recently joined the ranks of Work for Art.
A new special event, a "Battle of the Bands," will debut in May, 2016. Employees from eight local companies will compete in front of a live audience and panel of celebrity judges to win the title of Best Company Band in Portland, with all proceeds benefiting the 10th anniversary campaign. Sponsors (and competing companies) include KeyBank, Portland General Electric, Portland Timbers and The Standard.
Although Work for Art is primarily a workplace giving program, anyone can participate by making a donation online at workforart.org. Donors who pledge $60 or more receive an Arts Card, which provides a full year of two-for-one tickets at hundreds of local arts events.
Company leaders who would like to establish an employee giving campaign for the arts, or provide Arts Cards for their employees, or contribute to the 10th Anniversary campaign in other ways, are invited to contact Kathryn Jackson, Work for Art Manager at 503-823-5424 or kjackson@racc.org.