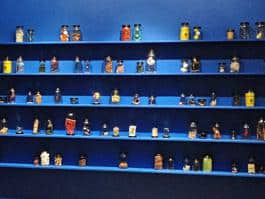 PORTLAND, ORE – The Anthropocene: a term increasingly used to describe a new epoch in which human activity exerts significant influence on global environmental conditions.
This allegorical apothecary installation by artist Deanna Pindell presents a summons to reconsider our heretofore casual relationship with our mortal existence on the planet. Can the looming climate and environmental crisis we appear to be headed for be cured by self-reflection, personal responsibility, and widespread cultural change? To help explore where we stand as a species with the environment that sustains us, Pindell will present viewers with a set of riddles written on the walls of the Portland Building Installation Space. Clues for these riddles come in the form of over 100 mason jars mounted on shelves. Each jar contains a relic, or some form of physical artifact that references a single environmental choice our society has decided to make, consciously or unconsciously—a jar full of genetically modified corn seeds, a tiny bird skull, coupons from Walmart. The riddles and their enigmatic clues are crafted to provoke us into directly considering these decisions, and whether or not, taken together, they accumulate into environmental disaster.
Who was number 316? (clue – a jar that contains an ear tag for a "factory cow.")
How to kill an albatross?  (a jar with spent shotgun cartridge wads consumed by sea birds.)
Several slender hopes for the future? (a jar containing organic heritage squash seeds.)
The project will include an intimate journal visitors can examine and add their own comments to while seated in a comfortable vintage chair. Attentive journal readers will also discover a set of answers to the riddles, short poetic essays, and technical information on the jar specimens.
About the Artist: Deanna Pindell practices permaculture with a plethora of critters and conifers in Port Hadlock, Washington. A graduate of the Interdisciplinary Art M.F.A. program at Goddard College, she is the veteran of numerous public art projects and exhibitions throughout the US. She currently teaches at Olympic College in Bremerton, and was the Environmental Artist-in-Residence at the McColl Center for Visual Art in Charlotte, North Carolina in 2012.
Viewing Hours & Location: The Portland Building is located at 1120 SW 5th Avenue in downtown Portland and is open 8 am to 5 pm, Monday – Friday.  Apothecary for the Anthropocene opens September 28th and runs through October 23rd, 2015.
For more information on the Portland Building Installation Space, including images, proposals, and statements for all projects dating back to 1994, go to www.racc.org/installationspace.