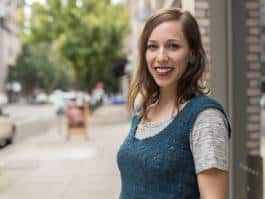 PORTLAND, ORE —The Right Brain Initiative's Outreach Specialist Rebecca Burrell has received a Skidmore Prize, an award delivered annually by the Willamette Week to four outstanding non-profit leaders under the age of 36. This award is presented in conjunction with Willamette Week's Give!Guide, a year-end fundraising campaign for Portland area organizations, which launched today and runs through December 31.
Burrell was hired in 2009 to build The Right Brain Initiative's first strategic communications and community engagement programming. Since that time, Burrell has played an integral role in helping the program grow from serving 23 schools in 2009-10 to serving 63 schools in 2015-16, and securing Right Brain's position as one of the most visible and respected arts education programs in the nation.
"Rebecca is passionate, creative, strategic, collaborative and tireless," said Marna Stalcup, Director of Arts Education at RACC. "Most rewarding is her ability to galvanize the community, turning what could be passive supporters in to passionate activists working on our behalf."
Since 2009, Burrell has allied Right Brain with the STEAM Caucus of the US House of Representatives, causing Right Brain to be cited repeatedly as a key example of STEAM education in the United States. She has led over 500 volunteers to deliver more than 10,000 hours toward advocacy projects for the Initiative. In 2014, she drove the effort to release ground-breaking data about Right Brain's impact on student test scores, which garnered attention by Americans for the Arts, The Huffington Post, Oregon Public Broadcasting and the Portland Monthly.
In addition to her work with Right Brain, Burrell is currently chair of the Emerging Leader Council at Americans for the Arts. She is a co-founder of the Portland Emerging Arts Leaders, and a Portland Metro Leadership Council member of The Oregon Community Foundation.
The Right Brain Initiative plans to raise $20,000 through the Give!Guide by December 31, 2015. Donate to Right Brain and 142 other local non-profits at giveguide.org.
For more information about Right Brain's integrated arts programming in Portland area K-8 schools, visit theRightBrainInitiative.org.