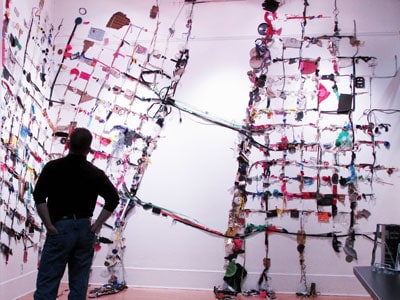 PORTLAND, ORE – The Regional Arts & Culture Council (RACC) is pleased to present FMRL, a new installation by Tyler Corbett and Erinn Kathryn on exhibit February 16 through March 11, 2016 at the Installation Space in the Portland Building. Viewing hours are Monday – Friday, 8 am to 5 pm, or by special appointment.
FMRL is constructed from thousands of ephemeral bits of refuse collected from the streets of Portland's inner city. Throughout 2015 the artists systematically scoured the sidewalks, bridges and gutters of the downtown and eastside industrial neighborhoods gathering tiny pieces of plastic, paper and metal. The amorphous, fractured fragments are arranged across the walls, floor and ceiling of the Installation Space to form a radiating network of colorful pathways and meandering trails. With careful study individual objects emerge from the sea of trash. The once unrecognizable forms become familiar, yielding an intimate examination of the ubiquitous products and materials that are consumed and discarded in our town.
About the Artists: Interdisciplinary artists Tyler Corbett and Erinn Kathryn are a collaborative team working in Portland, Oregon. Through painting, sculpture, installation, photography and video, they address geography, space and scale. They spend extensive time studying topographical maps, aerial photography and satellite data, and traversing landscapes that are eventually interpreted in their work. Corbett and Kathryn were 2014 RACC Project Grant recipients and as collaborators have had featured exhibitions at the Multnomah Arts Center and Lightbox Kulturhaus in Portland, Lovell Showroom in Astoria, Oregon, and at the Alaska House Gallery in Fairbanks, Alaska. They have participated in group exhibitions at the Peoples Art of Portland Gallery and at the University of Alaska, Fairbanks. Their work based on Denali National Park has become part of the permanent collection of the Museum of the North in Fairbanks. For more information please visit http://tylercorbett.com and  http://www.erinnkathryn.com
Viewing Hours & Location: The Portland Building is located at 1120 SW 5th Avenue in downtown Portland and is open 8 am to 5 pm, Monday – Friday. FMRL runs from February 16 through March 11, 2016.
For more information on the Portland Building Installation Space, including images, proposals, and statements for all projects dating back to 1994, go to  http://racc.org/installationspace.
Issued by RACC on 2/2/16