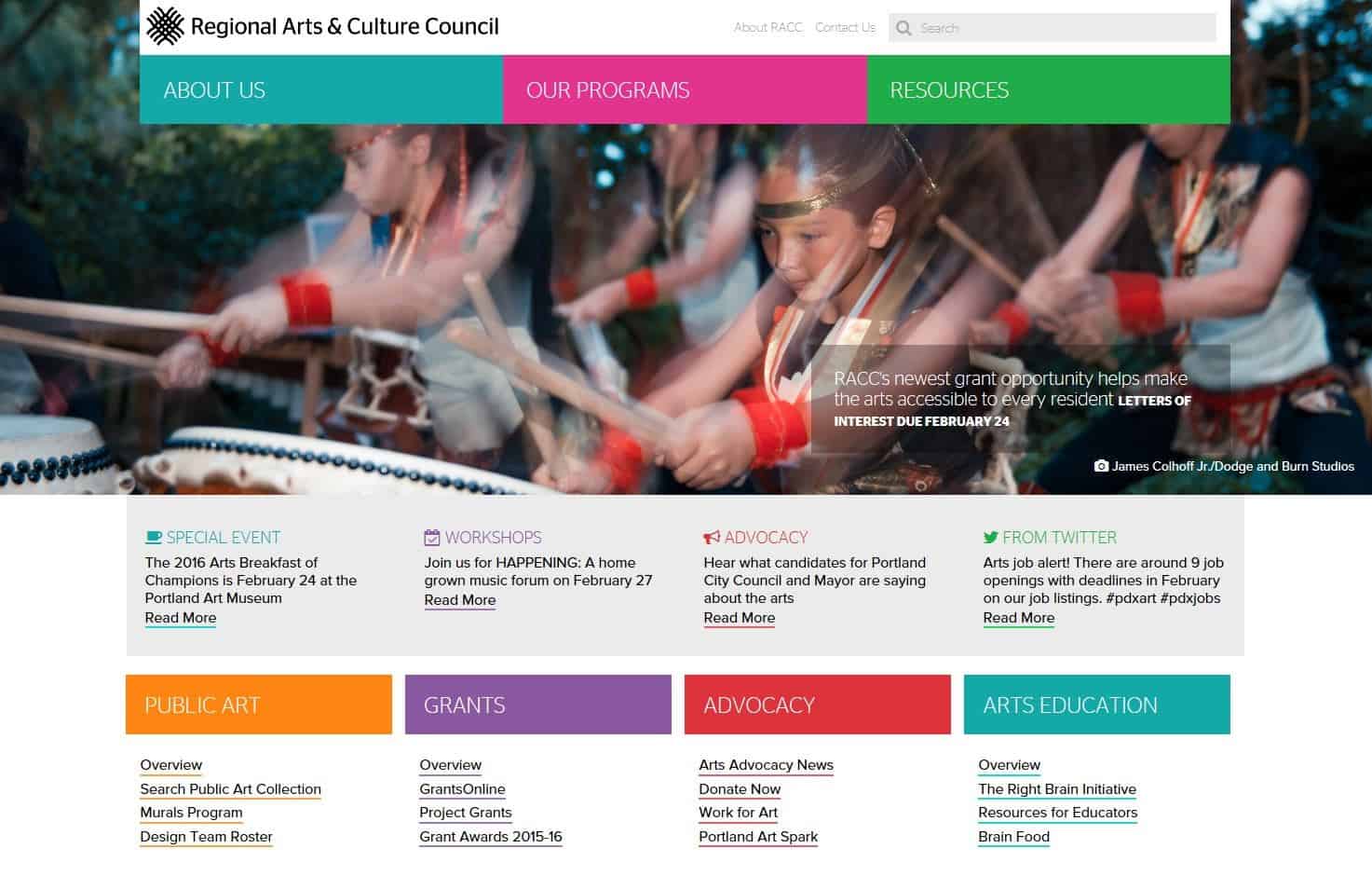 PORTLAND, ORE — The Regional Arts & Culture Council (RACC) has launched a new website at www.racc.org.  With an average of 452 unique visits per day, RACC's website has been redesigned and reprogrammed to help constituents access RACC's abundant resources more easily. The new website is also fully responsive for tablets and mobile devices, which now account for 30% of all visits.
Among the services available on racc.org:
Artists can apply for RACC grants, discover public art opportunities, find workshops and networking events, and tap into a wide variety of other online resources.
Arts organizations can learn more about RACC funding opportunities, find technical assistance programs and download research to help them be strong advocates.
Arts educators can learn more about The Right Brain Initiative and other opportunities for teaching artists in our community.
The public at large can browse the public art collection, find arts-related jobs, connect with organizations who offer $5 tickets through the Arts for All program, and learn more about how the Arts Education & Access fund, or arts tax, is making a difference in our community.
RACC's online resource database is one of the most comprehensive in the region, and web visitors can now search and sort a myriad of opportunities including calls for artists, residency opportunities, arts-related jobs, live-work space, workshops, lectures and more. The new racc.org allows community members to submit additional opportunities online for RACC to share with its constituents.
The Regional Arts & Culture Council provides grants for artists, nonprofit organizations and schools in Clackamas, Multnomah and Washington Counties; manages an internationally acclaimed public art program; raises money and awareness for the arts through Work for Art, a workplace giving program; convenes forums, networking events and other community gatherings; provides workshops and other forms of technical assistance for artists; and oversees a program to integrate arts and culture into the standard curriculum in public schools through "The Right Brain Initiative." RACC values a diversity of artistic and cultural experiences and is working to build a community in which everyone can participate in culture, creativity and the arts.