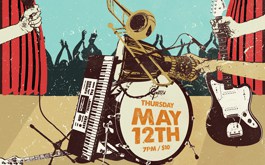 Preparations are underway for our first annual Battle of the Bands, a celebration of employee creativity and a benefit for Work for Art! The event takes place Thursday, May 12 at the Crystal Ballroom. Doors will open at 6:00 p.m. and the competition begins at 7:00.
Eight employee bands, sponsored by their companies, are currently tuning up their ten-minute sets.
Brothers Jam, featuring Jamey Hampton of BodyVox and Hampton Lumber, will open the show.  Seven other bands will perform in a variety of genres to vie for the title of "Best Company Band," as determined by our panel of celebrity judges. The judges will also award a "Best Showmanship" prize, while everyone else gets to select an "Audience Favorite" by voting for their favorite band with cash. The competing bands include:
Burgerville, Dystopia
Kaiser Permanente, Members Only
KeyBank, The Red Keys
Portland General Electric, Larry and the Lightbulbs
The Standard, Smoke Before Fire
Tonkon Torp, The Legal Limit
ZGF Architects, Pencil Skirt Paula and the Straight Edge Rulers
The Portland Timbers Army band Greenhorn will also perform.
Tickets are just $10 each, available at the Crystal Ballroom Box Office or online at http://bit.ly/WFABattleOfTheBands. A limited number of VIP tickets are available for $100 each and include hosted food and beverage, table seating area, validated parking and a complimentary concert t-shirt.
All proceeds benefit Work for Art's 10th Anniversary Campaign to raise $1 million for local arts and culture organizations. This is an all-ages event, accessible for people with disabilities. For more information visit http://workforart.org/battle-of-the-bands/.

Battle of the Bands
A benefit for Work for Art
Thursday, May 12 at 7:00 pm (doors open at 6:00)
At the Crystal Ballroom, 1332 W Burnside, Portland
General Admission $10, VIP $100