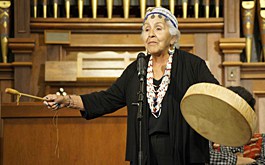 The Regional Arts & Culture Council (RACC) has awarded $119,380 in Arts Equity Grants to 21 organizations for activities that advance RACC's goals for equity in Portland and Multnomah County. These grants are funded by City of Portland's Arts Education & Access Fund, along with support from Multnomah County.
The Arts Equity Grant program is an evolution of RACC's former Expanding Cultural Access program. Following extensive community outreach, 90 organizations submitted letters of interest in February, and 30 were invited to submit full applications. Of the 21 organizations that were selected for grant awards, 11 are receiving RACC support for the first time.
"Access to the arts remains a top priority of all of us at RACC, and we have been working for several years to diversify the pool of grant applicants and awards," said executive director Eloise Damrosch. "These new Arts Equity Grants will help get us to the next level, investing in programs and organizations that reach communities of color, underserved neighborhoods, people with disabilities and other under-represented populations."
Two rounds of panels made up of RACC board members, staff, and community volunteers reviewed letters of interest and applications, evaluating them for impact, organizational capacity, and alignment with RACC's equity goals. The RACC board of directors approved the final grant awards on May 25, 2016.
First Time Recipient
Applicant Name
Summary
Award Amount

 

APANO
Provide support for APANO's Arts & Media Project to present "Mic Check! Voices from the Margins," a series of cultural events in  summer 2016.
$7,000
*
Association of Russian-Speaking Compatriots United States (ARSCUS)
Provide visual art classes for children in Russian at the East Portland Neighborhood Office.
$5,000
*
Community Vision, Inc.
Outfit and support the first exhibition in a street level window gallery in Community Vision's new headquarters building at SE 19th and Division.
$5,850
*
Division Midway Alliance for Community Improvement
Produce the Festival of Nations, a multicultural event featuring traditional music, art, food, and culture from around the world.
$5,950
*
East County PFLAG
Partner with Springwater Studio to create yOUTh OUT Arts, a 12-month series of multi-disciplinary art workshops for LGBTQ youth in East Multnomah County.
$4,500
FusionArte
Produce LenteMovil: "The Other Side of my Community," a mobile multimedia project that interweaves video, photography and storytelling.
$6,570
Hacienda CDC
Produce a series of cultural events at the Portland Mercado, a Latino public market, that will showcase the music, dance, and cultural craft of Latino artists.
$5,950
Immigrant and Refugee Community Organization – IRCO
Work with artists Jacob Wachira Ezigbo and Baba Wagué Diakité to produce 8 monthly cross cultural arts workshops for youth and two events to showcase participant art.
$7,000
*
Instituto de Cultura y Arte In Xochitl In Cuicatl
Produce Dia de los Muertos ceremony including workshops, mural making, traditional dance, and sharing the history of Dia de los Muertos.
$3,500
Kukatonon Children's African Dance Troupe
Collaborate with the Portland Ballet to provide offering fundamental of ballet classes as part of ongoing West African Dance education programing.
$5,000
latinoartnow
Work with students from Scott K-8 School and PSU to learn about the history and creation of murals and Latino art.
$5,950
LAX IdeAL
Provide support for one day conference for Latino artists, hosted at Milagro Theatre.
$5,000
Micro Enterprise Services of Oregon
Produce arts performances and artist vendor marketplace to strengthen intercultural understanding and economic stability for underserved populations.
$3,400
*
Morpheus Youth Project
Offer 8 weeks of breakdancing workshops for youth at Donald E. Long Juvenile Detention Center.
$7,000
My Voice Music
Provide songwriting, music instruction, and live recording sessions for unaccompanied migrant youth, in partnership with Morrison Child and Family Services.
$7,000
*
National Indian Parent Information Center
Produce Native American Inclusive Culture Days which support cultural opportunities for youth with disabilities and learning challenges, and their families.
$4,860
*
Right 2 Survive
Create art for Right 2 Dream Too location in SE Portland and host a House(less) Warming Party including art-making between houseless and housed neighbors.
$5,950
*
Russian Speaking Community Leaders Group
Present a film, and a music and dance performance, at the 2016 Slavic Festival in Ventura Park.
$6,750
*
The Geezer Gallery
Support for Story Catchers Art Therapy program to work with 4 groups of LGBTQ seniors of color for 13 week workshops in writing and visual arts.
$7,000
*
The Giving Tree
Provide two 8-class series of Art Explorations classes for residents of affordable housing in Portland.
$3,150
Wisdom of the Elders, Inc
Produce Climate and Native Wisdom documentary film and radio series for Discovering Yidong Xinag Program.
$7,000
Other awardees: