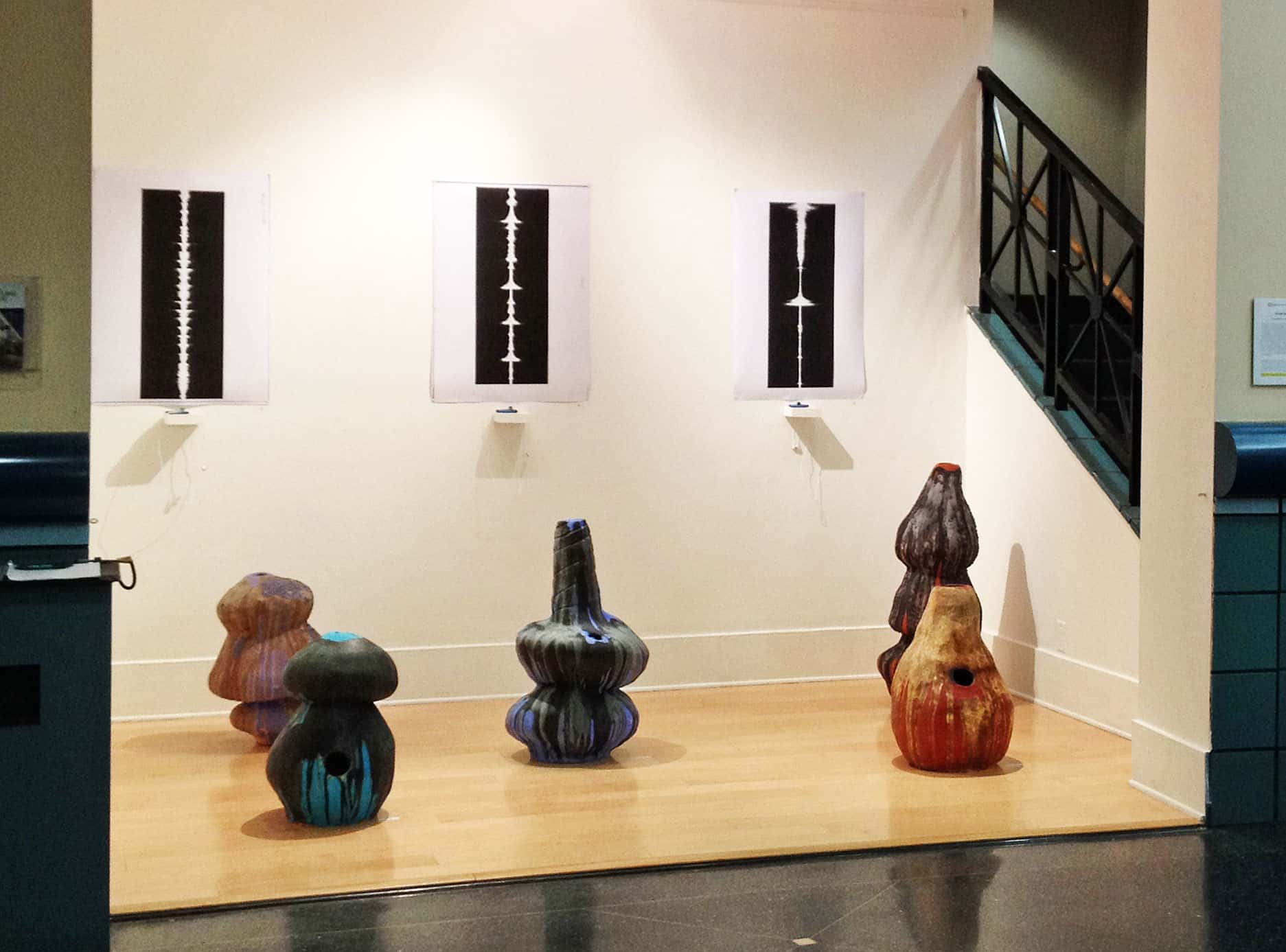 PORTLAND, ORE – Multimedia artist Yelena Roslaya works to represent sound visually. "The idea of visually displaying sound is inspired by my experience with hearing-motion synesthesia, which occurs when one sense triggers another…personally it happens whenever I see implied motion or energy. I want to share this experience with viewers through my installation at the Portland Building and hear their response."
Roslaya's first step in this process was the recording of everyday sounds that occur in the Portland Building—people opening doors, conversing with each other, or simply walking down a hallway. Using FL Studio software, those recordings were then translated into graphic wave images which will be displayed in front of a set of three-dimensional forms, or "sound wave sculptures," inspired by the wave shapes. These large scale ceramic sculptures draw on the Udu drum forms Roslaya has explored in previous work. Even the colors of the glazes on the sculptures will be determined by the corresponding sound's "color noise" spectrum—violet noise, white noise, red noise, etc. To complete the full experience for the visitor, each of the sculptures will also include a mp3 device that will playback its original source material.
About the artist: Yelena Roslaya is a graduate student at Oregon College of Arts Craft in Portland where she is the Studio Assistant for both the Ceramics and Drawing/Painting Departments. Her work is inspired by the way humans perceive and process sound. Roslaya lives in Battle Ground, Washington, and has shown at multiple venues in both Oregon and Washington.
About the Installation Space:  Each year the Portland Building Installation Space series reserves several exhibition opportunities for students engaged in creative study at the university level. The format and presentation requirements for the "student" installations are identical to those for established professional artists. The Regional Arts & Culture Council created this separate eligibility category to help introduce emerging talents to the world of public art.
Viewing Hours & Location: The Portland Building is located at 1120 SW 5th Avenue in downtown Portland and is open 8 am to 5 pm, Monday – Friday. Visual Sound opens July 5 and runs through August 5, 2016.
For more information on the Portland Building Installation Space, including images, proposals, and statements for all projects dating back to 1994, go to www.racc.org/installationspace.
# # #
The Regional Arts & Culture Council (RACC) provides grants for artists, nonprofit organizations and schools in Clackamas, Multnomah and Washington Counties; manages an internationally acclaimed public art program; raises money and awareness for the arts through Work for Art; convenes forums, networking events and other community gatherings; provides workshops and other forms of technical assistance for artists; and oversees a program to integrate arts and culture into the standard curriculum in public schools through The Right Brain Initiative. RACC values a diversity of artistic and cultural experiences and is working to build a community in which everyone can participate in culture, creativity and the arts. For more information visit racc.org.