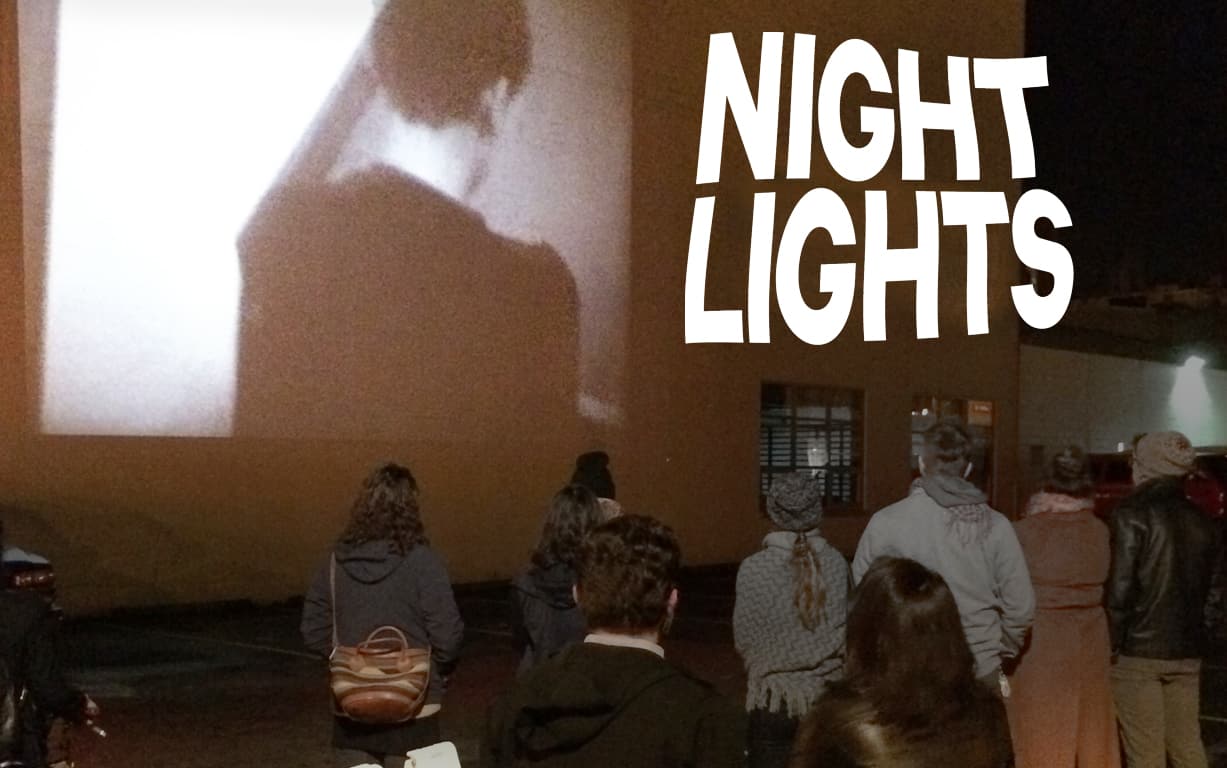 Local artists will project large-scale media works outdoors each month through April
PORTLAND, ORE – Night Lights, a monthly public art event, begins its second year of urban intervention on Thursday, October 6. Every First Thursday through April 2017, local artists and art students will claim public space at NW Park Avenue at Glisan Street, broadcasting their digital media work on the north wall of the Regional Arts & Culture Council (RACC) offices after dark.
Night Lights is a unique collaboration between RACC's public art program and Portland Community Media (PCM). Now in its second season, participating artists were selected through an open call and a community panel process, and will receive a stipend for their participation. Presentations will include large-format projections, and, in some cases, live performance.
The full Night Lights schedule appears below, showcasing a different artist or university each month. The first installment, on October 6, features artist Renee Sills who will orchestrate a video dance party, in which attendees will learn dance moves from instructional YouTube videos. In January, members of the public are invited to BYOB (Bring Your Own Beamer), that is, to bring their own projector and media project to share.
As part of this year's series, Kalimah Abioto was selected as an artist-in-residence. Abioto will work on-site at Portland Community Media for three months, using PCM's state-of-the-art media equipment and production studios to develop a new work to premier at Night Lights on March 2, 2017.
Night Lights schedule
Regional Arts & Culture Council, exterior north wall
411 NW Park Avenue @ Glisan Street, Portland
First Thursdays, October 2016 – April 2017
Dusk – 9:00pm

Thursday, October 6, 2106
Renee Sills
Thursday, November 3, 2016
Arianna Gazca
Thursday, December 1, 2016
Portland Community College
Thursday, January 5, 2017
BYOB (Bring Your Own Beamer)
Thursday, February 2, 2017
Laura Heit
Thursday, March 2, 2017
Kalimah Abioto (Artist in residence)
Thursday, April 6, 2017
Portland State University
Learn more about Night Lights at nightlightspdx.tumblr.com
###
The Regional Arts & Culture Council (RACC) provides grants for artists, nonprofit organizations and schools in Clackamas, Multnomah and Washington Counties; manages an internationally acclaimed public art program; raises money and awareness for the arts through Work for Art; convenes forums, networking events and other community gatherings; provides workshops and other forms of technical assistance for artists; and oversees a program to integrate arts and culture into the standard curriculum in public schools through The Right Brain Initiative. RACC values a diversity of artistic and cultural experiences and is working to build a community in which everyone can participate in culture, creativity and the arts. For more information visit racc.org.
For over 35 years, Portland Community Media (PCM) has empowered our community to make effective use of media for civic participation, creative expression and cultural exchange. Through media production resources, education programs, community development initiatives and a robust distribution platform, PCM helps artists, nonprofits, community groups and government agencies explore the frontier where story and technology meet. Learn more about pcmtv.org.