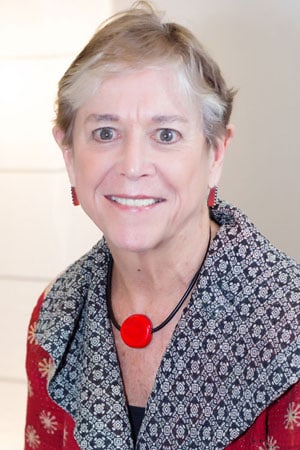 ELOISE BLOG:
Thirty years ago this June I moved to Portland. A week later I interviewed for a job managing the Percent for Art Program for the Oregon Convention Center. I started the next day. It was an amazing opportunity to jump right into the midst of a pivotal design and construction project, to work with a broad range of city leaders, architects, artists, the construction team, and to take a crash course in Portland's arts community. Some of those extraordinary people remain close friends and colleagues to this day. And little did I know that this was the beginning of a dream career helping to frame, nurture and grow public art in Portland and then add to that responsibility to strengthen the broader arts and culture communities.
Looking back I am so proud of what the mighty RACC staff and board have been able to accomplish together with artists, arts leaders, elected officials, volunteers, business people, educators, donors, the creative industries and voters. 62% said YES to the Arts Tax! All Portland elementary students now have art and music every week and arts organizations receive increased general operating support. Thanks also to the Arts Tax and Multnomah County we have created and launched Arts Equity Grants to support previously underserved populations, brought new organizations into General Operating Support membership, and will soon pilot capacity building opportunities for culturally specific organizations.
The Right Brain Initiative is rapidly growing across the region preparing our youth for productive, creative futures. Public Art continues to thrive especially as our city and counties grow and build—artfully. Work for Art raises more money each year to support arts organizations, while events like Juice and the Battle of the Bands bring arts and business ever closer in creative collaborations and greater contributions.
The years have brought challenges to be sure, but our remarkably resilient arts community has pulled through by helping each other through the worst of it and holding on to that determined spirit. Now more than ever we need to tap into our inclusive values, our beliefs that everyone is welcome here, and do all we can to ensure that arts and culture opportunities are available and accessible to every person here. RACC is committed to this and I know that going forward our resolve will only grow as we learn how best to make equity and inclusion the foundation of all that we do.
What's next for me? I have no grand plan except that I know I will spend as much of the coming summer as I can outside enjoying this beautiful place, my friends and family. I have a piano I want to befriend, a body and mind that would love to learn yoga, a husband who like me is a travel junkie, and a stunningly sweet 10 month old granddaughter two hours away who doesn't know it yet, but surely needs a grandmother to dote on her. I also have no intention of disappearing from the arts community I truly love—period.
Thank you to everyone for these wonderful years – to the incredible RACC staff past and present, our amazing Board leadership, and everyone I have had the great fortune to know and work with over 30 years. I am so lucky to have you as colleagues, collaborators, conspirators, and, most of all, friends.