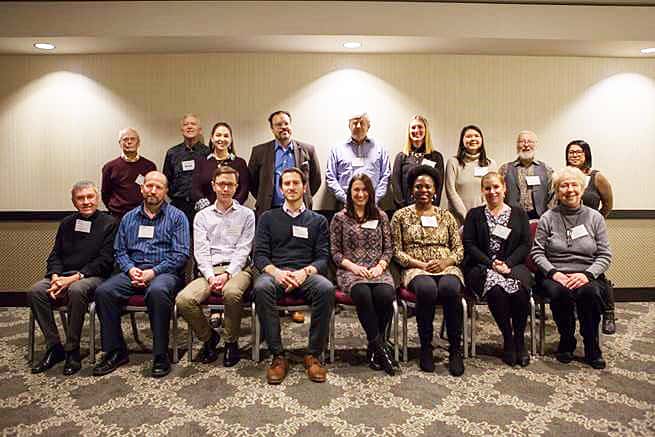 On March 1, 2017  RACC celebrated the 2016-17 Art of Leadership cohort with a graduation reception sponsored by Columbia Trust Company. This year's cohort participated in six half-day workshops from October through March, helping participants become board members for local nonprofit arts organizations. The series covers topics from finances to fundraising, strategic development to legal issues, helping participants develop leadership skills, network with business and arts leaders, and get matched with arts organizations closely aligned with their own interests and experience.
Congratulations to our graduates:
Eric Block, Metropolitan Group
Rodrigo Diaz, Portland Community College
Gillian Eubanks, Columbia Trust Company
Robert Hermanson, Retired Architect
Erin Hopkins, Sage Hospitality
Kathy Jennings, Portland Timbers/Thorns
Candace Kita, Asian Pacific American Network of Oregon (APANO)
Shayda Le, Barran Liebman LLP
Nnenna Lewis, Downtown Clean and Safe/ Portland Business Alliance
Jeffrey Martin, Portland Playhouse
Ben Mathias, Perkins & Co.
Michael Miller, Michael R. Miller, CPA
Jacob O'Brien, XPLANE
Darcy Peart, U. S. Bank
Scott Peters, Boeing Company
Steve Price
Ryan Quarberg, Boeing
Inna Schwab, KPMG
Christine Stehr, US Bank
Brian Sweeney, BPS Architecture
James Ward, A-dec, Inc
Sara Watts, Self Employed
The 2016-17 Art of Leadership program was sponsored by The Boeing Company, with additional support from Barran Liebman, Columbia Bank, Perkins & Co., Tonkon Torp LLP and U.S. Bank.
To learn more, including how to be part of the 2017-18 series that begins next fall, contact abailey@racc.org.