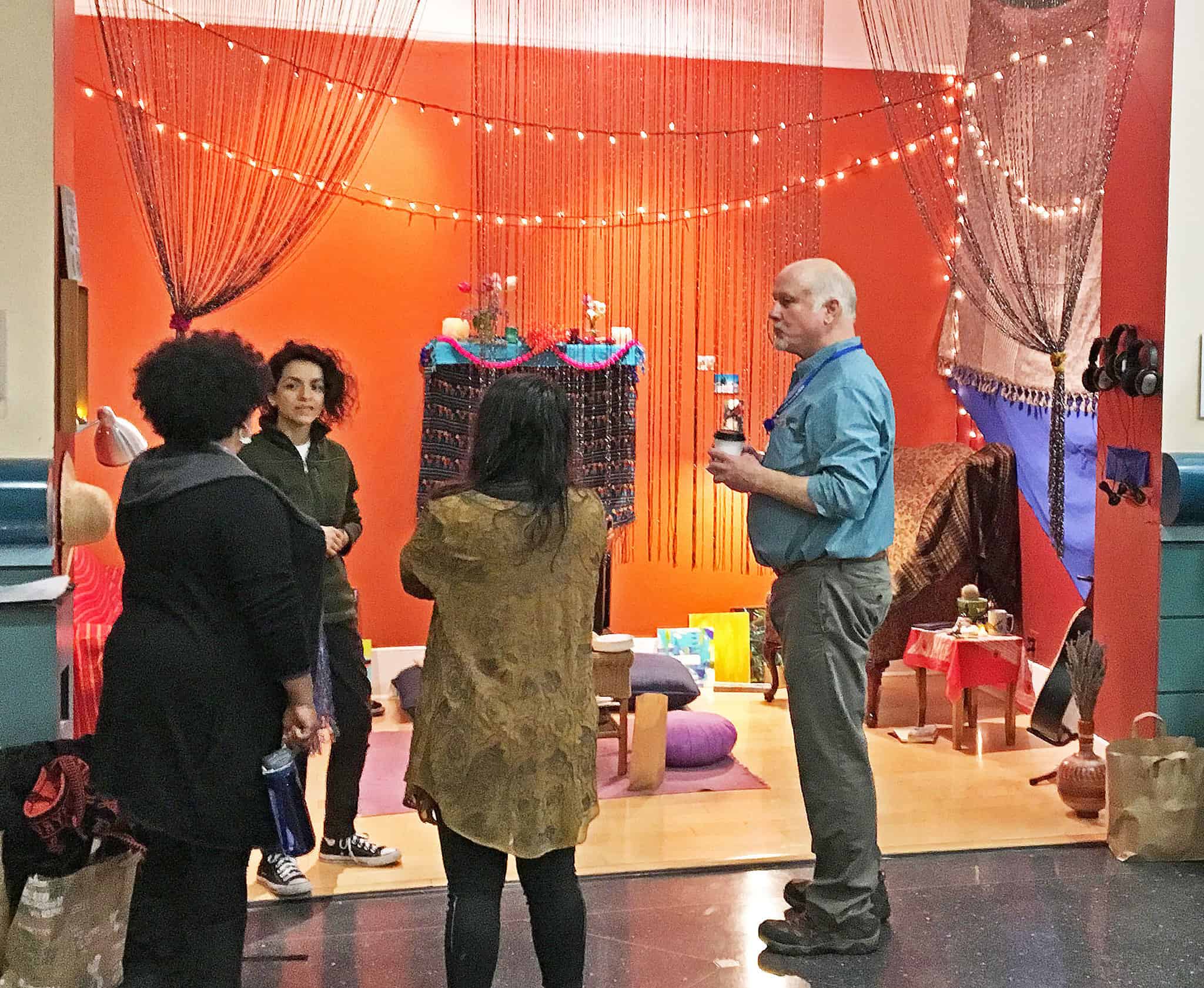 Click here for a Spanish version of this press release.
PORTLAND, ORE – Pochas Radicales, a queer Latinx art collective located in Portland, will present a timely, site specific installation in the exhibition space at the Portland Building beginning May 2. The project, titled Nuestrx espacio;soy otro tú, will transform the compact gallery adjacent to the building lobby into a platform that offers an engaging narrative of a young, queer Latinx living in Portland.
Visitors will immediately recognize the layout and furnishings in the room as something familiar, comfortable, and warm. Upon entering, we are lead into the narrative of the young person that created the space. As visitors contemplate the room's story, the narrative unfolds and we are taken into the mind of this youth, seeing the world as they do and learning the rhythm of their heart. Entonces—who's room is this?
"We invite the public, employees of the building, and visitors to interact with the space by entering the room, having a seat and making themselves at home. On designated days, there will be café de olla and pan dulce available for participants to enjoy in communion with the artists. The intention of this installation is to personalize the stories of so many people whose lives go unnoticed because they are often reduced to a flash on the evening news with very little context. We want participants to care about this young person as though they were someone very dear to them. They are young, they are queer, they are Latinx, and their story is worth sitting down and listening to. This person could be me, and they could be you. We are highlighting the power of the self-told narrative, and the precious, often overlooked details of human beings that we share space with at work, in our neighborhoods, and throughout our lives." –Pochas Radicales
About the Artists: Pochas Radicales works to foster community engagement and social justice through art & activism. The collective was founded by Blanca Stacey Villalobos while she was at Portland State University to build community and support for queer Latinxs. Villalobos, along with Andrea Elena Telles form the heart of Pochas Radicales today and the collective has completed an impressive number of projects in a variety of mediums. In 2016 they received a Precipice Fund grant and worked throughout the year on their project echo/hecho. The project included starting a podcast, remodeling a camper trailer and converting it into a mobile gallery, and curating a 3 day event at the end of the year in which featured numerous artists from across Portland. Pochas Radicales also focuses on creating safe spaces for queer and trans people of color throughout Portland and are constantly working to educate themselves and their communities on ways to uplift themselves and one another. Their work challenges archaic notions of gender and sexuality and embraces, validates, and champions the richness of Latin American diaspora. (The term pocha is slang for a Mexican-American person who blends American and Mexican culture; alternately it is a reclaimed term used with pride to validate place and experience in a diverse North American culture.) pochasradicales@gmail.com
Meet the Artists: Join us for a chance to meet Pochas Radicales and discuss their installation in person at the Portland Building on Tuesday, May 2nd at 4 PM.
Drop in Tuesday Mornings: As a way for community and artists to engage in conversation. all are welcome to stop in for hot drinks and sweets with Pochas every Tuesday from 8:15 am – 9:15.
Viewing Hours & Location The Portland Building is located at 1120 SW 5th Avenue and is open 8 am to 5 pm, Monday to Friday. Nuestrx espacio; soy otro tú opens Monday, May 2 and runs through Friday, May 26. For more information on the Installation Space series go to www.racc.org/installationspace.
###
The Regional Arts & Culture Council (RACC) provides grants for artists, nonprofit organizations and schools in Clackamas, Multnomah and Washington Counties; manages an internationally acclaimed public art program; raises money and awareness for the arts through Work for Art; convenes forums, networking events and other community gatherings; provides workshops and other forms of technical assistance for artists; and oversees a program to integrate arts and culture into the standard curriculum in public schools through The Right Brain Initiative. RACC values a diversity of artistic and cultural experiences and is working to build a community in which everyone can participate in culture, creativity and the arts. For more information visit racc.org.