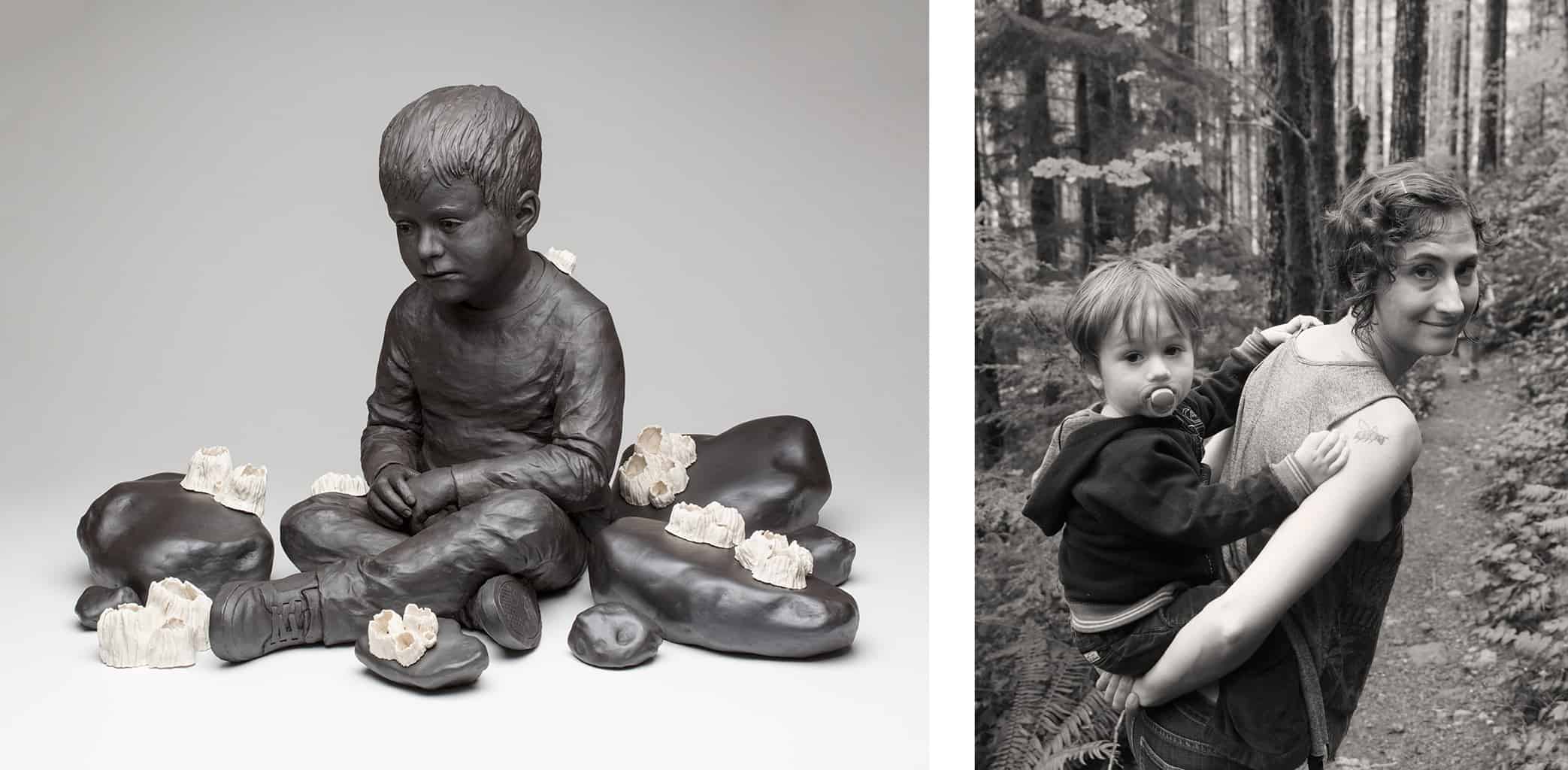 PORTLAND, ORE – RACC is pleased to present a new work by sculptor and installation artist Crystal Schenk in the Installation Space located adjacent to the Portland Building lobby. I'm Not a Barnacle, I'm Just a Boy, opens June 5 and features an arresting sculpture that asks the viewer to look beyond their common understanding into the complexities of the mother/child relationship.
Schenk's project is an expansive ceramic piece recently completed during her artist residency at Leland Iron Works in Oregon City. The work consists of a field of rocks—each handmade with black clay—which are smooth and satiny, as if tumbled by the sea. Over these rocks large white porcelain barnacles appear to have fastened themselves. The center of the field reveals a sculpture of her three-year-old son, also made in black clay with barnacles growing on his body.
"I like to let one material mimic and charade as another—as the process of discovery lends to an unfolding of understanding." Schenk says. "Although some species of barnacle are parasitic, most are so harmless their hosts may not even notice them growing to cover their bodies. My relationship to my son has been similar. Starting as an almost unnoticeable seed in my body, he soon grew to take it over—and once on the outside he has been continuously attached to me, even now at three years old. This work was inspired by a moment while we were beachcombing, when he randomly told me, 'Momma, I'm not a barnacle. I'm just a boy.' The sculpture exposes my mixed emotions to being a parent, and my bond with this tiny being who is both autonomous and vaguely parasitic."
About the Artist: Crystal Schenk has a labor-intensive and detail-oriented way of working, in which craftsmanship and material choices play a large role. Her mediums vary as she relies on a combination of material meaning and personal/cultural iconography to build concept. Her work incorporates a wide range of skills, including welding, stained glass, woodworking, crochet, beading, and casting to name a few. Woven through what may initially appear as visually disparate works are common themes of class structure, heritage, and the fluctuating perceptions of memory.
Schenk received an MFA from Portland State University in 2007, and a BFA from The School of the Art Institute of Chicago in 1999. She lives and works in Portland, Oregon and is an adjunct professor at Pacific Northwest College of Art and Portland State University. She was awarded the International Sculpture Center's Outstanding Student Achievement in Contemporary Sculpture Award for 2006, and was selected as the recipient of ISC's residency program at Art-st-urban in Switzerland. In 2009 Art-st-urban awarded Schenk with the institution's first Emerging Sculptor Award, and represented her at Art Basel in 2013 and Open 18 in Venice Italy in 2015. Locally, Schenk's work was represented at the Oregon biennial, Portland 2010, and has been exhibited at Bullseye and Linfield galleries. This All Happened More or Less, a public art commission Schenk completed with Shelby Davis in SE Portland was recently recognized by Americans for the Arts one of 2014's top public projects nationwide. www.crystalschenk.com
Meet the Artist: Join us for an opportunity to discuss I'm Not a Barnacle, I'm Just a Boy with Crystal Schenk in person at the Portland Building Installation Space on Thursday, June 8th at 4 PM.
Viewing Hours & Location The Portland Building is located at 1120 SW 5th Avenue and is open 8 am to 5 pm, Monday – Friday. I'm Not a Barnacle, I'm Just a Boy opens Monday, June 5 and runs through Friday, June 30. For more information on the Installation Space series go to www.racc.org/installationspace.

###
The Regional Arts & Culture Council (RACC) provides grants for artists, nonprofit organizations and schools in Clackamas, Multnomah and Washington Counties; manages an internationally acclaimed public art program; raises money and awareness for the arts through Work for Art; convenes forums, networking events and other community gatherings; provides workshops and other forms of technical assistance for artists; and oversees a program to integrate arts and culture into the standard curriculum in public schools through The Right Brain Initiative. RACC values a diversity of artistic and cultural experiences and is working to build a community in which everyone can participate in culture, creativity and the arts. For more information visit racc.org.