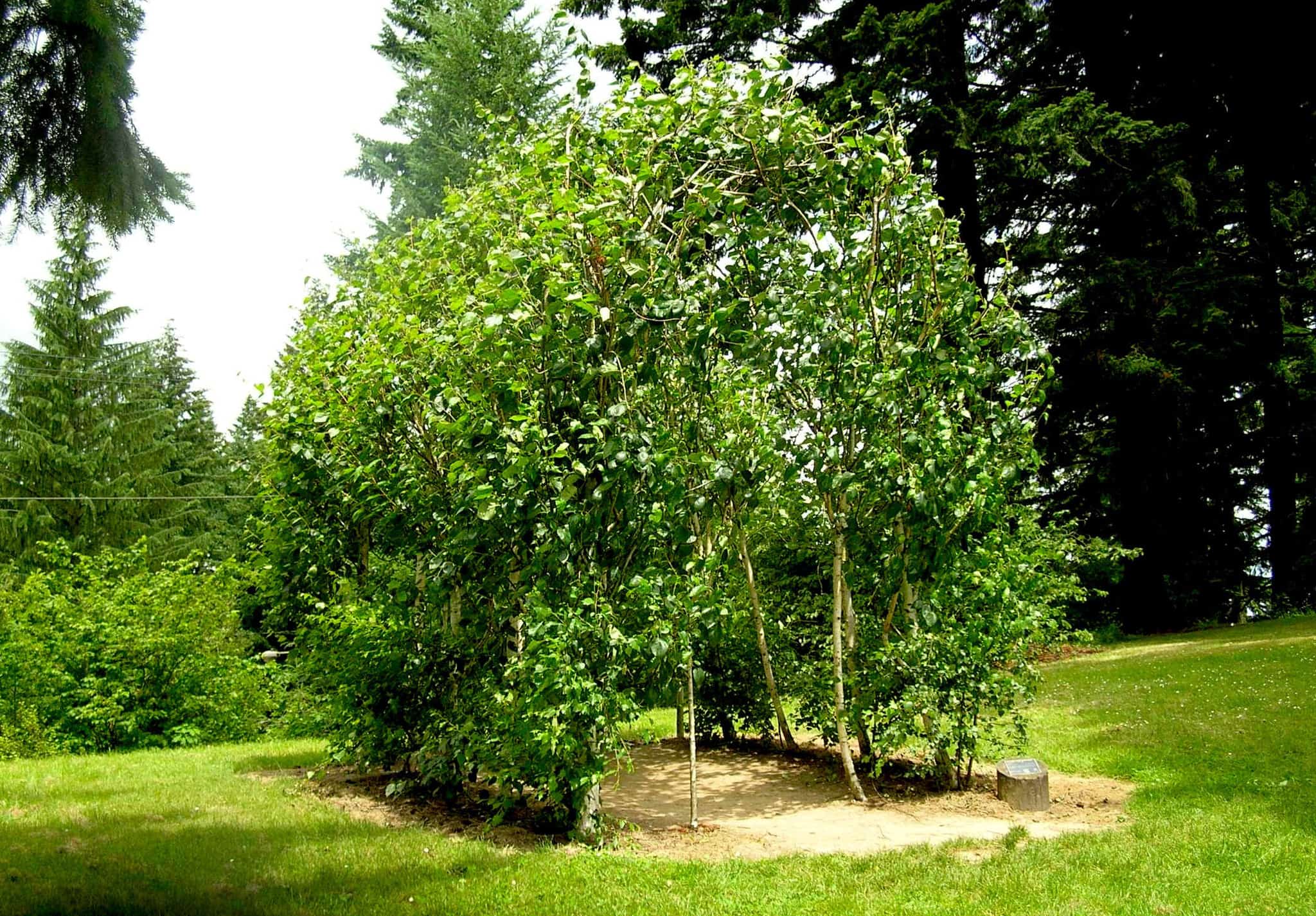 House for Summer, artist Helen Lessick's living tree sculpture located within Portland's Hoyt Arboretum, is turning 30 years old! This captivating installation of birch trees, part of the City of Portland's public art collection, has been pruned and shaped to take the form of a house, a house that changes with the seasons and is a reflection of the shelter of the forest canopy. House for Summer is a prime example of the work Lessick has done over the past three decades investigating the imagery and metaphor of plants.
Coinciding with this anniversary Lessick's is having an exhibition at Jeffrey Thomas Fine Art and the Murdoch Exhibition Space. Titled CANOPY, the exhibition showcases Lessick's recent works with trees across the American west and features a number of her site-specific installations as well as sculpture, artists' books, and works on paper.
A Tree Celebration: Join us for an on-site event celebrating the 30th anniversary of House for Summer on Wednesday, June 21, from 3:30 to 5:30 pm. The Hoyt Arboretum is located at 4000 SW Fairview Blvd., in Portland—within the Arboretum House for Summer is located adjacent to the intersection of SW Fairview Blvd. and SW Knights Road. Refreshments will be served to honor the trees and will be followed by a human reception at Jeffrey Thomas Fine Art at 6 pm.
Jeffrey Thomas Fine Art and the Murdoch Exhibition Space are located at 2219 NW Raleigh Street, Portland www.jefferythomasfineart.com  For a map to House for Summer contact RACC Collections Manager Keith Lachowicz klachowicz@racc.org  CANOPY runs from June 10 – July 29 with an artist reception on June 10 from 4 to 6 pm.
About the Artist
Helen Lessick is a visual artist working in sculpture, installation, artists' books and public art. She has received a Pollock Krasner Foundation fellowship, project grants from Art Matters, the Warhol Foundation and the Oregon Arts Commission and was the 2000 Bonnie Bronson Foundation fellow. Helen has been honored with solo shows at the Bellevue Art Museum, Tacoma Art Museum and the Sierra Nevada Museum of Art, she has created commissioned artworks in Europe and Africa as well as across the US. Helen earned her BA in Art from Reed College and her MFA in Studio Art from the University of California Irvine. She maintains her practice in Los Angeles.  helenlessick.net