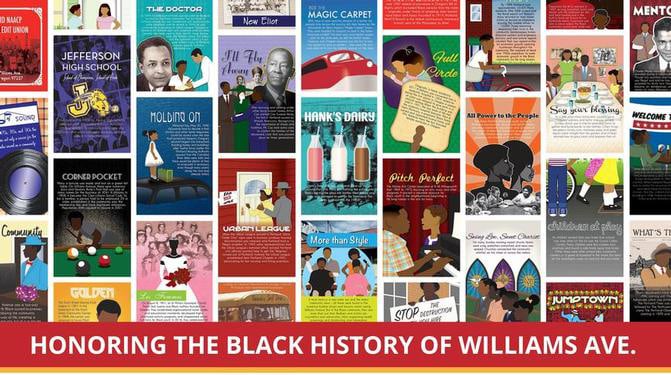 Williams Ave. was once the vibrant heart of Portland's Black community. Formerly known as the "Black Broadway," the corridor included a concentration of Black churches, businesses, social service organizations and nightclubs that were thriving and active community institutions.
Although the landscape has changed, there is much to remember, celebrate and build upon. In 2012, the Williams Ave. Safety Project Stakeholder Advisory Committee recommended to the Portland Bureau of Transportation (PBOT) that these stories be honored through an art history project that would have a prominent place on the corridor. Thus, the community-led Honoring History of Williams Ave. Committee and the Historic Black Williams Project were born.
Since then, local artists Cleo Davis and Kayin Talton Davis have been collecting stories, memories and histories from Black community members. Their artwork is now complete and ready for installation. We hope that this project will serve as both a visual archive and an inspiration for future community efforts. Please join us on June 3rd as we honor this history and project contributors. During this event we will have a brief speaking program and then launch group and self-guided walks of the corridor to view the art pieces. A map of the art walk will be available at the event and online post-event.
ART UNVEILING + COMMUNITY WALK
Saturday, June 3, 2017
12:00 PM – 2:00 PM (Program at 12 PM; community art walk to follow)
Dawson Park, N. Williams Ave. + N. Stanton St.
Portland, OR, 97227
RSVP: historicblackwilliamsproject@portlandoregon.gov or (503) 823-4239