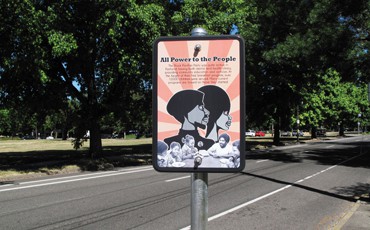 RACC is co-sponsoring the next RACE TALKS, Tuesday, August 8, 2017; "Williams Avenue Black History Corridor"; at McMenamins Kennedy School, 5736 NE 33rd Avenue; Portland, OR 97211; Doors open at 6 pm; Newcomers Intro 6:45 pm; Food and drink available for purchase.
About Williams Avenue's Black History Corridor
N Williams is changing. A lot. What many now living, working and playing in the area don't know is that for the majority of the 20th century, N Williams/Albina was Portland's largest African American community. Join our speaker panel to learn how the Historic Black Williams Project highlights this chapter of Portland history through a multimedia public art project. Speakers share the history of Albina, the impetus for the Historic Black Williams Project and how art can be a catalyst for Social Justice action and reform.
Speakers are:
Tom Robinson, Photo Historian
Mychal Tetteh, Fix Our Streets Program Manager, Portland Bureau of Transportation
Kayin Talton-Davis, Artist / Project Manager
Cleo Davis, Artist / Project Lead
See RACE TALKS.