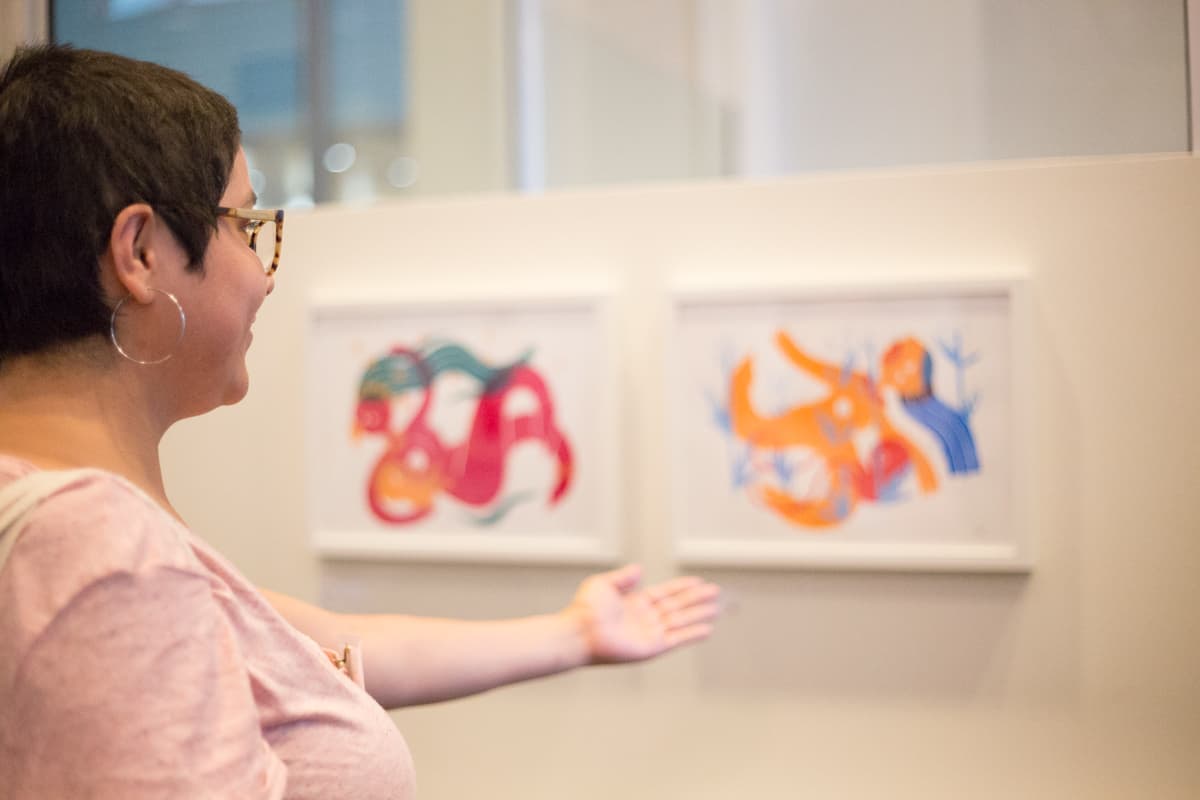 How do a regional arts and culture organization and a Latinx economic and community development organization intersect? Months ago, RACC and the Hispanic Metropolitan Chamber (HMC) first met to discuss partnering and what that would look like. Together, we asked this question, and the answer was right there: our commitment to the creative and entrepreneurial Latinx community.
We turned this commitment tangible through Latinidades: An Art Show Celebrating Latinx Artists, a first-of-its kind First Thursday art show that opened on August 2nd. Mercedes Orozco, Director of UNA Gallery, led the show curation. Once a contemporary art space, UNA Gallery is now a non-localized visibility project that supports the creativity of people of color (POC), queer, femme, and gender non-conforming artists through exhibit curation and events throughout Portland.
Together, we transformed the HMC office into an art gallery with an opening reception that welcomed over 60 community members. The range of artwork and artist experience, thanks to Mercedes' curatorial direction, is truly the soul of Latinidades. Just like the Latinx identity,  these artists' work are not homogenous – and Latinidades is just a taste of what the creative Latinx community looks like.
Eleven local Portland Latinx artists were featured in the exhibit, ranging from sculptors, painters, to printmakers:
The night was filled with live music, appetizers from Latinx vendors, and vodka tasting sponsored by Parlae vodka, a local Latinx vodka distillery. By night's end, 5 pieces of artwork were sold, and we're expecting several more as the show remains up on the Chamber's walls.
As organizations with the resources not often afforded to artists of color, we understand the importance of finding ways to make those resources or opportunities more widely available, more often. These all matter, since it is shows and exhibit opportunities like Latinidades that have the potential to propel artists into bigger and more opportunities. Ultimately, the warm reception for Latinidades serves as both a reminder and encouragement for more creative, non-traditional collaborations to address the needs of many communities often left out of the traditional arts scene.
For those who missed the opening reception, we invite you to stop by the Hispanic Metropolitan Chamber office (333 SW 5th Avenue Suite 100, Portland, OR 97204) Monday thru Friday between 9am – 5pm. The works will be up until September 30th, 2018. As for future collaborative shows, RACC will continue finding opportunities to create spaces for the many communities facing similar challenges of representation and inclusion, and we hope you will join us as these take place.