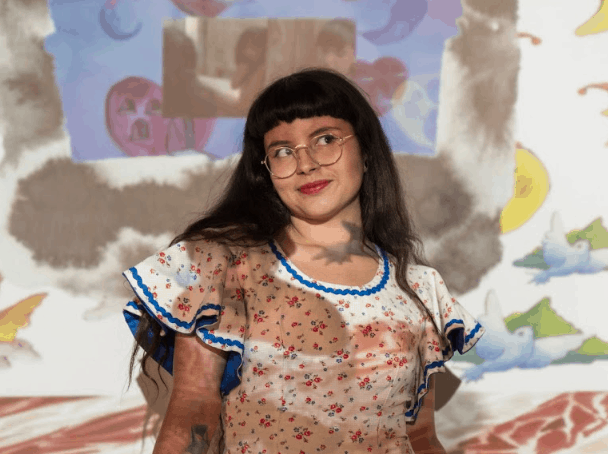 Night Lights, RACC's outdoor public art event series, is back for five months with local artists/collectives projecting their digital media works onto RACC's building for several hours starting at dusk. Now in its fourth year, Night Lights is a unique event series that celebrates and highlights the intersections of digital technology, art, and place.
Laura Medina, the first artist to kick off Night Lights on October 4th this year, will be presenting work that bodies the exact intersections Night Lights aims to celebrate. Medina's projected work, titled Flying, will use different animation methods to convey movement and change of setting to discuss migration as a human right. The location of the projection, as Medina notes, is across the street from Pacific Northwest College of Art (PNCA), formerly a US Citizenship and Immigration Services and US Immigration and Customs Enforcement building. For Medina, we cannot ignore the proximity of the projection to what used to be a distinctly hostile environment, and re-contextualizing this space into an environment that fosters and nourishes acts of solidarity is key.
Following Medina, Roesing Ape and Beth Whelan will show their work on November 1st. Titled Windows 11, their work involves a minimalist dance piece inside an architectural projection of the building itself. This interactive piece will use both prerecorded and live dance.
All works will take place at the north wall of the Regional Arts & Culture Council office at 411 NW Park Ave, Portland OR (on the corner of NW Glisan St and NW Park Ave). The schedule of events for Night Lights is as follows:
October 4, 6:45pm
Laura Medina
Flying
November 1, 6pm
Roesing Ape and Beth Whelan
Windows 11
December 6, 5pm
Roland Dahwen and Stephanie Adams-Santos
Three Moons/Tres Lunas/3つの月
February 7, 5:30pm
Megan McKissack
Untitled
March 7, 6pm
Midnight Variety Hour
Night Lights Edition
—-
Night Lights is a monthly public art event that celebrates the intersection of digital technology, art, and place. Happening outdoors on the First Thursdays of fall and winter months, this multimedia art series presents local artists' new works, combining large-scale video projection with other art forms such as movement and sound. Works are projected for several hours starting at dusk on the north wall of Regional Arts and Culture Council's office at 411 NW Park Ave, Portland, OR.
Laura Camila Medina is an interdisciplinary artist born in Bogota, Colombia and raised in Orlando, Florida. She bases her practice around uprooting and migration as a response to personal, cultural, and historical research. Medina is constantly inspired by her memories of home, her mother's arepas, and her father's soundtracks. Her work has shown at the Center for Contemporary Art & Culture, PLANETA New York, and through the Nat Turner Project. She earned a BFA from the Pacific Northwest College of Art and is currently based in Portland, OR.
Beth Whelan is a movement based artist with training in modern, ballet, improvisation, and choreography. Her work is based upon creating shapes within the body that fluidly disperse and rearrange in synchronicity with the breath. 
Roesing Ape is a multidisciplinary artist with a focus on the deconstruction of cognitive frameworks in sound, language, and sight. This results in a mostly unmarketable catalog of site specific video, improvised soundscapes, and nonlinear performance pieces.