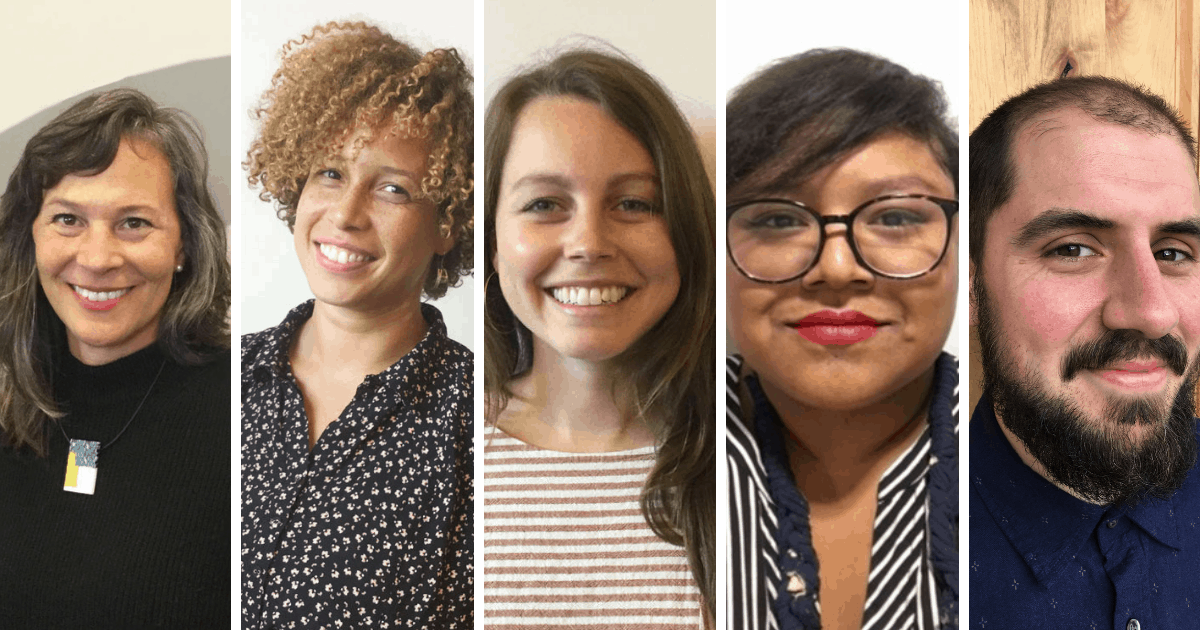 Fall is a time of transition, and while for some it signals a movement into winter dormancy, for us at the Regional Arts & Culture Council, this transition signals a time of cultivation and growth. In the past few months, we welcomed a crew of new faces to RACC, and already they are making connections, creating pathways, and building ground with artists, teachers, arts organizations, students, and many others in the creative community.
Join us in welcoming this talented group of folks, and say hello!

Mariam Higgins
Mariam's motto is 'practice what you teach', it keeps her honest and empathetic. As an Arts Integration Specialist she adores the challenge and joy of making Arts connections, in everything! A medical illustrator, working artist, former school board member and parent volunteer, veteran classroom teacher and professor, Mariam is a lifelong learner of the arts and sciences. She believes that integrating Arts inclusively is a vital necessity to honor culture, encourage critical thinking, develop resilience, and hone an appreciation of beauty. Taking risks, experimenting, observing deeply, problem-solving, while simply making is a priceless experience that encourages the development of much-needed communicators who are well-balanced, creative, innovative citizens. Access and exposure to the Arts is authentic and relevant equity work, another passion of Mariam's.
When she's not cracking up with students, drawing with adults, or editing for run-on sentences, she's looking for adventure. Mariam thrives being outdoors, kayaking, hiking, foraging, skiing, or playing Bananagrams with friends. When you see her, please share one of your favorite podcasts, artists, or architects!
What do you do at RACC?                         
I get to work with educators and artists to develop sustainable, creative ways to integrates arts into teaching, year long. I assist in ensuring each student has regular exposure to make, move, and express themselves – deepening their understanding and expanding their imaginations.
What's your go-to karaoke song?
Hey Jude
What's a secret talent you have, or little-known fact about you?
Parallel parking skillz, stage-diving aficionado, and kayaktivist
How is art a part of your life?
As a trained professional medical illustrator, departing from hyper-realism and painting and drawing abstractly the last five years has rocked my world.  It has helped me grow, and express. It excites me wildly to expand by 'breaking' rather than 'fixing'.
Complete the sentence: "Arts and culture is _____________"
necessary to know and appreciate our world.  They encourage seeing, listening, and thinking, and righteously replenishes our souls.
---
Shannon McClure
Shannon McClure is enthusiastic about working with The Right Brain Initiative and the RACC team. They began their love for art integration as a K-12 art teacher, classroom teacher, and most recently assistant principal in Portland Public schools. Their commitment to racial equity and LGBTQIA+ youth advocacy has led Shannon to specifically develop leadership skills in organizational climate and policy. Shannon has a background as a curator and visual artist as well, most recently focusing on clay as a medium in their home studio. They are also a proud parent of a Jefferson High School student who has been raised with Right Brain experiences in North Portland. Adventures outdoors are a favorite hobby, and Shannon can be found on the trails rain or shine (…or more rain)!  Shannon looks forward to creating equitable pathways to experiential learning for youth, school staff, and the greater community
What do you do at RACC?
As one of three Art Integration Specialists, I am specifically focused on supporting classroom teachers in developing skills that foster experiential learning via the arts. The process of learning from an experience is proven to be more impactful than academic study alone, particularly for students of color, English Language Learners, and neuro-diverse youth.
What's your go-to karaoke song?
I prefer playing my backpacker guitar over Karaoke. "Then You Can Tell Me Goodbye" by Bettye Swann is my favorite cover on my Martin.
What's a secret talent you have, or little-known fact about you?
I grew up on a farm and my favorite chore was "mucking the stalls" and "curry combing" my horse. Y'all city folk might have to google that!
How is art a part of your life?
I was one of those kids that was constantly moving, creating, and learning through my soul and senses rather than just my intellect. This is still true for me, and has driven me to dedicate my life as a youth advocate and educator. Being a QTPOC artist has influenced my approach to education and parenting, and, in turn, being an educator and parent has influenced my artistic practice.
Complete the sentence: "Arts and culture have _____________"
been commodified through colonialism, falsely leading contemporary society to believe that "The Arts" is reserved for the privileged, wealthy, or simply for enrichment only. Yet, the arts have always been an integral piece of indigenous learning and cultural preservation. Learning through the arts, experiential and placed-based, connects the learner to the human experience and reminds us of the significance of culture in every aspect of life
---
Ashley Renfrew
Ashley is an advocate for arts integration and believes it is a tool for students to empower their own learning. With a background in both art and science, she brings knowledge of project based learning, studio habits of mind, design thinking, and classroom documentation to this new position. Last year Ashley was on the Right Brain team at Young Audiences supporting residencies, and prior to that she was a middle school science teacher. Ashley received a BS in Art Education from Penn State University and is currently working on her Master in Curriculum and Instruction at Portland State University. The last few summers Ashley has worked at OMSI teaching animation classes, weaving science and art making together for youth. You can find her in her off hours eating snacks, knitting blankets, or climbing rocks.
What do you do at RACC?                                                                     
Working as an arts integration specialist we get to spend most of our days out in our community's schools. We are looking at a holistic approach to arts integration and helping teachers think about how arts learning strategies could be used in their classrooms on a routine basis to make the arts more accessible. We also get to connect local artists with schools to do arts integrative residencies.
What's your go-to karaoke song?
Anything that doesn't have words.
What's a secret talent you have, or little-known fact about you?
My first job out of school was as a physics teacher and I really enjoy folding origami out of gum wrappers.
How is art a part of your life?
My background and true love is in functional pottery but I try and engage in some form of making every day.
Complete the sentence: "Arts and culture are  _____________"
a way to celebrate the beauty and hardship in ourselves and others.
---
Estela Robinson
Estela comes to RACC as the new Office Coordinator after spending 7 years at Milagro as Production Manager. Estela has a long history in the arts, even going so far as to study acting at Cornish College of the Arts.  She went on to participate in a directing program at Vassar but ultimately discovered her love for arts administration. Part of her duties at Milagro included creative engagement workshops which kept her passion for crafting at peak frenzy and hopes to similarly infect her friends at RACC with her zeal for it.
What do you do at RACC?                                                                     
As the Office Coordinator, I'm the first face you see upon entering RACC's offices. I greet guests and answer questions the public may have about the organization, as well as offer general support for staff in all departments.
What's your go-to karaoke song?
I have never done karaoke.
What's a secret talent you have, or little-known fact about you?
I have never done karaoke.
How is art a part of your life?
I love crafting. I love supporting creativity however I can.
Complete the sentence: "Arts and culture are  _____________"
So fun and enriching
---
Ian Sterry
Ian has worked for many years as a science communicator and STEM educator and loves exploring the world through science. He has traveled all across Oregon and the Pacific Northwest sharing science and engaging communities. However after 10+ years on the road he decided a change was needed. Ian is now excited to be serving his other love, the arts!
He is a New Jersey native but after living in the PNW since age 8 he considers Oregon his home. Ian grew up in a family full of performers, signers, poets, writers and musicians. Between his family life and being a self-described "band geek" in high school  Ian feels blessed to have been raised and educated with the arts front and center in his life. They have brought him much joy, insight and inspiration and he believes everyone deserves the same!
When not at work you can find him exploring our amazing state via cycling, hiking and backpacking, out at live music events dancing and celebrating or curled up at home lost in a science fiction novel.
What do you do at RACC?
As the Workplace Giving Associate I support RACC's fundraising efforts within local workplaces, represent RACC at public and private events, help inform our advocacy efforts in the community and steward relationships with donors through in person and online engagement.
What's your go-to karaoke song?
Everybody Wants to Rule the World-Tears for Fears or 50 Way to Leave Your Lover-Paul Simon.
What's a secret talent you have, or little-known fact about you?
I still have my wisdom teeth but they haven't made me smarter, yet….
How is art (in whatever form it takes) a part of your life?
I grew up in a family where music, poetry, storytelling and performance were part of daily life. It continues to be so for me through a ravenous appetite for music and literature. I also dabble with percussion as a self-taught amateur drummer.
Complete the sentence: ""Arts and culture is ________"
Everywhere and for everyone!
Get to know the other RACC staff and board by visiting our staff page