by Patricia Vázquez Gómez
Editor's Note: In August, RACC co-hosted a workshop for emerging mural artists with Mural Arts Philadelphia, which was followed by our Art Spark summer event. We asked one of the participants, Patricia Vázquez Gómez, to share their experience and thoughts about mural making in the public realm with our readers.
How can we expand our notions and strategies in working with specific communities? Does working with communities makes an artwork better? What can we do to produce aesthetically vigorous and coherent work while we include a diversity of sensibilities? What is the role of murals in the transformation of our places and communities? How can murals go beyond the representation of issues and be catalysts of change?
These are some of the questions that I pondered during and after participating in a workshop organized by RACC and led by Shira Walinsky and Cathy Harris from Mural Arts Philadelphia. The session focused on strategies for community engagement and participation. Since 1984 Mural Arts Philadelphia has brought together communities and artists to "create art that transforms public spaces and individual lives". The amount and variety of work coming from this organization is outstanding. I was impressed by Mural Arts' community engagement infrastructure, and their evident savvy in matching artists with communities to produce powerful, vibrant and socially relevant murals. Creating artwork in collaboration with communities is increasingly encouraged, but it poses challenges that not all artists might feel prepared for or willing to take on. I worked as a community organizer and educator for 7 years; and working on art projects with people comes somewhat natural to me. But in my experience, engaging communities with care and intention always takes extra time and energy, resulting in a significant amount of unpaid work. Negotiating with wall owners is another difficulty I have run into. Very recently, I had a mural project cancelled, because the wall owner wanted something more "neutral" than my proposal of candid portraits of the diverse residents of the apartment complex where the mural was going to be painted. I felt hopeful in learning about Mural Arts, their clear vision for the visual landscape of a place and the resources they have developed to facilitate the public engagement aspects of mural making for artists.
Who gets to paint a mural? Why? What are the challenges that artists of color face in accessing public space for our projects? What kind of support do we need? What kind of resources exist? How is the current political climate influencing our decisions about what we decide to paint? Why public art? What makes a public space public?
After the workshop, we moved into an outside space, and despite the unusual wet and chilly August weather, the latest edition of Art Spark was lively and well attended. I felt honored to share microphone with Alex Chiu and Eatcho, two artists whose work I admire and whom I hadn't yet had the pleasure to meet. I was pleasantly surprised to learn about Molly Mendoza, a gifted illustrator and comic writer, and Tomás Valladares from the Portland Street Art Alliance, an organization I wish I had known of before. One of the most valuable and enjoyable aspects of Art Spark is the opportunity to learn from and about other artists. Happily, there are always new artists to meet in the seemingly small Portland's arts community. We each spoke for a very brief time, but what I heard expanded my reflections on what it means to be public artists of color, inserted in a city where permits and regulation of public space compromise the urgency and spontaneity of artwork made for and with our communities. When one of the attendees asked which city of the world inspires us for its murals I first thought of the mural at the Women's Building in San Francisco, one of my all time favorites, and of Mexico City, the city where I was born and raised, which is considered one of the most important referents in mural painting. But I also had to mention Oaxaca in southern Mexico, where an irreverent, socially and politically committed street art based on a strong and old tradition of printmaking is everywhere in the streets. I believe that the best street art happens in places where artists and communities feel ownership and have immediate access to public space. How we are going to defend the right to public space access in Portland, in the face of urban development that imposes stricter regulations while favoring specific aesthetics and a "hip" look is one of the questions many of my fellow artists are grappling with.
—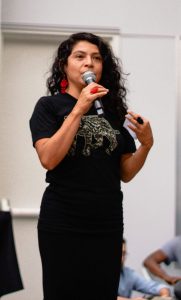 Patricia Vázquez Gómez works and lives between Portland and Mexico City. Her practice investigates the immigrant experience, social invisibility, the performative aspects of identity, the intersections between ethics and aesthetics and the social function of art through a variety of media that includes painting, printmaking, video and socially engaged art projects, The purpose and methodologies of her work are deeply informed by her experiences working in the immigrant rights and other social justice movements in the US. Patricia's work can be explored at http://cargocollective.com/patriciavg⁠