Come visit your new art collection at the reconstructed Portland Building
Public art installed in the Portland Building adds a glow to the newly renovated architectural icon. The building has always doubled as a venue to showcase public art and that role has grown with the reconstruction, which includes new pieces commissioned through the Regional Arts & Culture Council (RACC). RACC's Public Art Program acquires and cares for publicly owned art.
A local panel of artists, curators, community members and city staff worked for several years to commission and purchase these artworks for the Portland Building as part of the City's 2% for Art requirement. The current installations, located on the first and second floors of the building, are part of the first phase of art selected and created specifically for the building.
Please note, to protect public health, the Portland Building is currently closed to the public.the City of Portland is postponing the grand reopening of the Portland Building scheduled for Thursday, March 19. All Design Week Portland events are rescheduled for August 2020.
New commissioned artworks installed to date in the Portland Building
Refik Anadol Studio, Data Crystal: Portland
One of the most impactful aspects of the building renovation is the addition of a large window wall and gathering space on the east side facing Chapman Square. Today, people passing by on Fourth Avenue can gaze into the building through the double-height wall of glass and see Refik Anadol Studio's large-scale, 3-D printed, A.I. data sculpture, Data Crystal: Portland, which was designed specifically for the Portland Building.
The artwork is visible to building visitors from both the first and second floor. It represents the material connections that emerge from invisible interactions between fellow city dwellers by combining art, technology, and the interconnected communities of Portland. Anadol was inspired by the last line of Ronald Talney's poem, inscribed on the plaque that accompanies Raymond Kaskey's sculpture Portlandia, "This is how the world knows where we are."
The visuals projected on to the sculpture were conceived by Anadol in partnership with the mind of a machine, utilizing cutting-edge machine learning algorithms trained on a data set of nine million publicly available photographs and digitized archival documents of Portland. The shape of the 3-D printed structure on which the visuals are projected was also informed by the same data set, but created by using advanced robotic 3D printing and A.I. technologies.
For this artwork, Anadol theorized that with today's technology, it's nearly impossible to get lost in this world – both geographically and historically.  With every photograph taken, a digital memory is captured, and a virtual record of a specific time and place is recorded.  These memories are "crystalized" when shared publicly.  When aggregated, the repeated acts of sharing digital memories eventually solidifies the collective memory of a specific place.
Portlandia, Raymond Kaskey
Get up close and personal with the iconic Portlandia statue from a new publicly-accessible balcony, or with a smaller, 3-D print located at the top of the second floor stairs, made with the partnership of local Portland business, Form 3D Foundry. Originally installed in 1985, Portlandia by Raymond Kaskey, is the second-largest hammered-copper (or repoussé) sculpture in the United States, and was rededicated in 2019 as part of the building reconstruction. Tag your photos of either version of this Portland icon to #weareportlandia.
Neither Here Nor There, Shelby Davis and Crystal Schenk
Located on the first floor adjacent to the building's front entrance, is Neither Here Nor There by husband and wife artist team Shelby Davis and Crystal Schenk. Together the two transformed a huge, 100-year-old silver maple removed from the Laurelhurst neighborhood in 2015. Extracting the tree itself was a labor of love, involving large cranes and slabbing the trunk with a rare ten-foot chainsaw. But the stunning material lives on, reborn, in the renovated building. The installation includes several hand-carved and meticulously crafted wooden benches where visitors can sit, as well as hanging shelves and floating sculptural pieces suspended from the ceiling.
Topography from around the state was computer modeled and fit to some of the biggest boards from the tree's trunk and then cut to relief on a computer-controlled (CNC) router. Afterward, each piece was carefully glued together, hand carved, and sanded. Glass castings implanted in the floating panoramas, with their shift of scale, create new perspectives on the familiar. Their subtle and grander shapes recall actual time spent in those landscape folds – creating memories and inspiring visitors with a sense of connection and curiosity. Look for local and significant places in Portland and Oregon including neighborhoods, the Columbia River Gorge, Crater Lake, Mount Hood, and more.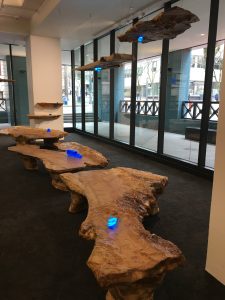 Portion of Neither Here Nor There, Shelby Davis and Crystal Schenk
We've Been Here by Kayin Talton Davis
In the new Lizzie Weeks room to the north of the front entrance is We've Been Here by Kayin Talton Davis. The primary focus is Lizzie Weeks, along with images of other Black women establishing lives in Portland at the turn of the century into the 1930s. Talton Davis describes the significance of creating this large, vibrant panel and the research she did to collect stories about the lives of important, but overlooked, women as part of her process. "I went into city archives, Oregon Historical Society," she said. "I also reached out to other people within the community to get different pictures and stories." Additional women portrayed include: Lola Ondine Graham Chandler (with her sister), Frances Josephine Harlow Chandler (a Lakeview midwife), women from the Walker family (Rutherford Collection), Beatrice Morrow Cannady and Thelma Johnson Street.
Small Works Collection
Visitors can also enjoy several locations on the first and second floors hung with smaller-scale artworks made by artists from the greater Portland area. There are three artwork zones, each with its own curatorial focus.
Zone One, First Floor – Sublime Landscape – painting by artist Adam Sorensen (not currently installed)
Zone Two, Second Floor – Cityscape – many artists
Zone Three, Second Floor – Social Landscape of Portland, life experience of living in Portland, the cultures, multiplicity of viewpoints, fun and quirkiness of the residents – many artists
On the second floor, comfortable, modern seating is placed next to the second-story balcony, adjacent to the new artworks. Visitors to the balcony area can enjoy expansive views of the park blocks and downtown buildings through the large, window and views of the hanging sculpture Data Crystal: Portland.
Complete list of artists and artworks featured in the "Small Works Collection," below.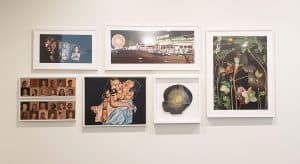 Zone Three, Second Floor – Social Landscape of Portland (north wall) – many artists
Installation Space
Also on the second floor, visitors will find the building's new Installation Space. Since its start in 1994 the Portland Building's Installation Space has hosted more than 200 site-specific exhibitions, showcasing and promoting local contemporary artists and reflecting the creative rigor and diversity of Portland. The Regional Arts & Culture Council curates these rotating exhibitions.
The new space will be programmed with interdisciplinary conceptual art work made by regional artists and is envisioned as a way to energize public dialogue, understanding and exposure of visual art, as well as draw new audiences to the public's new building.
King School Museum of Contemporary Art – KSMoCA
The inaugural exhibition in the Portland Building's new Installation Space includes a selection of ephemera curated by the Student Curatorial Committee from KSMoCA's archive.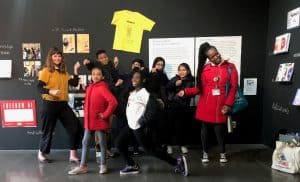 Photo by MOE of the Student Curatorial Committee in an exhibition they curated at PSU
(left to right: Roz Crews, Solianna, Isaiah, Rocky, JaMiyah, Ana, and Diana with Dr. MLK Jr. school Community Agent Tiffany Robinson)
The King School Museum of Contemporary Art (KSMoCA) is a contemporary art museum inside Dr. MLK Jr. School, an elementary school in Northeast Portland. Creating unusual connections between kids and internationally renowned artists, KSMoCA reimagines the way museums, public schools, and universities can affect people, culture, and perspectives by creating radical intersections for sharing resources across organizations. KSMoCA was founded in 2014 by artists Lisa Jarrett and Harrell Fletcher and is collaboratively developed with the Dr. MLK Jr. School community, PSU students, and a team of artists.
KSMoCA's Student Curatorial Committee is led by fourth and fifth graders from the school with KSMoCA Program Managers (and artists), Roz Crews and Amanda Leigh Evans. The committee conducts research about local and non-local artists to inform their work as curators of KSMoCA's MLK Jr. Gallery. As part of this research, students meet with curators, gallerists, and educators to discuss curatorial topics, study books about contemporary artists, and conduct studio visits with local artists. In 2018, this group established a student-run gallery within the museum to display work by their peers in addition to work by local artists in Portland, OR.Learn more: http://www.ksmoca.com/
RACC advocates for public and private investments in the arts, provides grants for artists and arts organizations, manages public art, raises money through workplace giving, conducts arts education in public schools, and provides community services, including workshops for artists, organizational consulting, and a variety of printed and electronic resources. RACC is a 501(c)(3) nonprofit organization that receives funding from a variety of public and private partners to serve artists, arts organizations, schools and residents throughout Clackamas, Multnomah, and Washington counties. For more information visit racc.org. 
MEDIA CONTACTS:
For information about artworks and artist contacts:
Heather Nelson Kent
Communications Manager, Regional Arts & Culture Council
503-823-5426
hnkent@racc.org
For Portland Building information:
Heather Hafer
Public Information Officer, Office of Management and Finance
heather.hafer@portlandoregon.gov
503-823-6965
Small Works Collection
Zone Two, Second Floor – Cityscape (near Installation Space)
| | | | |
| --- | --- | --- | --- |
| First Name | Last Name | Artwork Title | Year |
| Akihiko | Miyoshi | Protocol | 2019 |
| Avantika | Bawa | Coliseum #4 | 2017 |
| Avantika | Bawa | Coliseum, Red Sky | 2018 |
| Elena | Thomas | From the Bridge | 2018 |
| Ivonne | Saed | Sellwood Bridge Construction 1 | 2015 |
| James | Allen | Portland Trolley Years | 2016 |
| Loren | Nelson | 3600 NW John Olsen Parkway; Hillsboro, Oregon | 1999 |
| Marie | Watt | Untitled | 2012 |
| Marie | Watt | Part and Whole: Ripple, Hoop, Baron Mill | 2011 |
| Michelle | Muldrow | Portland Trailer | 2018 |
| Rory | ONeal | Overpass Glow – PDX | 2019 |
| Ruth | Lantz | Veil of Density | 2015 |
| Gabe | Fernandez | Audi with 356 cover | 2018 |
Zone Three, Second Floor – Social Landscape of Portland (north wall)
| | | | |
| --- | --- | --- | --- |
| First Name | Last Name | Artwork Title | Year |
| Deb | Stoner | Hellebore and Pieris Japonica in Winter | 2016 |
| Hsin-Yi | Huang | The Light Within | 2009 |
| Katherine | Ace | Friends and Neighbors (1) (group of 6) | 2019 |
| Rebecca | Rodela | Abuelito y yo reunidos | 2014 |
| Sabina | Haque | New Portlanders | 2019 |
| Stuart Allen | Levy | Cinco De Mayo | 2009 |
Zone Three, Second Floor – Social Landscape of Portland (south wall)
| | | | |
| --- | --- | --- | --- |
| First Name | Last Name | Artwork Title | Year |
| Emma | Gerigscott | Dog Party No. 1 | 2017 |
| Jo | Hamilton | The Ruth Nebula – 1948 | 2018 |
| Sabina | Haque | HALFIE | 2010 |
| Samantha | Wall | 31 Days series | 2017 |
| Oriquidia | Violeta | Madrina | 2019 |
| Ralph | Pugay | Cattle Rave | 2013 |
 ###