K-12 Arts Education Newsletter: June-July-August-September
Where education, creativity and joy collide!
Welcome to our short edition for summer! Below you will find festivals, exhibitions, events, and summer programming. While not a comprehensive list by any means, it simply gives you some flavor of what is out there. Do not forget that many school districts are offering summer programs, as well, and these enrichments might be right next door!  Highlights include programming from local arts organizations and of course links to make things easy for accessing arts & culture in our community.  We wish you a wonderful, healthy, safe and joyful summer 2022! We will see you in the fall. Thank you for everything you do in our community, our schools, our families- and above all sharing your joy and love of arts & culture. #WhereArtThouPDX #PDXaeaf #ArtsEducationforAll Be sure to share with your students and greater school community.
– Chanda Evans (she/her), Arts Education Program Manager
---

Be sure to check out artlook®oregon to find arts education programing for the summer. Over 250 arts organizations in the tri-county area are listed!
---
A Quick snapshot of SUMMER CAMPS in and around the greater Portland area:
Many camps fill up quickly. Check out the ones below to see if any spots are still available.
---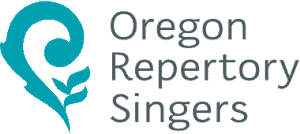 Oregon Repertory Singers Youth Choir summer camp, Summer Sing
is a day camp for students grades K–5. Each student will learn to read and sing music through fun games, rehearsals, and other activities. The week of singing concludes with a concert and party for all participants and their families. Summer Sing 2022 will be led by Coty Raven Morris, an experienced and sought-after choral director. Scholarships are available for those that qualify.
Summer Sing: West
Dates: August 1–5, 2022
Times: 9:00 AM – 3:00 PM
Location: Cedar Hills United Church of Christ, 11695 SW Park Way, Portland, OR 97225
Cost: $350.00, financial aid is available
Summer Sing: East
Dates: August 15–19, 2022
Times: 9:00 AM – 3:00 PM
Location: St. Philip Neri, 2408 SE 16th Ave, Portland, OR 97214
Cost: $350.00, financial aid is available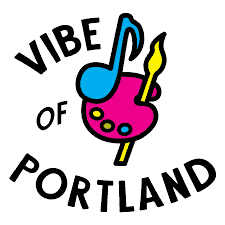 Vibe of Portland
is an arts and music educational nonprofit that aims to provide quality access to arts education for kids in the Portland Metro community. This summer Vibe has several visual arts camps at four locations throughout the city. In addition to visual arts camps, Vibe collaborates with Mt Hood Community College to bring Portland's premier band day camp for middle and high school students. To check the dates, register or request scholarship support- check out vibepdx.org
---
Professional Development:  Future Opportunities for all K-12 Arts Educators
RACC contracted with a third party to conduct an in-depth arts education survey that went out to all K-12 arts educators at Centennial, David Douglas, Parkrose, Portland, Reynolds and Riverdale school districts. We are thankful to those of you that participated. Your insight was invaluable. If you were unable to fill out our survey, you are in luck. We will repeat the same survey in the fall so please look for that in your inbox. Because of the survey, we have gathered important data on what sort of Professional Development you are looking for from RACC. Top three suggestions:
Content specific Workshops
Learning with an artist
Collaborative workshops with an arts partner
RACC is in the process of making these free opportunities available to you in the next school year. We intend to continue our partnership with Trauma Informed Oregon and intend to hold two yearly workshops.
---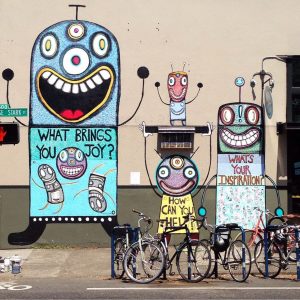 Questions for Humans, Gary Hirsch, mural.
Please share with us by emailing cevans@racc.org.
Please email the Arts Education Program about upcoming opportunities so we may include them in our back to school edition Sept-Oct-Nov-Dec of #newsforyourheART
If you would like to highlight student work or a recent performance, please share with us! We would be more then delighted to post on our website. Please be sure to send us media release forms. Thank you.
---
Workshops • Events • Lectures
---
Here is a curated list of lectures, workshops, events, and conferences from local colleges and universities. If you know of an event, workshop, performance, lecture, or art exhibition that is coming up please go here to submit an opportunity.
June-July-August-September (just a taste of what is out there!)
________
June is Pride Month: Portland Pride Waterfront Festival and Parade- June 18-19, at Tom McCall Waterfront Park. Click here for a list of local events
Portland area Farmers Markets– check out your local neighborhood market all summer long for food, music and connecting!
Dragon Boat Races– The Willamette River near the Hawthorne Bridge June 11-12 (free!)
Rose Festival Art Show– June 2-29
Juneteenth– Celebration of the 50th anniversary in Oregon on Saturday, June 18
Good in the Hood Multicultural Festival – June 24-26 at King Park School Park
Chamber Music Northwest Summer Festival– June 25- July 31, program information here.
Flicks on the Bricks– watch some of your beloved films in Portland's Pioneer Square on Fridays in July-August. Bring your low back chair and enjoy these free movies!
City of Portland– free events in July and August (approx. 40) all over the city including the East Portland Summer Arts Festival at Ventura Park
Japanese American Museum of Oregon– Na Omi Judy Shintani's Dream Refuge for Children Imprisoned, an installation exploring the trauma experienced by children who have been incarcerated. Runs through Sept 4.
Oregon Jewish Museum and Center for Holocaust Education– Judy Chicago exhibit June 2-Sept 23.
Nordic Folktales Reimagined Exhibit at the Nordic House-June 11-Sept 25 (free!)
42ndAnnual Cathedral Park Jazz Festival– Check here for dates in July 2022 (free!)
St Johns Arts Walk– Saturday July 23, Come visit this vibrant neighborhood and celebrate with music, art, and food!
Original Practice Shakespeare Festival– check out their 2022 schedule for their free performances in local parks
Vanport Jazz Festival– August 5-6, Come celebrate year 5! ($$)
Pickathon– 3 day family friendly music festival August 4-7 (kids under 12 are free when coming with family)
Bridge Pedal– August 14 (and as we do, we get creative in what we wear!)
India Festival– downtown Portland on Sunday, August 14, a celebration of culture, music, dance food and more!
Montavilla Jazz Festival– August 19-21
Neighborhood street fairs– Check out local listings for dates & times. Vendors, food, drink, music, art
PNCA Design Week takes place in August. Check for more information on their calendar and events page.
Piano. Push. Play- Click to find the locations of pianos in our community for 2022  
Art in the Pearl, Fine Arts & Crafts Festival– Sept. 3-5 in the Northwest Park blocks (free!)
---
The Scoop – Grow your Brain  
Click here for local LGBTQI resources.

Click here for local youth specific resources.

Click here for national resources.
---
Regional Arts & Culture Council – Arts Education ProgramWe welcome feedback and suggestions. Please reach out to Chanda Evans (she/her) at
cevans@racc.org
Designed by Andrea Blanco, RACC Graphic Design and Content Specialist.
**Featured artwork from RACC's public art database Canvas NW.
**Some workshops/events/lectures might have changed due to COVID-19. Please check before you make plans.
Disclaimer: The Regional Arts & Culture Council is not held liable for the materials or images in this newsletter.
---