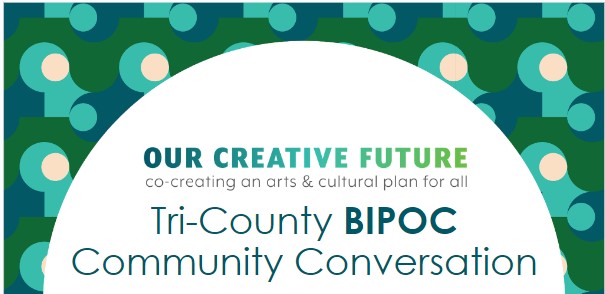 As part of the Our Creative Future we invite community members in Clackamas, Multnomah, and Washington Counties to connect to the process and shape the future of arts and culture in our region – celebrating successes, identifying gaps, and developing strategies to meet those needs. Led by steering committee member, Sushmita Poddar with support from the Regional Arts & Culture Council, hosted an all BiPOC creatives engagement  in early May. The Tri-County BiPOC Creatives Engagement was well attended and full of important questions and discussions we felt the participants were only able to scratch the surface of what a representational regional cultural plan could be.
We are hosting a second session for those that were unable to attend and for those who attended to return to continue the discussion, be more involved, and contribute their voice to co-create an arts and cultural plan for all.
Tuesday, May 30, 2023
5:30-7:30 pm
12625 SW CRESCENT ST
BEAVERTON, OR 97005
SIGN UP
Please let us know if you that you are planning to attend: https://forms.gle/mxB1HZ38At3WqdQF7 
There will be food, community, and discussion. Come and share your ideas. Come by yourself, bring your kids, neighbors, friends,  and family. All are welcome. If you are need of language interpretation, please let us know through the sign-up form.
DISCUSSION
We will be delving into questions about your definition of area and culture, your connection to them; what is a cultural plan, what is your vision for a regional cultural plan, and what should it include. If you are unable to attend or would like to submit your thoughts beforehand you can participate by sharing your ideas: https://forms.gle/d7NaWXMYKo77EGNU6 
For more information please contact us at advocacy@racc.org