In the spring of 2020, North Pole Studio emerged as a testament to creative inclusion and artistic empowerment. In June of 2023, I spoke with Sula Willson about the organization and their recent experience at the Outsider Art Fair in New York City, a trip made possible through a Regional Arts & Culture Council Arts3C grant. Co-founded by a dedicated group of artists, educators, and advocates — Sula Willson, Mary Ellen Andersen, Davis Wohlford, Sarah Mensah — the organization serves as a robust platform supporting careers in the arts, particularly for artists with autism and intellectual/developmental disabilities. As Willson shared in our conversation, "…we decided to open North Pole Studio as another option for folks who needed a creative space that was intentionally smaller, intentionally quieter, and highly individualized."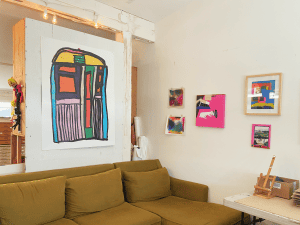 Housed in NW Marine Artworks, Portland's largest collaborative of professional artist studios, North Pole Studio is more than a 1,200 sq/ft space for creation: it embodies the belief that understanding diverse human experiences is foundational to a vibrant and whole community. With an unwavering commitment to fostering self-determination and facilitating meaningful connections, the organization ensures that its artists thrive as visible contributors to both local and national contemporary art communities. "We always say that the space belongs to the artists… and we are here to facilitate whatever artists come to create and pursue," says Willson, encapsulating the mission of North Pole Studio and its focused approach.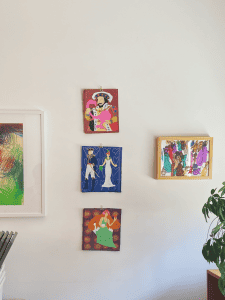 Communication is central at North Pole Studio, bridging gaps and enabling artists to navigate opportunities and employment within the art world and beyond. Willson explains, "…we scaffold communication in a lot of different ways, but we use a lot of social stories, visual supports," tailoring contracts or other documents that may be inaccessible to individual artists. Collaboratively, unique strategies are crafted for each artist. For some artists like James Enos, the studio acts as the primary liaison with his book dealer. For others, like Austin Brague, guidance is provided as he applies for opportunities independently.  The need for spaces like this studio is great, as evidenced by North Pole Studio's rapid growth. As the organization begins to tackle questions of growth and scalability, one thing is clear: at North Pole Studio, the individual needs of the artists will always take center stage. 
As with many arts nonprofits, the challenging landscape of funding underscores their mission. In an endeavor to make their workshops more accessible, the studio has introduced a sliding scale fee for all programs, which in turn amplifies the need for more robust external funding. Despite this terrain, the determination of Willson, Andersen, and the myriad collaborators that allow the space to run smoothly, remains unwavering. What keeps them going is their recognition of the transformative influence that this support and advocacy has on artists' lives. Willson describes, "having someone recognize that you are capable of something bigger than you thought… is empowering within itself." 
---
In our conversation, Willson highlighted North Pole Studio's core belief of fostering individual growth and opening doors to opportunities for artists with autism and intellectual/developmental disabilities. Their commitment to this mission was brought to life when they attended the Outsider Art Fair in New York City, made possible through funding from RACC. This experience served as both an enriching platform for their artists and a milestone in the studio's journey. Now, to truly capture the experience, let's turn to the team at North Pole Studio, who share below their firsthand reflections and insights from the fair: 
---
In March 2022, RAAC awarded an Arts3C grant that made it possible for North Pole Studio to represent three artists at the highly competitive Outsider Art Fair in New York City. This eye-opening and career-changing exhibition opportunity would not have been possible without RACC's funding, and we are deeply grateful for the support. The fair was a true whirlwind — an enriching, educational, challenging, colorful experience that provided a valuable new perspective for our staff, artists, and their advocates, family members, and community members.
The Outsider Art Fair is the largest exhibition of self-taught artists in the world. It occurs biannually in Paris and New York, and is internationally attended by exhibitors, visitors, and patrons alike. "Outsider Art" or art brut (raw art) historically describes artists who are creating outside of educational institutions and traditional techniques, or those without exposure to (whether intentional or not) or influence from popular art culture and trends. Aesthetically and philosophically, this work has a rawness to it — and is valued for its pure, expressive, seemingly unselfconscious quality which captures the artists' completely original experience.
Some of the most renowned "Outsider" artists include Bill Traylor, who was born into slavery and began creating art in his eighties; Martín Ramírez, a railway worker who was institutionalized with schizophrenia in his later life; and Judith Scott, a deaf woman with Down's Syndrome who discovered her creative voice in a supported art studio. In the contemporary art world, the "Outsider Art" movement has broadened significantly, encompassing a diverse community of artists both dead and living. Today, the commonality among artists represented at the fair is that they are entirely self-taught, and are creating extraordinary artwork in a style and technique that is completely their own. 
As the field has evolved, the term "Outsider" itself has become controversial. Many of the artists represented at the fair are from marginalized communities, including artists that are low-income, disabled, and BIPOC with many intersections in between. North Pole Studio is intentionally embedded inside the professional arts community. Our location is a strategic choice to combat the isolation and access barriers that artists with disabilities continue to face in their communities. While almost all of the artists we serve are entirely self-taught, the desire to identify as an "Outsider" in the art world varies from artist-to-artist and is rejected by many.
North Pole Studio is part of a nationwide movement of progressive art studios who are working to amplify the voices and work of artists with disabilities. The energy of this movement is vibrant, and very much alive at the fair. Using these funds from RACC, we were so proud to represent artists Austin Brague, Dan Tran, and James Enos. Our highlight by far was having Austin and Dan join us in New York City to represent their work firsthand. Austin worked on his submission for over a year — a large scale pen and ink drawing of New York City — which he triumphantly sold at the fair, breaking many New Yorker hearts. Artist James Enos is co-represented by Booklyn, Inc. and this was his second appearance at the fair. He also sold an original work on the first day. James' work truly stands out at the fair, as he is among a minority of artists working in book form and has developed an unparalleled binding technique, which includes large-scale illustrations which can fold out over 5 feet long. Dan Tran is a rising star in the progressive art world, and it was our pleasure to make face-to-face introductions to fans from all over the country who continue to follow his work.
Austin shared that he had no idea that he was part of such a vast community of self-taught and disabled artists. He was "blown away by the creativity, how vast the collection of work is…[he] had no idea." Selling work at this level made him realize that success as a professional artist is in reach, and it has motivated him to focus his art practice and dream bigger moving forward. Prior to joining North Pole Studio, many of the artists we serve were creating work in isolation, with little access to resources and exposure. Beyond the art sales and professional connections, the community aspect was perhaps the most powerful impact of our experience at the Outsider Art Fair — the sense of place and connection with an international community of self-taught artists who are valued as professionals, and core contributors to art history and contemporary art. 
We learned so much, and returned to Portland with valuable insights to share with North Pole Studio's community, and Portland's art community at large. We can't wait to go back!
---
To learn more about North Pole Studio, please visit their website. They are currently seeking new artists to join their Main Studio Program this year. If you or someone you know is seeking supported studio space and looking to connect with a community of artists, they'd love to hear from you!
Image Captions, from top to bottom: A glimpse inside of North Pole Studio's cozy, art-filled space. Detail of various artworks hung on the studio wall. Work by James Enos, Writing.