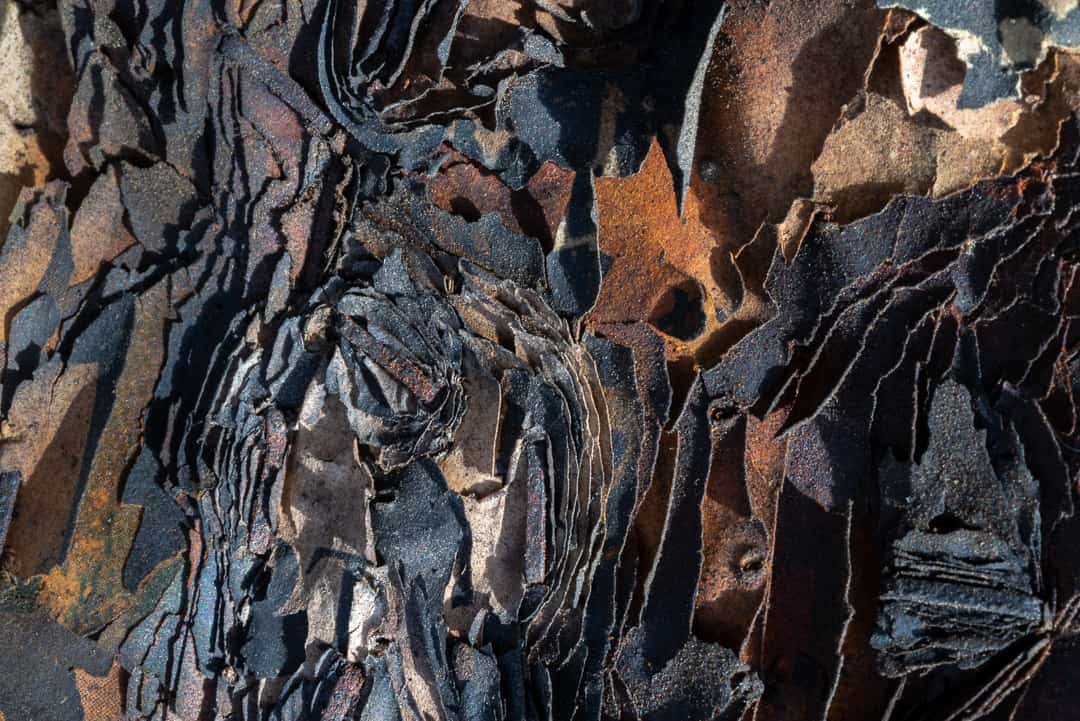 Laura Vincent Design & Gallery is a space in downtown Portland known since 2018 for its careful selection of contemporary artists. We visited to interview artist Heléna Dupre Thompson and view her exhibition Unintentional Spectacles, funded in part by a Make|Learn|Build grant from the Regional Arts and Culture Council (RACC). 
Thompson was raised in the industrial city of Providence, Rhode Island, and worked as a firefighter. This exhibition served as a testament to her background. Thompson extracts stories from what many overlook: utility poles covered in posters, skate parks, and the undersides of skateboards, transforming close-up images into abstract worlds. 
On view alongside Unintentional Spectacles was James Florschutz's exhibition, Assembled Fragments. Constructed out of found materials, these objects carried their own histories, challenging our views on urban sprawl and consumerism. Together, these two artists' were in conversation, their works resonating with each other, weaving narratives of urban life and transformation from the seemingly mundane.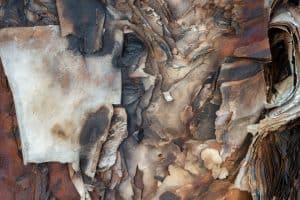 The phrase "industrial beauty" seems like an oxymoron, but in Thompson's hands, it becomes an exploration of the aesthetic potential hidden in the mundane. "I've always been drawn to abstraction," she says. Providence is a city with an industrial history like her current home, Portland. Despite the geographical distance and the years away, she found unexpected similarities between the two cities. "Providence is kind of like a really small version of Portland," she notes, describing the shared landscapes, content, and political undercurrents, though also acknowledging a few east-west coast differences.
Her work, characterized by magnifying her lens deep into her subjects, is layered with history, the passage of time, and the gentle or not-so-gentle interventions by humans and nature alike. Focusing on the elements that resonate most with her, Thompson encapsulates vast landscapes within tiny surface areas. "Most of my [photographs]…are about a one to two-inch surface area," she shares; yet these miniature compositions hint at large geological formations. 
Thompson challenges the notion that her work is a form of documentation. While she captures the tangible realities of her subjects, she intends to remove them from their context and allow them to stand separate. It's an intriguing juxtaposition of preservation and abstraction that pulls viewers into an almost ethereal space, urging them to question and rethink what they're perceiving. "I do this…for the viewer to see it however they want to see it," she explained. The result is an abstraction so detailed, it becomes a world unto itself.
Thompson embraces spontaneity in her creative process, and her work emerges from the unexpected, while staying grounded in the physical world. "Most of my work happens on-site," Thompson reveals. But there is an element of serendipity at play. She explains, "Sometimes I'll be riding my bike and I'll find chunks of metal or glass [on the roadside]. I'll [then] take them back to my studio and compose them there."
"Being in that environment, hearing the sounds, seeing the people, meeting the people, smelling the smells… It makes me more connected to the city and the people."
Her experimentation is not confined to stationary objects; she draws inspiration even from the fleeting, like skateboarders gliding by at the park. "I'm interested in the surfaces that the skaters skate on, but also what the undersides of their boards look like," she says, unveiling an exciting recent find, recycled skateboard decks. "This is the thing that scraped the wall that I was photographing and now…already…this is a piece," she marvels, cradling the board. "I love [this] kind of layering…First of all, there's a graphic on it, right? And then somebody bought it and put these stickers on it. And then who knows where this board has been? Now, through the actions of the skater, it becomes a mashing and regeneration of the original colors, lines and textures," she contemplates, her words subtly drawing parallels between her work and life itself – a multitude of intricate, layered experiences.
Thompson sees the relationship with these environments and communities as a two-way street — she was observing them, and they were inadvertently shaping her. 
"Being in that environment, hearing the sounds, seeing the people, meeting the people, smelling the smells… It makes me more connected to the city and the people. Even if I see them once, there's a bond that I feel more connected to," she confessed. "Being amongst artists and communities, I've gotten so much out of that and learned so much from it." These interactions fostered a sense of shared understanding, a silent bond that she found incredibly nurturing. "I feel like it makes me a more present person, more caring. As artists, we have this connection that a lot of people don't have. It's made me feel more whole in a lot of ways, more connected to my environment and myself."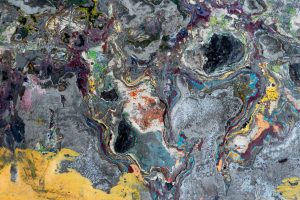 Thompson also noted the crucial role of funding bodies like RACC, acknowledging how its support had impacted her journey as an artist. She concluded, "[This grant] allowed me to take a few leaps forward, to prioritize my craft, to grow, and to learn. I truly believe I wouldn't have been in this gallery now if it weren't for the timing of that grant." 
As we wrapped up, I was given the exciting news that Thompson had been asked to be represented by Laura Vincent Gallery as the show concluded, confirming the steady evolution of her artistic trajectory. Laura Vincent Gallery's invitation emphasizes Thompson's unique visual language and the raw intimacy she brings to her work. With her journey marked by a non-traditional, self-guided education, Thompson's story reflects the potential for diverse routes into the art world, celebrating creativity that thrives outside established norms. 
All images by Heléna Dupre Thompson, from "Unintentional Spectacles."