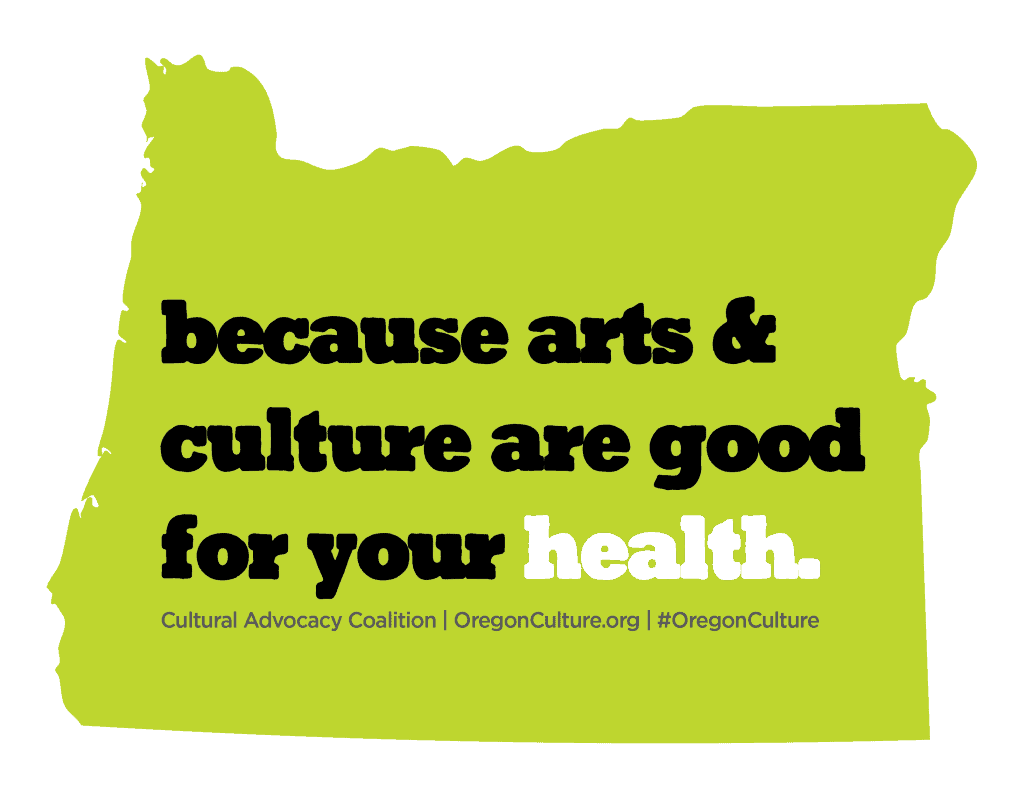 ‍As an advocate for the arts, I firmly believe that art and culture has the power to change lives and transform communities. Art is not only a means of self-expression of culture, but is a tool for learning, connecting, and social change. However, despite its immense benefits, arts and culture often struggle to receive the support and funding they require.
This year, the Regional Arts & Culture Council (RACC) as part of the Cultural Advocacy Coalition of Oregon (CACO) had the opportunity to attend the in-person Advocacy Day 2023 on April 19th in Salem, Oregon. Organized through CACO, arts and culture leaders from across Oregon had the opportunity to meet and discuss the importance for continued support and funding of arts and culture in Oregon; the impact of art in civic life and economic recovery; challenges, strategies, building a community, collaborating with local government.
Introduction to advocating for support and funding of arts and culture
Advocating for the arts is crucial as it helps to raise awareness of the importance of the arts in our communities. The arts play a significant role in shaping our cultural identity, providing a means of self-expression, and promoting social change. However, the arts often struggle to receive the support and funding they need, leading to a decline in access to quality arts programs for many communities. Therefore, advocating for support and funding of arts and culture is essential to ensure that everyone in the community has access to the arts.
RACC team members, Mario Mesquita, Manager of Advocacy & Engagement, Carol Tatch, Co-Executive Director Chief of External Operations, and Phil Barber, Philanthropic Engagement Specialist, visited Senator Elizabeth Steiner (District 17), Representative Rob Nosse (District 42), Senator James Manning Jr. (District 7), Senator Michael Dembrow (District 23), and Representative Maxine Dexter (District 33). We raised up and asked for their support on initiatives identified by our partner, the Cultural Advocacy Coalition of Oregon (CACO):
We note that recovery for our sector is expected to be a 3- to 5-year process because of the prolonged nature of Oregon's shutdown. We appreciate the legislature's investment in the sector. We encourage your support of HB 2459, which would infuse $50M in recovery funding into revenues that threaten the viability of organizations across Oregon.
Our organization supports HB 2498, which complements recovery efforts by addressing long -term funding of the sector. HB 2498 seeks to honor the original promise the Oregon legislature made to fund the Oregon Cultural Trust (OCT) with a one-time infusion of $200M in lottery bond funds.
We also support an increase of $10M for grant making of the Oregon Arts Commission (OAC). Oregon is currently ranked 38th in the nation for per capita general fund support for the arts. This represents $0.49 per person. We urge policymakers to recognize the importance of our sector and move it into the top half of states at a minimum.
Along with CACO, RACC also supports HB3532, which would replace the cap on OCT's administrative costs with a percentage that will create the ability to apply up to 5% of the OCT's permanent fund to staffing. This will better support the sector through additional technical assistance, OCT operations support, and other activities that encourage cultural activity. We are a fiscal sponsor for the Multnomah County Cultural Coalition, so we are aware of the struggles this organization has due to the limits on tis administrative funds and inability to support any staff. We continue to support their efforts to be responsible equitable funders to cultural programming.
The impact of arts and culture in advocacy
Art has the power to bring people together, create awareness, and inspire change. Through art, individuals can express their emotions, experiences, and beliefs, which can help to create a sense of community and foster empathy. Art can also be used to advocate for social change by fostering learning, raising awareness of critical issues such as social justice, environmentalism, and mental health.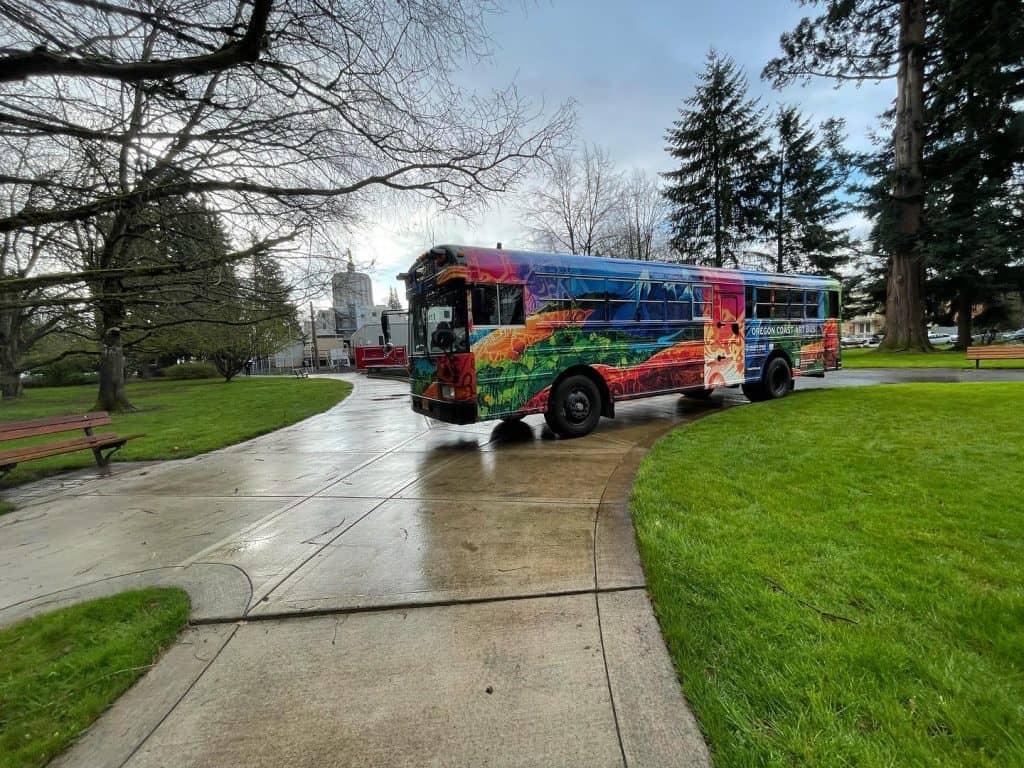 The Oregon Coast Art Bus ready in Salem to welcome everyone in person at Wilson Park next to the capital building. Image by Cultural Advocacy Coalition
The Oregon Coast Art Bus made an appearance in Salem during Advocacy Day accompanying live performances by the Portland Opera in their mobile stage, and even a live performance by Representative Nosse playing the guitar.
The Art Bus rolled into the event – wrapped in the vibrant and colorful Celebrate Oregon! artwork developed by the Oregon Cultural Trust. The artwork on the wrap, developed by artist Liza Mana Burns, explores the vibrant arts and culture of the state. The Oregon Coast Art Bus, a program of the Oregon Coast Council, launched in August 2022, is an example of art as learning-opportunity that eliminates transportation and cost barriers for youth. The hope is now to share the experience throughout the state, with youth who do not have regular access to hands-on art activities.
The gathered advocates explored the activities available on the bus which ranged from printmaking, rubbings, and stamping, all while learning about flora and fauna in and around Oregon. A prime example of putting the "A" back into "STEAM" curricula: science, technology, engineering, arts and mathematics.
The challenges of advocating for support and funding of arts and culture
Advocating for the arts can be challenging especially when we face budget cuts from our local cities and counties; communities facing recovery and access, and inadequate services. Many legislators  have a hard time recognizing the value of the arts or understanding how they can benefit from them if they have not experienced first hand the impact of the arts and culture in their lives. Therefore, it is crucial to raise our voices, create platforms, and educate others on the importance of the arts and their impact on our communities and our economies.
You can check out more on RACCs Advocacy Hub.
Strategies for advocating for support and funding of arts and culture
There are several strategies that individuals and organizations can use to advocate for support and funding of arts and culture. One effective strategy is to collaborate with local government officials and organizations to ensure that the arts are included in community planning and development. Another strategy is to showcase the impact of the arts by highlighting success stories and the positive outcomes of arts programs.
Currently, RACC serves as lead in partnership with Americans for the Arts (AFTA) in Multnomah county the Arts & Economic Prosperity 6th study (AEP6). The study documents the economic contributions of the arts in over 250 diverse communities and regions across the country, representing all 50 states and the District of Columbia. During 2015, AEP5 in Oregon found that the nonprofit arts and culture industry generated $687 million of economic activity—$364 million in spending by arts and cultural organizations and an additional $323 million in event-related expenditures by their audiences. This activity supported 22,299 full time equivalent jobs and generated $53 million in revenue to local and state governments.
The study put to rest a misconception that communities supported arts and culture at the expense of local economic development. In fact, what AEP5 showed was that communities were investing in an industry that supports jobs, generates government revenue, and is the cornerstone of tourism. This economic impact study sent a strong signal that when we support the arts, we not only enhance our quality of life, but we also invest in the Greater Portland Area's economic well-being, including Clackamas and Washington Counties.
Building a community around arts and culture advocacy
Finally, building a strong community around art advocacy can help to create a united front and amplify the message of the importance of the arts. Building a community around art advocacy is crucial to creating a sustainable advocacy movement. This can be achieved by organizing events, such as Advocacy Day, and activities that bring people together, and getting involved with your local and state level organizations, like the newly formed Oregon Arts and Culture Caucus. Membership  stands at 23 and makes this group one of Oregon's largest bipartisan caucuses.
As noted in the Oregon Cultural Trusts blog: "The interest in this Caucus, and its rapid growth, just show how much people value the arts and culture organizations in Oregon and how important it is that we support this sector," said Rep. Nosse (D-Portland), Caucus coordinator.
The Arts and Culture Caucus was formed in recognition of the vital role arts and culture play in the livability and prosperity of Oregon communities – and in enriching the lives of Oregonians. Formation of the Caucus was led by the Oregon Arts Commission.
Inaugural members of the Caucus include Sen. Dick Anderson (R-Lincoln City); Rep. Janelle Bynum (D-Clackamas); Rep. Maxine Dexter (D-Portland); Rep. David Gomberg (D-Otis); Sen. Bill Hansell (R-Athena); Rep. John Lively (D-Springfield); Rep. Pam Marsh (D-Ashland); Caucus Coordinator Rep. Nosse (D-Portland); and Sen. Deb Patterson (D-Salem).
The Caucus serves as a resource to the Oregon Legislature on key issues impacting the arts and culture sector. Its members work closely with stakeholders including the Oregon Arts Commission, the Oregon Cultural Trust (and its Statewide Partners) and the Cultural Advocacy Coalition of Oregon to stay informed on the latest research and issues. It also sets the agenda on priorities for arts and culture legislation, including a sustainable and robust funding mechanism for arts and cultural initiatives.
~Mario Mesquita, Manager of Advocacy and Engagement